Despite a string of White House controversies, a recent poll shows President Donald Trump's job approval rating is currently higher than former President Barack Obama's was at the same point in his administration.
According to Gallup, Trump's job approval rating is at 43 percent—three points higher than Obama's 40 percent at the same time in his presidency. The survey shows Trump only one point behind Bill Clinton and four points behind Ronald Reagan at this point in their first term.
The poll also showed that Trump's approval rating was on the rise after it dipped below 40 percent in late August. At the time, 57 percent of respondents disapproved of the job Trump was doing in the White House.
When the poll was being conducted, Trump made headlines for firing national security adviser John Bolton after an attempted negotiation with the Taliban to end U.S. military action in Afghanistan failed. The president was widely criticized for inviting Taliban leaders to Camp David just days before the anniversary of the September 11 attacks.
But Gallup's most recent survey was completed before the House of Representatives launched an official impeachment inquiry against Trump, marking just the fourth time in U.S. history that a president has faced being removed from office.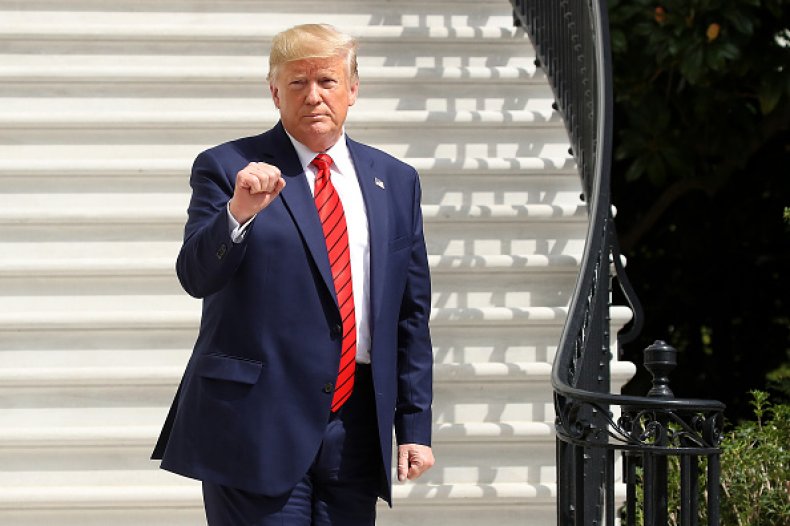 At the center of the impeachment effort is Trump's communication with Ukrainian President Volodymyr Zelensky. In a July phone call, the two leaders discussed corruption and possible investigations into former Vice President Joe Biden and his son Hunter.
The conversation was first flagged by an intelligence official who filed a whistleblower complaint with the community's inspector general. The complaint, released by the House Intelligence Committee on Thursday, raised concerns that Trump was "using the power of his office to solicit interference from a foreign country in the 2020 U.S. election."
In a rough transcript of the call released by the White House, Trump told Zelensky twice that the United States has been "very, very good to Ukraine" before asking the foreign leader to "do us a favor."
"There's a lot of talk about Biden's son, that Biden stopped the prosecution, and a lot of people want to find out about that so whatever you can do with the Attorney General would be great. ... It sounds horrible to me," Trump added, according to the document.
House Speaker Nancy Pelosi announced a formal impeachment inquiry on Tuesday, telling reporters that "the President must be held accountable. No one is above the law."
A recent poll from YouGov showed that a majority of Americans support impeaching Trump if he suspended military aid to Ukraine to pressure the foreign nation to investigate the Bidens. Forty-four percent of U.S. adults polled said they'd "strongly support" removing Trump if the allegations are true, while another 11 percent said they'd "somewhat support" it.