Trump's 10.6 Million Jobs Stat Masks a Complex, Weak Unemployment Picture
On the federal holiday celebrating the worker, President Donald Trump and the White House celebrated that 10.6 million jobs had been added since May. But for the millions of Americans still unemployed due to COVID-19, this year's Labor Day was no vacation.
Trump's triumphal tweet on Monday that a "record" had been achieved over the last four months followed the release of figures from the Bureau of Labor Statistics (BLS) showing total nonfarm payroll employment rose by 1.4 million in August.
In normal times, this would be worth crowing about. But these are far from normal times, and the number is less than July's increase of 1.7 million and considerably less than June's figure of 4.8 million.
Unemployment, which in April was 14.7 percent—the highest since the Depression—dropped to 8.4 percent in August.
After a dismal Q2, the White House can say without hyperbole that figures are dramatically heading in the right direction, but economic recovery is a marathon, not a sprint.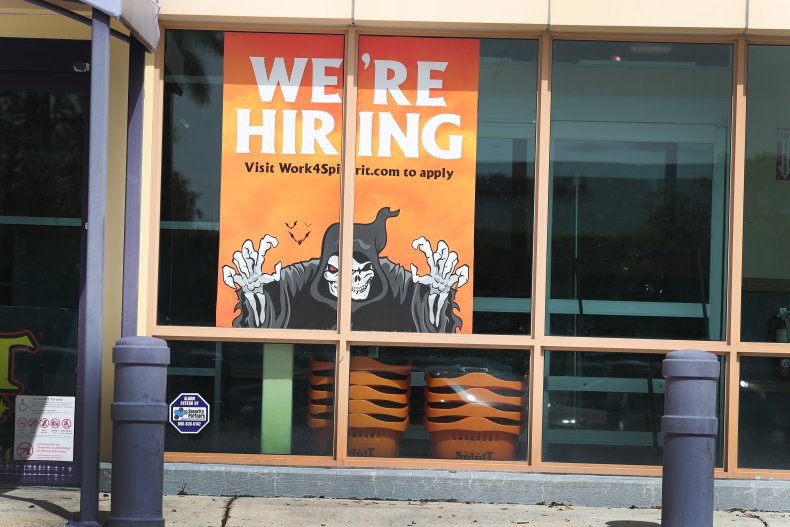 "These numbers are better than expected—especially that 8.4—but it would take a Pollyanna to say they are great numbers, even if they are not as bad as people feared," said chief U.S. policy strategist for AGF Investments, Greg Valliere.
The shuttering of businesses to mitigate the spread of the coronavirus cost around 22 million jobs and, in the game of catch up, the numbers over the last four months are still around 11.5 million shy of pre-pandemic levels in February.
"I think Trump runs a risk going into the home stretch of a campaign of sounding too sanguine, and saying that the economy has recovered because it really hasn't," Valliere told Newsweek.
"There is a long way to go. State and local governments are in terrible shape and small businesses are in terrible shape."
Complicating matters is the stalemate over the next relief package and on Thursday, Senate Democrats blocked a GOP coronavirus bill.
"I think without a stimulus deal there is a real risk that the economy could just level off. I think that the low-hanging fruit has been captured and going from 8.4 to 5.4 is going to be really difficult," Valliere said.
Around a quarter of a million jobs were added in retail trade, with notable job gains in motor vehicle and parts dealers, electronics and appliance stores, and store retailers, the BLS said.
There was a spike in government employment, but swelling the numbers was the hiring of nearly a quarter of a million 2020 Census workers who are likely to be laid off after it is completed.
"In an ordinary economy, Census jobs would be a major influence on monthly jobs data. Now, they are lost in the noise," David Gulley, economics professor at Bentley University, in Waltham, Massachusetts told Newsweek.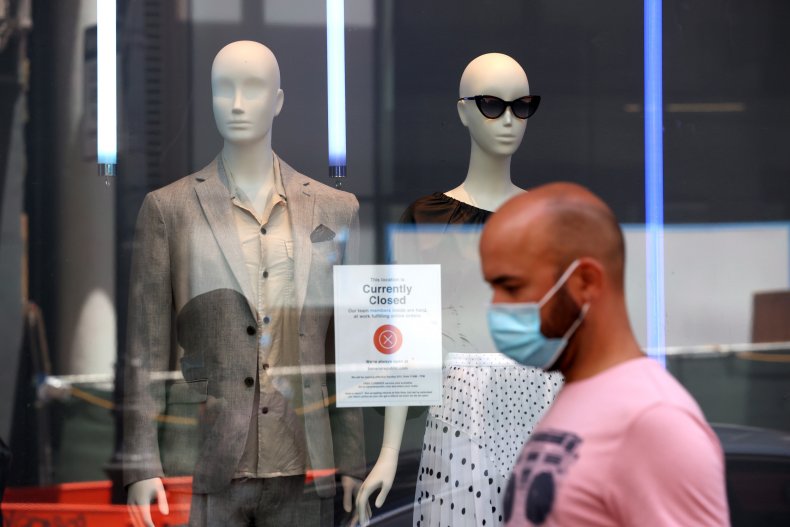 Many of the 10.6 million added jobs belong to those returning to work after coronavirus restrictions are lifted. But when there are fewer restrictions to lift, fewer jobs will be created in the coming months.
Moreover, the number of "permanent job losers"—those who do not expect their lay off to be temporary—rose by 534,000 in August, taking the national total to 3.4 million, an increase of 1.3 million from February this year.
Gulley believes that slowing the jobs rebound will be reductions in government stimulus aid, small and undercapitalized businesses folding, and cautious consumers. Other labor market data suggests the unemployment rate is hiding more problems.
"When people stop looking for work, they drop out of the reported labor force and are more likely to remain out of work even if the labor market continues to pick up," Gulley said.
"People who are on temporary layoff may move to being permanently out of a job as companies realize that business may not return to normal in the near future."
The Economic Policy Institute disputes the rose-tinted hue that Trump and the White House are giving the unemployment figures.
It noted that the 13.6 million people officially unemployed in August, did not take into account an extra 1.1 million workers who were temporarily unemployed but misclassified as "employed but not at work."
In addition, there were 4.3 million people out of work because of the virus but who were not counted because they were not actively seeking a job.
This, the EPI says, puts the number of people either officially unemployed or out of work because of COVID-19 closer to 19 million, meaning an unemployment rate of 11.3 percent.
Bearing the brunt of the job losses were women, Latino workers, and low wage sectors of the economy, notably leisure and hospitality.
"Another group that hasn't got a lot of attention are younger workers," EPI senior economist Elise Gould told Newsweek.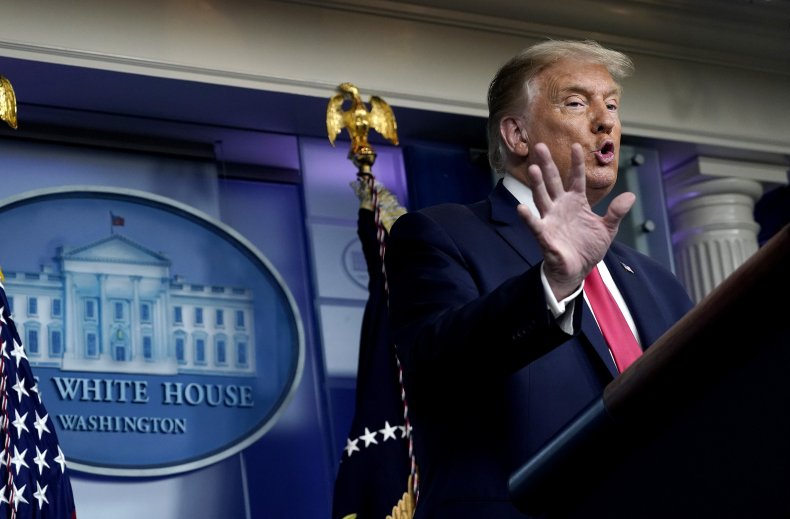 "When the economy starts coming back, they might not get the jobs back in the same way as older workers, because if employers can choose who they want, they may choose workers that either have worked for them before, or choose workers with more experience.
"So young workers may really be left out of the recovery for some time."
With the American economy 4.7 million jobs down since Trump took office, no matter what happens before November 3, the president will take the worst job numbers of any president going back to World War Two, CNN reported.
Even before the pandemic, the Trump administration's job gains were only moderate, with 6.8 million jobs added between the inauguration and February 2020. That 5 percent gain is only the 11th best record out of the last 20 presidential terms, according to CNN.
"I think underlying all this is that the economy was weak to begin with," Mariano Torras, economics professor at New York's Adelphi University, told Newsweek.
"It is being represented as this economic crisis is due to COVID. I think it is more accurate to say that COVID was the spark to something that was happening anyway."
What remains unclear is how many old jobs are being refilled compared to newly created jobs.
Seasonal jobs in agriculture over summer may have boosted numbers and the rise in home deliveries necessitated by the pandemic has seen some firms such as Amazon create many jobs.
"Tempering all of this is the fear that support money for businesses is running out," Maclyn Clouse, finance professor at the University of Denver's Daniels College of Business, told Newsweek.
"For example, airlines say that without more support dollars, they will be forced to lay off thousands of workers.
"It shows how much the support is needed by some firms, and the risk that the job growth can decline again without support and expectations of future economic growth."
Richard Grossman, professor of economics at Wesleyan University, Connecticut, said that central to a continued jobs recovery is the development of a coronavirus vaccine, and the employment situation, along with the economy, could deteriorate further in the coming months.
"There is no vaccine for the virus, and it is not likely that one will become available until the first half of next year—no matter what the president says," he told Newsweek.
"Many parts of the country have tried to reopen too soon, or with insufficient precautions, and seen spikes in cases.
"It is entirely possible that a resurgence in the virus will lead to a further deterioration in the employment situation, this time starting from a much-weakened position."
This story has been updated to clarify the job title of Wesleyan University economics professor Richard Grossman, who is no longer chair of department.