Trump Adviser John Bolton Insulted Whole of Latin America With Venezuela Comments, Says Russia's Top Diplomat
The Trump administration and Russia find themselves on opposite sides of the debate over how to respond to a political crisis unfolding in Latin America.
On Monday, Russia Foreign Minister Sergei Lavrov criticized United States national security adviser John Bolton, arguing that the Trump administration official had insulted all of Latin America by suggesting the region was within the U.S.'s sphere of influence.
Bolton gave an interview to CNN's Jake Tapper over the weekend in which he discussed the ongoing political standoff in Venezuela, where two men currently claim to be the legitimate president.
He suggested that the Trump administration was ready to embrace a modern version of the Monroe Doctrine, a 19th-century foreign policy that opposed European colonialism in the Americas because the region was deemed of strategic interest to the burgeoning U.S. nation.
"In this administration, we're not afraid to use the word 'Monroe Doctrine.' This is a country in our hemisphere. It's been the objective of American presidents going back to Ronald Reagan to have a completely democratic hemisphere," Bolton told CNN.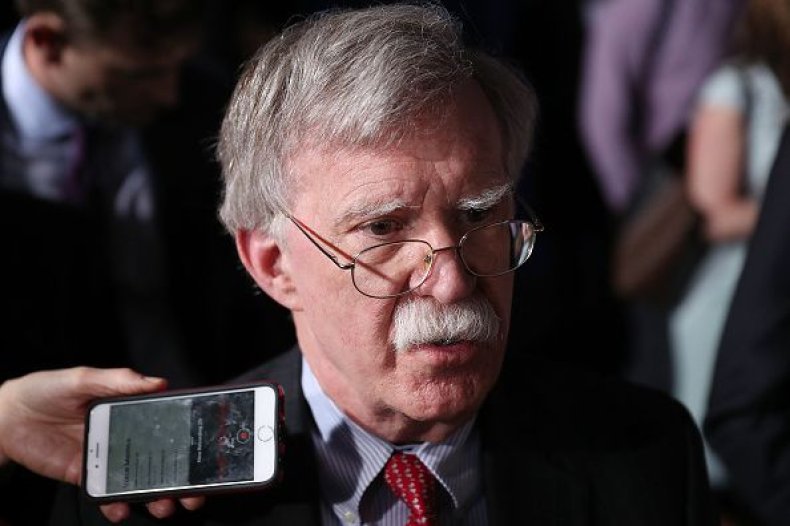 Russia's government is supporting Venezuelan strongman Nicolás Maduro despite the U.S.'s calls for his resignation.
"The theory and practice of 'backyards' is insulting to a large extent," Lavrov told reporters on Monday about Bolton's comments. "I believe that Latin American states will react to John Bolton's statement. He mentioned that the Monroe Doctrine could be used in Venezuela, insulting the entire Latin America."
Russia, however, has its own version of the Monroe Doctrine, and has consistently worked to maintain influence in the former Soviet republics the country's leadership considers its "near abroad."
Bolton, meanwhile, is known as a foreign policy hawk who favors interventionism, and his stance on Venezuela has split many observers and analysts in Washington.
The U.S., together with Canada and many countries in Latin America and Europe, has withdrawn its support for Máduro in favor of opposition leader Juan Guaidó, who has named himself interim president until new elections can be held. Critics argue that Máduro has mismanaged the economy, jailed political opponents and stolen the recent elections, creating chaos in the oil-rich nation.
But even if they agree that Máduro should step down, many in Washington disagree over how involved the U.S. should be in the ongoing standoff.
Meanwhile, countries like Russia, China and Turkey have thrown their weight behind Máduro.
Tensions are expected to rise in the coming days as Guaidó plans to return to Venezuela following a tour of Latin America, where he has been meeting with leaders to garner support for Máduro's removal. Widespread anti-Máduro protests are planned for Monday and Tuesday.