Trump Jokes He Won't Leave Presidency After 8 Years: 'It's Not a Bad Idea'
President Donald Trump has revisited the idea of not leaving office even if he loses the upcoming election or finishes a second term as president.
During Trump's speech to the Israeli-American Council [IAC] National Summit, he boasted that under his presidency, Israel "has never had a better friend in the White House."
Trump recounted to the audience in Hollywood, Florida, the details of the U.S. embassy shift from Tel Aviv to Jerusalem, which caused controversy globally and sparked anger from Palestinians, who also claim the city as their capital.
After being welcomed on stage by Republican donors Sheldon and Miriam Adelson, Trump described the circumstances of the embassy move, including pleas from world leaders opposing it.
In his speech on Saturday, carried by C-SPAN, Trump outlined conversations he had with the U.S. ambassador to Israel, David Friedman, on how the move would be undertaken and paid for.
Trump said he was initially concerned at the expense of searching for a location in Jerusalem and whether an existing building could be purchased and renovated for under $500,000—much less than the price tag initially mooted.
Trump appeared to suggest that a future president might not be as sympathetic to the idea if the embassy "wouldn't be built...for 10 years."
In a digression on the length of his presidency, Trump said, "Don't forget, at some point, whether it's five years from now, nine years from now, 13 years from now—I'm doing this to drive the media crazy," he said in comments tweeted by Vox journalist Aaron Rupar.
"Because a lot of them say 'you know he's not leaving don't you?'"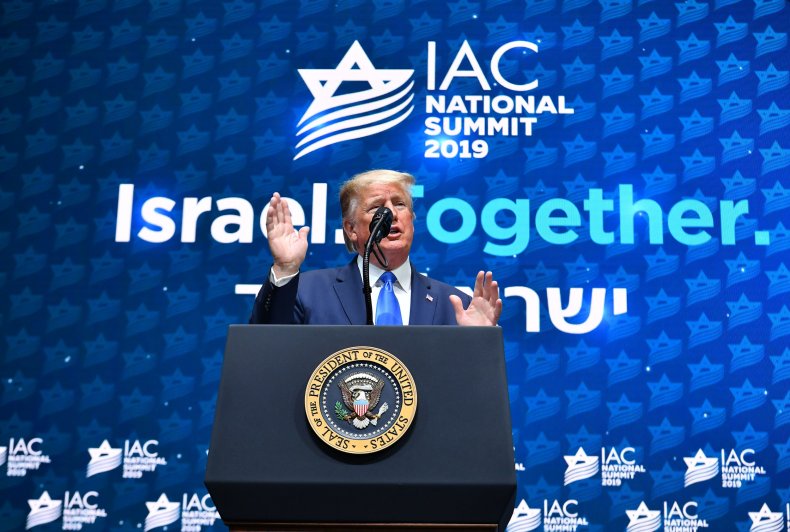 "These people are so stupid. One of them said, 'you know he's going to win, don't you, and you know at the end of his second term, you know he's not leaving. He's not leaving, you know that.'"
"I thought he was kidding, he's for real. So now we have to start thinking about that because it's not a bad idea," he said to cheers and smattering of laughter.
"When they all scream 'four more years! Four more years!' I always say, 'make it 12 years and you'll drive them crazy," he said, referring to the media, adding, "If I don't get the building built, it's never going to get built."
Newsweek has contacted the White House for comment.
Trump's apparent taunt came amid media speculation in some quarters about whether he would leave office should he lose in 2020 or serve two terms.
HBO host Bill Maher said in November that Trump "could lose by a landslide in 2020 and I still think he would say 'it's rigged, fake news, deep state.'
"I just don't think you're going to get him out of there."
Trump's former lawyer Michael Cohen told a House hearing back in February, "I fear that if he loses the election in 2020, that there will never be a peaceful transition of power."
Meanwhile, former writer of the satirical Comedy Central program, The Daily Show with Jon Stewart, David Javerbaum, told Channel 4 News that if Trump loses in 2020,"he won't go gentle into that good night. I fear he's going to deliberately trigger some kind of civil war."