Trump Jr. Acquaintance Rob Goldstone Used Facebook to Place Himself at Scene of Trump Tower Meeting With Russian Lawyer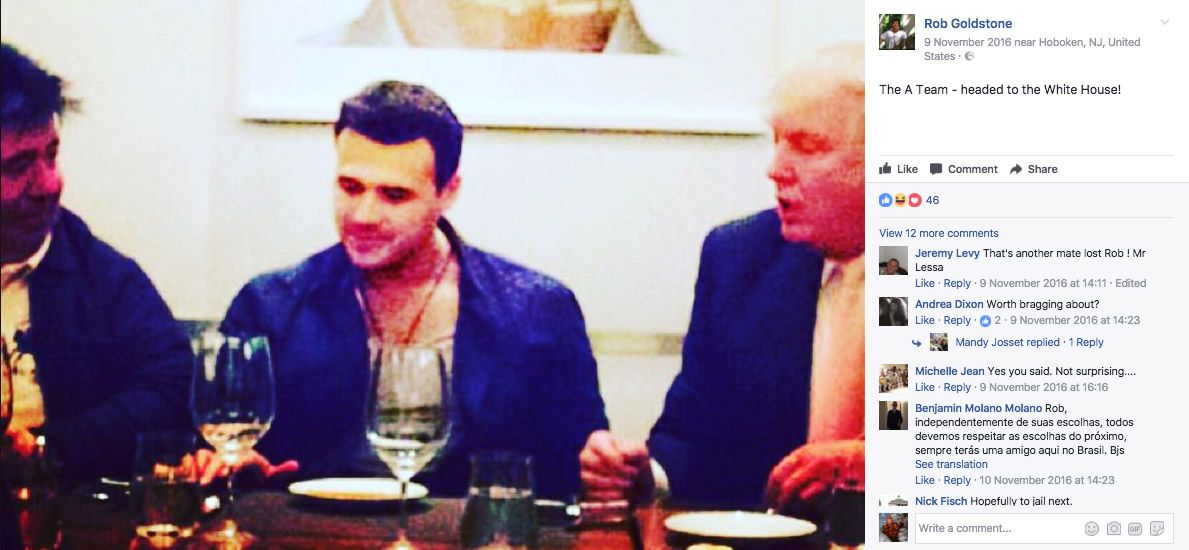 Updated | British music publicist Rob Goldstone used Facebook to digitally "check in" at Trump Tower on the day of a meeting he brokered between Donald Trump Jr. and a Kremlin-connected lawyer. Goldstone had promised the Russian government would help the Trump campaign with damaging information about rival candidate Hillary Clinton.
In an email Goldstone sent to Trump Jr. before the meeting he described the information about Clinton was part of a Russian government plan to help U.S. President Donald Trump's election bid, according to three sources familiar with the email who spoke to The New York Times Monday. Each described the email's contents.
The meeting was on June 9, 2016— two weeks after U.S. President Donald Trump won the Republican nomination to run for president. Goldstone's Facebook feed shows that at 3:57 pm he checked in to Trump Tower, notifying his Facebook friends of his location. Another post earlier that day places him in New York. Ten days earlier Goldstone was in Moscow at the end of a nine day trip to Russia.
In a statement Sunday Trump Jr. did not name Goldstone but said that an "acquaintance" set up the meeting with promises of "information helpful" to his father's campaign. Trump Jr. said he did not know who he was meeting with but ended up speaking with Kremlin-connected Russian lawyer Natalia Veselnitskaya who pressed him to help reverse a set of U.S. sanctions against Russia.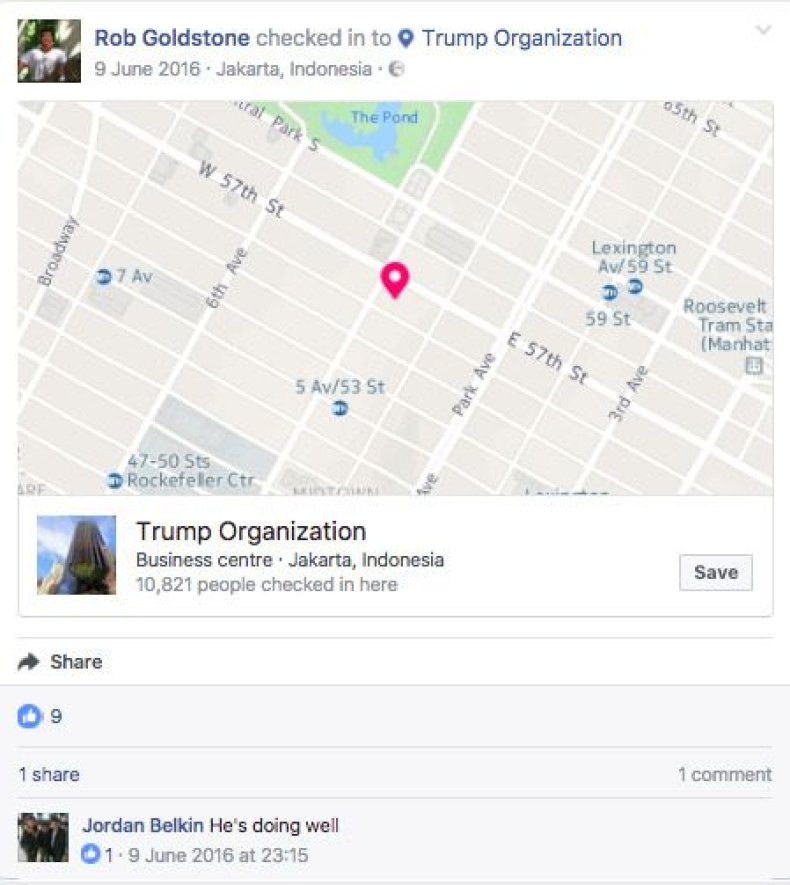 The meeting was also attended by President Trump's son-in-law Jared Kushner and Trump campaign chairman Paul Manafort.
Veselnitskaya has a past of lobbying for Russian state interests and working on behalf of wealthy Russians connected to the state.
Goldstone identified himself as the "acquaintance" who brokered the meeting to The Washington Post last Sunday. He placed himself in the meeting room at Trump Tower.
But questions remain about how Goldstone—a music publicist who has worked for Michael Jackson, Cyndi Lauper, U2, and Richard Branson—knows Donald Trump Jr. and how he came to be at the center of the American government's investigation into Russia's efforts to sway the election in favor of Trump.
Read more: Donald Trump Jr. met Russian lawyer Natalia Veselnitskaya at Trump Tower—So Who is She?
In his statement about the meeting with Veselnitskaya, Trump Jr. said he knew Goldstone "from the 2013 Miss Universe pageant" in Moscow, which was then owned by his father, President Donald Trump.
Goldstone is connected to the pageant and represents Russian pop singer and real estate magnate Emin Agalarov, who hobnobbed with Donald Trump at the 2013 Moscow Miss Universe event with his father Aras Agalarov—a Russian luxury real estate developer and businessman estimated to be worth $1.9 billion.
Goldstone said in a statement to NBC News late Monday that he was asked by Emin Agalarov "to help facilitate" the meeting.
Agalarov's father was given the Order of Honor of the Russian Federation the same year by President Vladimir Putin and claims he and Trump planned to build a Trump Tower in Russia. Agalarov's family is close to Putin and his father Aras Agalarov set up a meeting between Donald Trump and Putin's former economy minister, Herman Gref, now CEO of Russia's state-controlled Sberbank PJSC while Trump was in Moscow.
Goldstone was also at the pageant and is seen in Russian news footage beside Emin Agalarov and Trump. Trump also appeared in Agalarov's 2013 music video for his song "In Another Life" which Goldstone says was his idea.
Goldstone is a jet-setting publicist and frequently flies between New York City, London, and Moscow, and places further afield like Azerbaijan, Thailand, and Brazil. He founded his publicity company with a partner in 1998. He was back in Russia again near the end of July 2016 to promote a performance by Emin Agalarov in front of St. Petersburg's Hermitage Palace for a PBS special.
"Emin, I can't believe you're turning 35. You're getting older all the time. But you're a winner, you're a champ, you're great at real estate, and boy can you entertain," Trump said in a video Birthday message to Agalarov in 2014 after the two met in Russia. Goldstone posted this video to his Facebook page on November 11 after Trump won the 2016 U.S. election November 9 with a reply message from Agalarov to Trump.
"Congratulations, you did it. I never doubted you for one second. You're an absolute winner, you proved everybody wrong," Agalarov says in the video.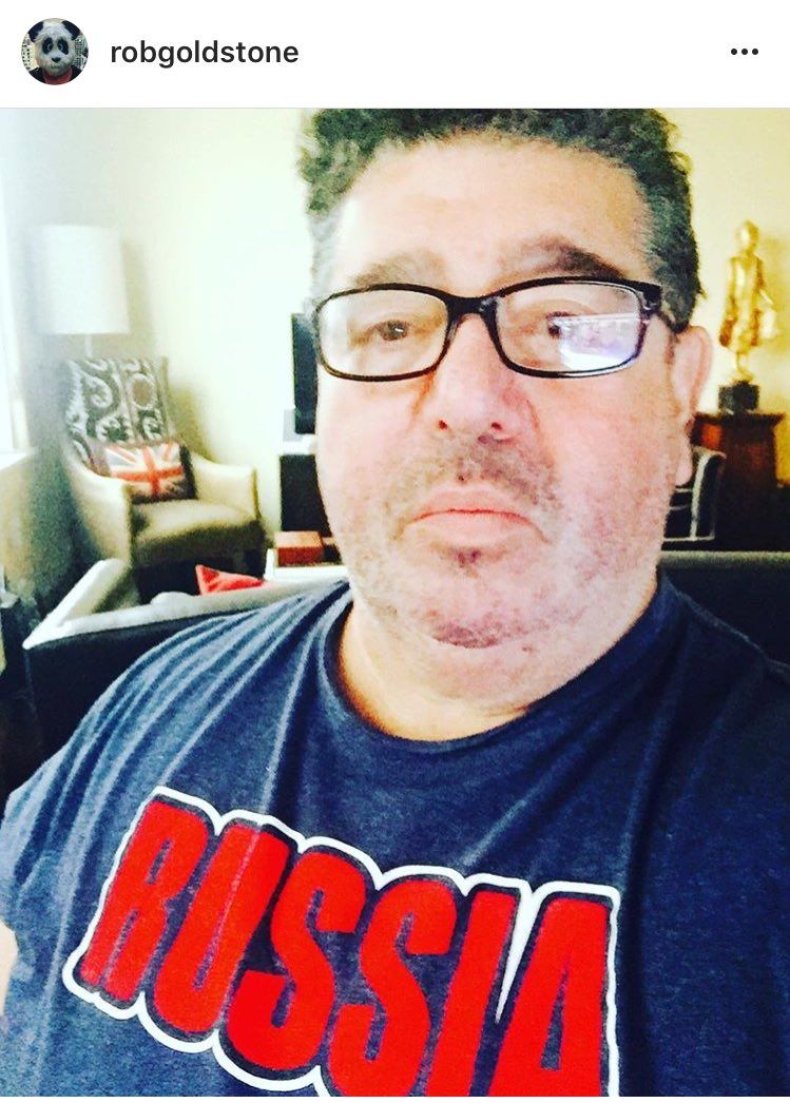 After learning that Trump won, Goldstone posted an undated photo of himself eating with Trump and Agalarov with the caption "The A Team - headed to the White House!"
On his Instagram feed the day after the election Goldstone also posted a photo of himself wearing a t-shirt that simply says "Russia."
Correction: This article originally stated that Goldstone took a photo of Donald Trump standing with Australian TV presenter Karl Schmid the night of his election win in 2016. The photo was from the Miss Universe pageant in Moscow in 2013.