Donald Trump Jr. Met Russian lawyer Natalia Veselnitskaya at Trump Tower—So Who Is She?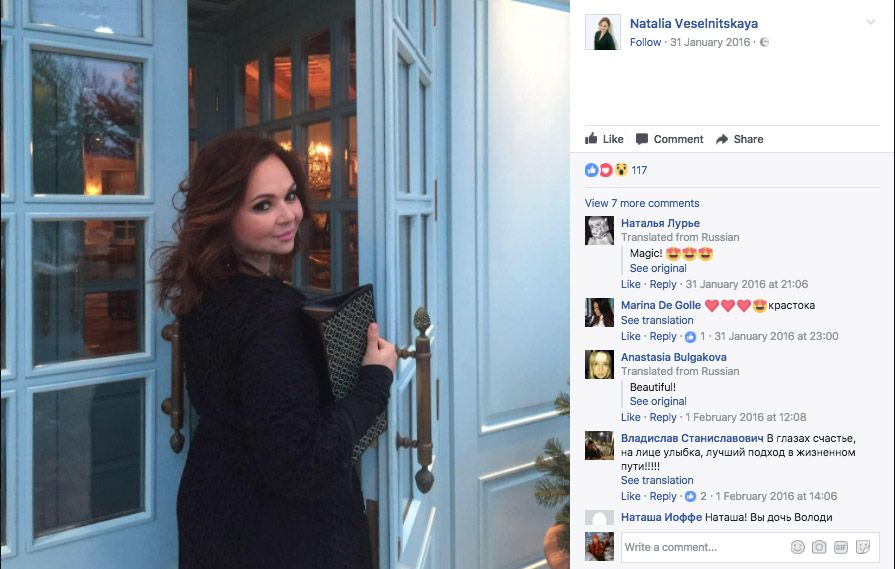 Russian lawyer Natalia Veselnitskaya is the latest Kremlin-connected figure to be drawn into the ongoing controversy into allegations that Moscow interfered in the U.S. election with collaboration from the Trump campaign.
President Trump's eldest son, Donald Trump Jr., admitted Sunday that he met the Russian lawyer last June at Trump Tower and that Veselnitskaya offered him dirt on his father's presidential campaign rival, Hillary Clinton.
Rather than delivering the goods, Trump Jr. said, Veselnitskaya pressed him to reverse a set of sanctions on Russia imposed by Congress.
The "acquaintance" who Trump Jr. said set up the meeting with Veselnitskaya identified himself to The Washington Post. Rob Goldstone, a music publicist, said he was the one who reached out to Trump Jr.
Trump Jr.'s statement didn't mention Goldstone by name but said that the contact who set up the meeting was someone he'd first met at the 2013 Miss Universe pageant in Moscow.
Goldstone is connected to the pageant, owned by Trump senior, and represents Russian pop singer and real estate magnate Emin Agalarov, who hobnobbed with Donald Trump at the 2013 event with his father, Aras Agalarov, a Russian luxury real estate developer and businessman estimated to be worth $1.9 billion.
Agalarov's father was given the Order of Honor of the Russian Federation in 2013 by President Vladimir Putin, and claimed the two were going to build a Trump Tower in Russia. The family is close to Putin's government, and Aras Agalarov set up a meeting between Donald Trump and Putin's former economy minister, Herman Gref, now CEO of Russia's state-controlled Sberbank PJSC, on Donald Trump's last visit to Moscow, in November 2013.
Read more: Trump attorney: Meeting between Trump Jr. and Kremlin lawyer is a Democrat plot
Goldstone said he set up the meeting between Veselnitskaya and Trump Jr. and was in the room. Trump Jr. confirmed that Trump campaign chairman Paul Manafort also attended, and President Trump's son-in-law Jared Kushner said he was there, too.
Those are the circles in which Veselnitskaya does business. But who is she, and why is she lobbying for Russia?
After working in the Moscow prosecutor's office, the young, ambitious lawyer formed private legal firm Kamerton Consulting in 2003. More than a decade later, in 2016, Veselnitskaya was working on a case defending Prevezon Holdings Ltd.—a company owned by Russian national Denis Katsyv, whose father is vice president of state-owned Russian Railways and one of the wealthiest civil servants in Russia—in the U.S. District Court of the Southern District of New York.
Veselnitskaya joined Katsyv's team of lawyers to defend Katsyv against a civil suit filed by the U.S. government in 2013 that was pursuing Prevezon over "an elaborate tax-refund fraud scheme [that] defrauded Russian taxpayers of approximately...$230 million in United States dollars."
In May, Prevezon settled the suit for nearly $6 million.
The suit was brought under the 2012 Magnitsky Act, signed into law by Barack Obama in 2012, which allows the U.S. to seize the assets and visas of corrupt officials.
The act was named for Sergei Magnitsky, the Russian accountant and lawyer who originally uncovered the Russian tax fraud to drain hundreds of millions of dollars from the Russian Treasury and into officials' pockets. Magnitsky died in Moscow's Butyrka prison in 2009 after being beaten and tortured, although a Russian state autopsy refuted this.
Russian President Vladimir Putin called its passage "an outrageous act" just days after it was signed. "We took it as that American lawmakers want us to show everyone who's the boss," Putin said later that year, when he retaliated by banning Americans from adopting Russian children.
Veselnitskaya has been instrumental in rewriting the history of Sergei Magnitsky and fighting against laws that that fight Russian corruption in his name. In early 2016, she played a key role in establishing the Human Rights Accountability Global Initiative Foundation (HRAGIF) in Delaware, organizing screenings of a film rewriting Magnitsky's story.
Prevezon Holdings is allegedly behind HRAGIF's lobbying efforts. Its aim is to repeal the 2012 law and stop another bill, the Global Magnitsky Bill, that is currently making its way through Congress. The group is headed by Rinat Akhmetshin, a Russian Washington, D.C. lobbyist who is accused of working for the Russian military intelligence services (GRU). Akhmetshin denied the claim.
Veselnitskaya sought a meeting with Donald Trump Jr. last June to lobby his father to reverse the Magnitsky Act.
In a statement to The New York Times Saturday, Veselnitskaya said she "never acted on behalf of the Russian government" and "never discussed any of these matters with any representative of the Russian government."
Trump Jr. said Sunday that Veselnitskaya proffered "information that individuals connected to Russia were funding the Democratic National Committee and supporting Ms. Clinton." No details "or supporting information was provided or even offered," he said.
"We have learned, from both our own investigation and public reports, that the participants in the meeting misrepresented who they were and who they worked for," Mark Corall, a spokesperson for President Trump's lawyer Marc Kasowitz, told NBC last Saturday.
"These developments raise serious issues as to exactly who authorized and participated in any effort by Russian nationals to influence our election in any manner," Corall continued, noting that Veselnitskaya had connections to the research firm Fusion GPS, which conducted opposition research against Trump for the Democrats in 2016.
Putin's secretary Dmitry Peskov denied the Kremlin had any knowledge of Veselnitskaya or her actions abroad.
"No, we do not know who it is," he said, "and of course we cannot keep track of appointments of all Russian lawyers both inside the country and abroad."