Will Donald Trump Jr. Be Charged In 2018? Odds Spike After Bannon's 'Treasonous' Accusations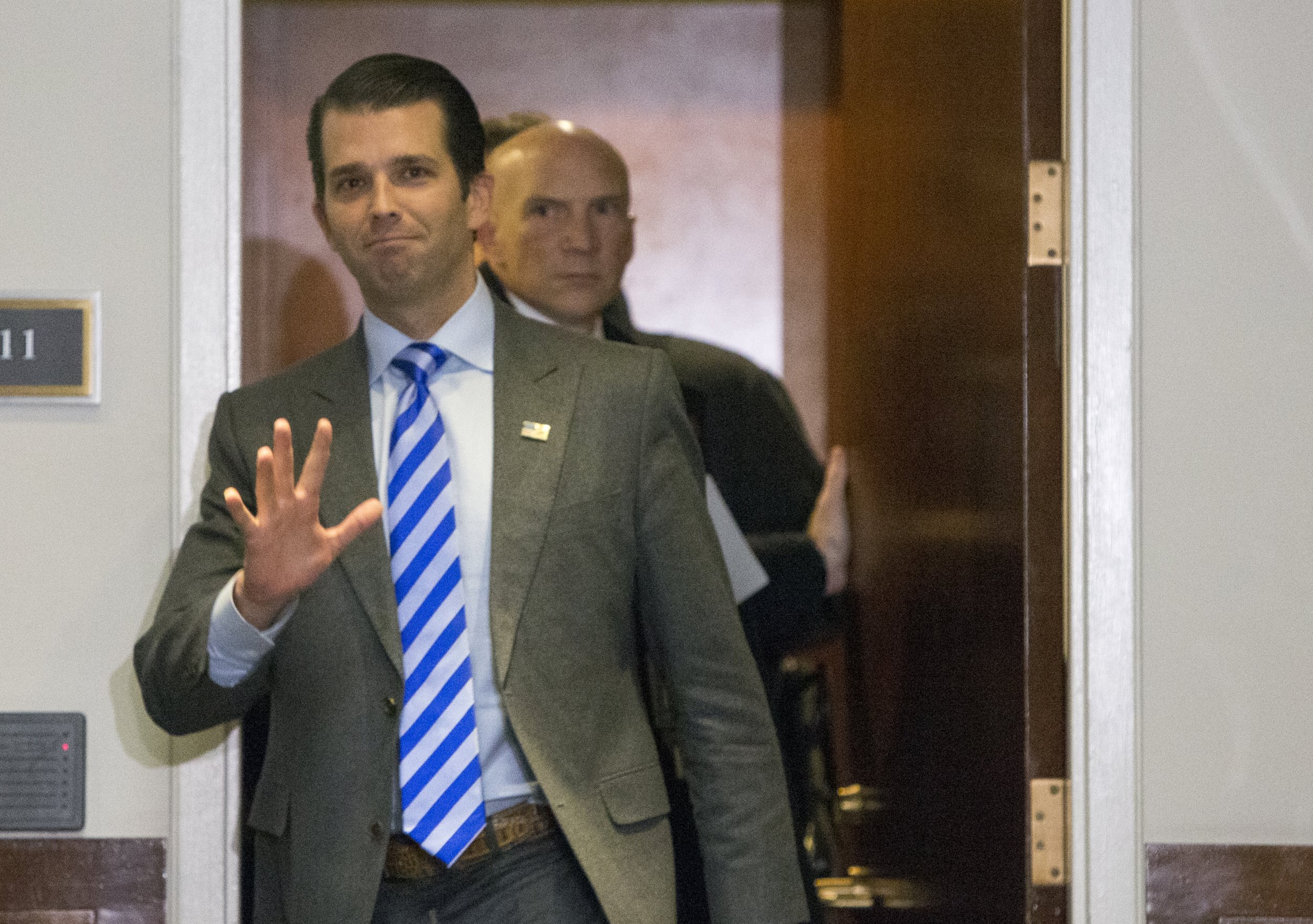 The chances Donald Trump Jr. faces federal criminal charges by the end of the year jumped dramatically Thursday after one of his president father's former advisers called his infamous meeting with a Russian lawyer "treasonous," according to a market probabilities and prediction site.
Related: Trump Jr. Likely Brought Russians To Meet His Father, Bannon Says
The site, PredictIt, is now selling shares on probability that Trump Jr. will be charged at 36 cents, an increase of six cents. The price, which rises like stocks when more shares are purchased, is a translated probability.
The price reached as high as 40 cents on Wednesday after quotes from the president's former chief political strategist, Steve Bannon, in a forthcoming book were released.
"Even if you thought that this was not treasonous, or unpatriotic, or bad shit, and I happen to think it's all of that, you should have called the FBI immediately," Bannon was quoted in author Michael Wolff's book, Fire and Fury: Inside The Trump White House.
Trump Jr., President Donald Trump's eldest child, admitted last year to setting up and attending a June 2016 meeting with Russians in the family's New York tower in an attempt to gain political opposition research on former Democratic presidential nominee Hillary Clinton.
Bannon also warned that Special Counsel Robert Mueller's investigation into alleged collusion with Russia would focus on money laundering and that the probe would "crack" Trump Jr. "like an egg on national TV."
The current head of alt-right website Breitbart News also stated there was "zero chance" Trump Jr. did not bring the Russians at the meeting to meet then-candidate Trump afterward.
The president, his administration and former campaign have repeatedly denied any collusion with Russia, and Trump also denied knowing about the meeting.
Trump Jr. originally told The New York Times that the meeting—also attended by current White House senior adviser and Trump son-in-law Jared Kushner and former campaign manager Paul Manafort—was held to discuss a Russian adoption program.
Now co-heading up his father's company, Trump Jr. in July released his email exchange with a British publicist over how the meeting was set up. During the exchange, Trump Jr. wrote "I love it," in reference to obtaining possible dirt on Clinton.
The White House fired back at Bannon Wednesday, with the president saying Bannon "lost his mind" after he was fired in August and that the former Goldman Sachs executive "has nothing to do with me or my presidency."
Trump Jr. accused Bannon of being a leaker and of "squandering" an opportunity to work in the White House.
"Steve had the honor of working in the White House & serving the country. Unfortunately, he squandered that privilege & turned that opportunity into a nightmare of backstabbing, harassing, leaking, lying & undermining the President. Steve is not a strategist, he is an opportunist," he tweeted Wednesday.