Trump Jr. Defends Dad's Alleged Plan to Bomb Mexico: 'Is That a Bad Thing?'
Donald Trump Jr. is suggesting that his father's reported idea to launch missiles at Mexican drug labs wasn't such a bad idea.
Trump Jr. made the remarks on Twitter Friday following claims by former Defense Secretary Mark Esper that Trump brought up firing Patriot missiles into Mexico. Esper is the most recent Trump administration official to make headlines for claims about the former president's behavior. The tweet from Trump Jr. shows he continues to be one of his father's fiercest defenders.
"I'm still trying to figure out the recent media outrage about my father possibly wanting to target Mexican drug cartel manufacturing facilities in Mexico... Is that supposed to be a bad thing???" Trump Jr. wrote in a tweet.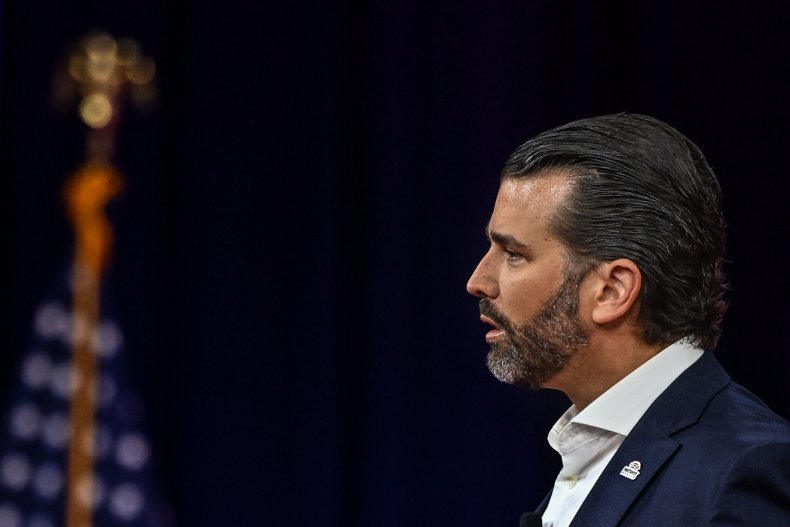 In a soon-to-be-released memoir, A Sacred Oath: Memoirs of a Defense Secretary in Extraordinary Times, Esper wrote that Trump twice asked him about launching missiles into Mexico to "destroy the drug labs." Esper wrote in his book that Trump brought up the idea in the summer of 2020, saying "we could just shoot some Patriot missiles and take out the labs, quietly." Trump added that "no one would know it was us," according to the book.
In a 60 Minutes interview, Esper recalled the private discussions in which Trump reportedly pushed for the idea.
"I'd say, 'Mr. President, you know, I understand the motive'—because he was very serious about dealing with drugs in America. I get that, we all understand," Esper said in the interview. "But I had explained to him, we can't do that. It would violate international law. It would be terrible for our neighbors to the south. It would, you know, impact us in so many ways."
Trump Jr., in a later tweet, brought up how U.S. forces killed civilians in Afghanistan with a missile strike during President Joe Biden's withdrawal of troops from the country. The strike was reported on by The New York Times. Trump Jr. asked why the Biden administration's "media backers" have been silent yet are complaining about his father's reported plan to use missiles against drug cartels.
After the 2020 election, Esper was fired in a tweet following the 2020 election. Afterward, he began working on the memoir and sued the Department of Defense to get access to documents.
Esper told 60 Minutes that he was reluctant to tell his story about Trump wanting to fire missiles on Mexico because people in the former president's orbit would dismiss it and others would think it was made up.
Esper also recalled how he changed his mind over dinner with another cabinet member after the 2020 election. He said the cabinet member recollected how Trump made the suggestion. The cabinet member also remarked that he was impressed with how Esper talked Trump back from considering the idea.
"And at that moment, I knew I gotta write the story, because I at least have one witness who will verify that this really did happen," said Esper.
Newsweek reached out to Trump for comment.