Donald Trump Jr. Slammed for Bad Photoshop 'Magic' on Fake Trump Approval Rating Instagram Post, Misspelling 'America'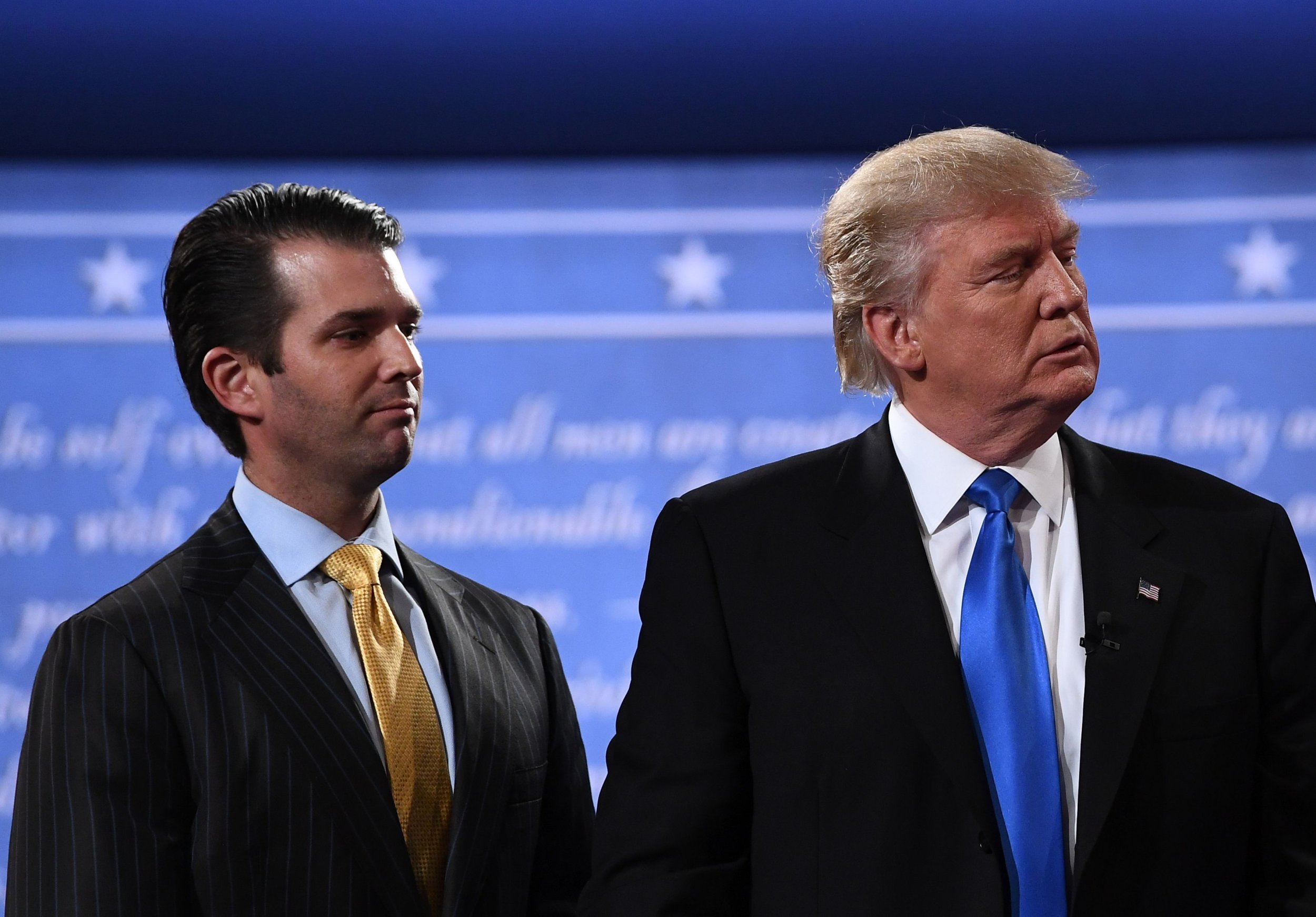 Donald Trump Jr. faced Instagram wrath for posting an picture of a graphic that compared President Donald Trump's approval rating to former President Barack Obama's at the same point in their presidencies, with a seemingly glaring Photoshop job that falsely boosted his father's approval rating over his predecessor's.
The image showed Obama's job approval rating at 45 percent against a blue background, and Trump's rating on a red background. Trump's number, as it appeared on Trump Jr.'s post—50 percent—had a brighter red rectangle around it that made it look obviously doctored.
"Amazing. I guess there is a magic wand to make things happen and @realdonaldtrump seems to have it. #maga #amreicafirst," Trump Jr. wrote in his Instagram post onThursday.
Instagram users attacked Trump Jr. not only for the fake number but for misspelling "America," much like his father, who also lacks attention when it comes to spelling.
"Haha this is one of the worst photoshop jobs I've ever seen," @nateu2 commented. "Wow. And you spelled America wrong. #pathetic."
"@donaldjtrumpjr first, you spelled America wrong, genius," @Joshferreira wrote. "Second, you can see the actual percentage covered up with this fake stat."
The statistics came from Gallup, from which Trump has never received an approval rating of 50 percent in its weekly tracker. Trump peaked at 45 percent twice: a few days after he was sworn in as president, and again this past June.
While it is unclear whether Trump Jr. created the post as a joke, his father is known to tout conservative polls and claim his approval rating is higher than what other polls report. Trump seems to take his greatest pleasure in comparing himself favorably to Obama, whose policies he seems on a mission to undo.
Trump cited the Republican-leaning Rasmussen Reports poll in May, which showed that 51 percent of likely U.S. voters approved of his job performance.
"Then I turn on like, you know, one of the networks and I see, 'Donald Trump, who's not very popular…' I'm saying, 'What are you talking about?'" Trump said. "In fact, you saw the poll came out that I'm above Obama."
Trump Jr. frequently uses Instagram and Twitter to promote his father and his policies, and has been hitting the campaign trail to support GOP candidates in the upcoming midterms.
The first son left the other numbers on the panel untouched, perhaps because they were favorable to his father. The Trump column shows the unemployment rate at 3.9 percent versus 9.4 percent for Obama; added jobs at 3.2 million for Trump versus 2.9 million lost under Obama; the deficit at $532 billion under Trump versus $936 billion under Obama; and GDP at 4.1 percent under Trump compared with 1.6 percent under Obama.