Donald Trump Jr. targeted teachers unions in a diatribe arguing for broader school reopening policies, which he videoed while standing in front of what appears to be a wall lined with guns. Trump Jr., the eldest son of former president Donald Trump and executive at the Trump Organization, is a prolific social media user who frequently posts rants online.
In the new video, entitled "These Teachers Unions Are OUT OF CONTROL," Trump Jr. airs a string of accusations against teachers unions that have advocated for less hasty school reopening procedures in light of the ongoing coronavirus pandemic. He originally posted the video to Canadian video-sharing platform Rumble on Saturday, and then promoted it in a post shared to Twitter.
"One of the things I want to talk about that I've been reading a lot about lately is sort of the stuff, as it relates to the teachers union," said Trump Jr. He went on to denounce education labor unions for preventing schools from reopening their doors to students. When and how to effectively resume in-person learning without endangering students and staff (and their relatives) has dominated national debate for the better part of a year.
The National Education Association (NEA) and American Federation of Teachers (AFT) are the country's largest and second-largest teachers unions. Both prioritized safe and measured approaches to reopening classrooms in public discourse about how the education system should proceed while COVID-19 transmission persists. Numerous local unions did the same. Teachers unions contributed significantly to postponed or suspended returns to in-person instruction in school districts across the country, arguing that health risks were too great.
President Joe Biden has established an intention to facilitate a widespread return to physical school buildings as soon as it is safe. His current plan aims to reopen K-8 schools during his first 100 days in office, which gives the federal administration and local school districts until the end of April to administer vaccines and solidify mitigation protocols. Former president Trump loudly pushed for schools to reopen despite teachers' health concerns.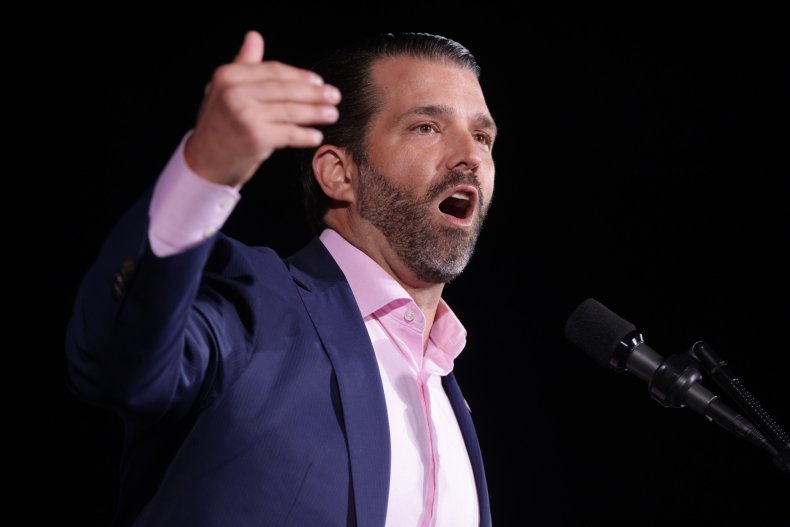 "Guys, what's going on?" said Trump Jr. in his recent video, adding that calls from educators and unions for vaccinations prior to reopening schools indicates "they'll do whatever they can to avoid going back." He also suggested that educators should not be compensated if they are "not teaching."
The reason for Trump Jr.'s choice to record the video with a rifle display crowding the background was not clear. Like his father, Trump Jr. is a strong proponent of gun rights.
Newsweek reached out to Trump Jr. through the Trump Organization for comment, but did not receive a reply in time for publication.