Trump's 'Keep America Great' Re-election Banners Are Made in China And Were Mass Produced to Avoid Trade War Tariffs
Factory workers in eastern China have been working hard since March to churn out about 90,000 "Keep America Great" banners for Donald Trump's re-election campaign, aiming to fulfill the massive order quickly to avoid the potential economic impact of the president's trade war.
Despite Trump's constant criticism of China and American companies sending jobs and production abroad, the president has shown little reluctance about taking advantage of lower Chinese prices when it concerns his own bottom line. Meanwhile, as the president continues to threaten even more tariffs on Chinese imports, the orders his campaign team has already placed with China's factories are moving along quickly to avoid any financial repercussions.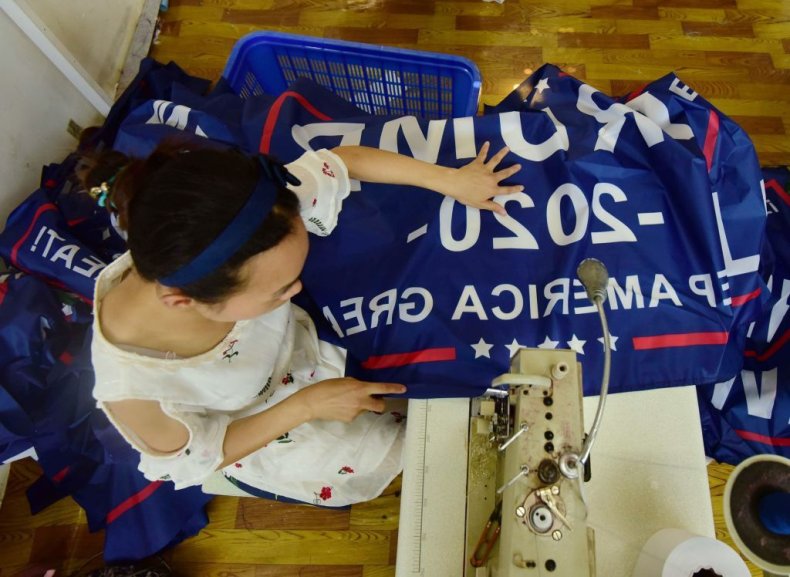 "It's closely related," Yao Yuanyuan, the manager of Jiahao Flag Co. Ltd., where tens of thousands of Trump campaign banners have been produced in recent months, told Reuters. "They are preparing in advance, they are taking advantage of the fact that the tariffs haven't gone up yet, with lower prices now."
Yao pointed out that the months from spring until summer are typically the low season for production in the Jiahao Flag Co. factories. This year, however, the women operating the facilities sewing machines have been kept extra busy hemming the edges of "Trump 2020" flags, currently selling for about $1 per flag. The campaign team wouldn't want to avoid such an affordable deal.
Until now, Washington and Beijing have imposed additional 25 percent tariffs on $34 billion worth of each other's imports. An additional $16 billion of imports is expected to be affected by reciprocal levies soon as well.
Trump has warned that he will gladly move to add 10 percent tariffs on another $200 billion of Chinese products, with Beijing vowing to respond in kind. Last week, Trump even threatened to slap additional duties on all Chinese imports—which would include flags—totaling more than $500 billion.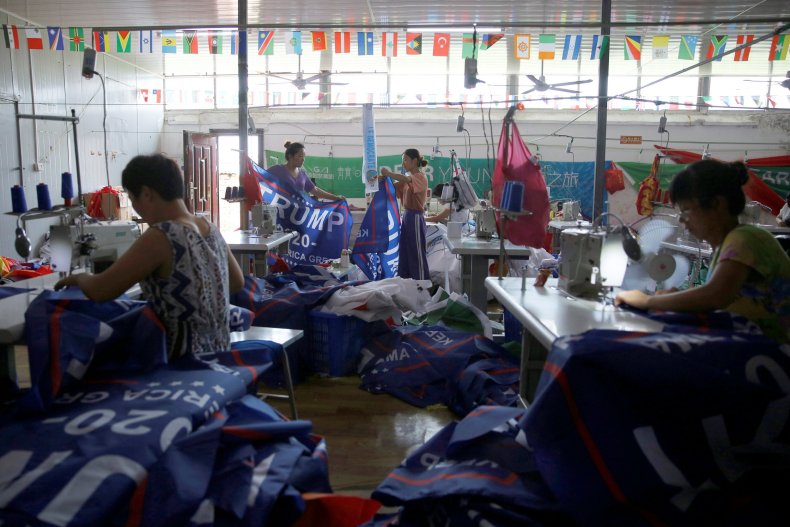 Nevertheless, Yao explained that her factory has been producing Trump's paraphernalia ever since his first campaign, back in 2015. Many of the iconic "Make America Great Again" or "MAGA" banners were produced by Jiahao Flag Co., an irony that is apparently lost on many Trump supporters.
Numerous other factories in China produced Trump campaign products as well. In fact, according to NPR, there is even a running joke in parts of the country that local residents knew Trump would win long before the Americans because they received many more orders from his campaign compared with the Hillary Clinton campaign.
"Sales have been great ever since 2015," Yao told Reuters. However, the manager also said that she worries about the potential impact of Trump's tariffs, fearing they will remove the factories' competitive price advantage with the U.S. She also said the president's hard-line anti-China stance is a turnoff to Chinese companies.
"If he continues to demand tariff increases as he has been, or if he continues to agree with those who are against China, I definitely would not be able to accept [more orders]," she said.
"Everyone can have a patriotic heart, but this won't improve his economy."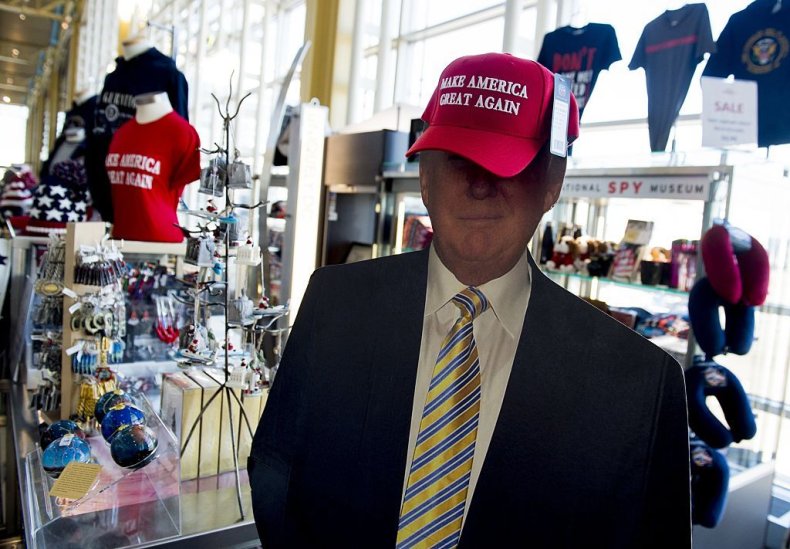 In addition to flags and banners, Trump's team has done little to avoid using other Chinese made goods, despite the president's stated anti-China stance. Just this weekend, guests of a "Made In America" event hosted at the White House noted that the cutlery they were served with was, in fact, made in China.
Even many of the iconic MAGA hats worn by loyal supporters of the president are made in China, although the text is generally embroidered in the U.S. David Lassoff, a company manager for California-based Incredible Gifts, told CBS News earlier this month that he's been stockpiling the Chinese-made hats after receiving warnings from importers that the price may increase due to the president's trade policies.