Donald Trump Says He 'Could Win' Afghanistan War 'In A Week' But Doesn't Want to Kill '10 Million People'
President Donald Trump has claimed that he could win the war in Afghanistan within a week, but such a campaign would kill 10 million people, nearly a third of the population.
"I could win that war in a week," Trump told reporters following talks with Pakistani Prime Minister Imran Khan. "I don't want to kill 10 million people ... Afghanistan could be wiped off the face of the earth. I don't want to go that route ... I have a plan that could win that war in a very short period of time ..."
The U.S.-led war in Afghanistan is the longest conflict in the Pentagon's history, stemming from a 2001 invasion launched in the wake of the 9/11 attacks. The deadly operation was conducted by Islamist militant group Al-Qaeda, an ally of the Taliban group dominating Afghanistan's civil war at the time.
Though the lines of control have ebbed and flowed over the years, the Taliban has staged a comeback and the Trump administration has opted for peace talks that have yet to curb ongoing violence in the war-torn nation.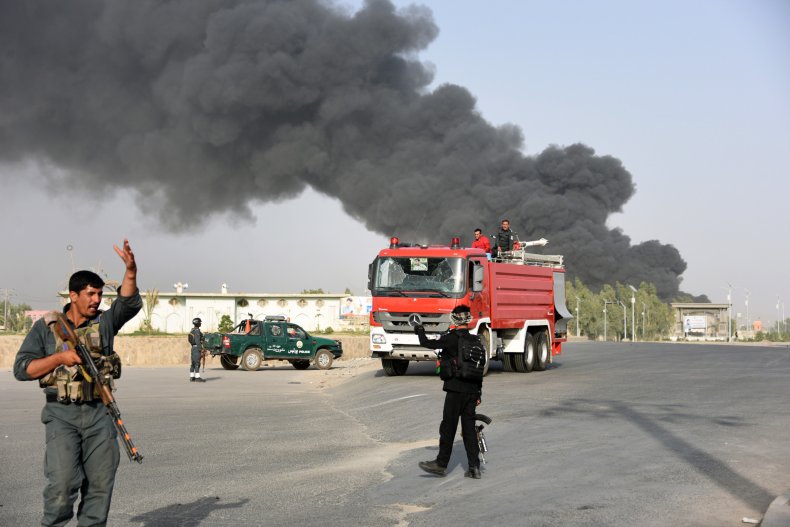 The remarks raised concern that Trump may have considered a nuclear option in Afghanistan, a notion that led retired four-star Army General Barry McCaffrey, now a political analyst, to criticize the whole conference on Twitter.
"Troubling listening to Trump Oval Office news conference with Pakistani PM. He [boldly] states that we have analyzed and considered using nuclear weapons to kill millions of people in Afghanistan as a solution to the conflict. WHAT IS TRUMP THINKING?" McCaffrey tweeted.
"GUARANTEE THERE IS NO MILITARY PLAN TO EMPLOY NUCLEAR WEAPONS IN AFGHANISTAN. THE JCS WOULD RESIGN RATHER THAN TEE UP THAT SENSELESS AND ILLEGAL OPTION," he later added.
Trump debuted his strategy for Afghanistan in August 2017, calling for an end to "nation-building" to instead focus on "killing terrorists" months after he ordered the U.S. to drop its largest non-nuclear weapon, the GBU-43/B Massive Ordnance Air Blast, or Mother of All Bombs (MOAB) on suspected Islamic State militant group (ISIS) hideout in Nangarhar. The Taliban's control has only expanded, however, and the Pentagon-backed government's grip has weakened, causing concern not only for the U.S., but regional countries such as Pakistan.
Though Trump and Khan have exchanged harsh words in the past and the U.S. cut millions of dollars in military assistance to Pakistan over its suspected protection of militant groups, the two leaders attempted to reset their hostilities Monday and enhance cooperation over Afghanistan. As pair wrapped up their remarks, the White House sent out issued a fact sheet detailing how Trump "is working to strengthen cooperation with Pakistan on issues that are vital to the peace, stability, and prosperity of the South Asia region."
China, a top U.S. economic rival with close ties to Pakistan, has also sought a greater role in Afghanistan, where Russia and India—two nations also carrying their robust Cold War-era relationship into the modern era—were growing more active as well. The U.S., China and Russia managed to put aside other geopolitical differences earlier this month and said they "welcomed Pakistan joining the consultation and believe that Pakistan can play an important role in facilitating peace in Afghanistan" in a joint statement signed alongside Islamabad.
More regional participation came as Trump looked to scale down the U.S. military presence in Afghanistan and use Pakistan's leverage with the Taliban to advance ongoing peace talks. Trump said Monday that the U.S. has "already withdraw quite" a few troops from Afghanistan.
"We're doing it very slowly, very safely. And we're working with Pakistan and we're negotiating with the Taliban. And we're doing very well in that regard," Trump said. "We are working with Pakistan on getting a solution."
For his part, Khan emphasized that "there is no military solution in Afghanistan," noting that, "if you go all out military, millions and millions of people will die."