Trump's Meeting With Kim Jong Un Could Be 'Extremely Dangerous,' Foreign Policy Experts Warn
When foreign policy experts imagined the person who might smooth over the United States' relationship with North Korea—if they could imagine such a possibility at all—this person was most likely a president with unmatched statesmanship and diplomacy skills. Someone measured, but firm, who understood the delicate nuances of the situation and what was at stake. What they got instead was Donald Trump, a president who has argued that his history of brokering billion-dollar real estate deals will be enough to persuade North Korean leader Kim Jong Un to begin the process of dismantling a nuclear arsenal his family has been building up for decades.
And in a one-on-one meeting no less.
Trump and Kim are slated to meet face-to-face on Tuesday, in a private 45-minute meeting in which the only other attendees will be their respective translators. It will be a historic occasion, the first summit ever to take place between the leaders of the U.S. and North Korea—which is why experts are so wary that Trump will be the one sitting across from Kim.
"For the president to meet one-on-one with Kim would be fine if it were for a handshake, or a five- or ten-minute conversation," Daniel Kurtzer, a professor at Princeton University's Woodrow Wilson School of Public and International Affairs, told Newsweek Monday. "But if the conversation enters into substance, the question is, will Trump realize he doesn't know anything relative to what Kim knows?"
The two men will later take part in a larger bilateral meeting involving their senior aides. Still, a central concern for Kurtzer is that Trump is underprepared and overconfident for his initial solo meeting with the North Korean leader. The president has been known to skip daily written intelligence briefings, and generally gloss over the details of tricky foreign, as well as domestic, policy matters. "Nobody knew healthcare could be so complicated," Trump remarked in February 2017, amid failed efforts to repeal and replace the Affordable Care Act. Some experts worry that Trump may similarly underestimate the slipperiness of negotiating with the leader of North Korea.
"I don't think I have to prepare very much," Trump said last week, speaking to reporters alongside Japanese Prime Minister Shinzo Abe. "It's about the attitude. It's about willingness to get things done."
This kind of comment only confirms some of Kurtzer's worst fears.
"To not have anyone else in the room to listen in, take notes, interject if words get misunderstood or nuances get lost is extremely dangerous," Kurtzer said. "If Trump inadvertently conveys something to Kim that leads to a misunderstanding, there will be no one else in the room to verify what the two of them said besides the translator."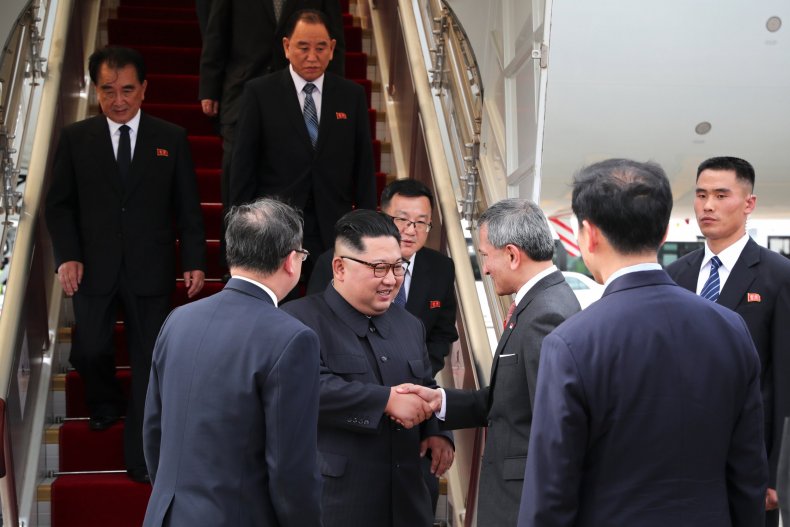 That means both Trump and Kim could emerge from the meeting each declaring themselves victors and expert deal-makers—without anyone else knowing for sure what was said. It will be especially tempting for Trump to overstate his success coming out of the one-on-one. For him, forging a peaceful path forward for the U.S. and North Korea would be serious legacy-making business.
"I think at this point, Trump understands the consequences," Scott Snyder, the director of the program on U.S.-Korea policy at the Council on Foreign Relations, told Newsweek. "But how does that factor into Trump's personal priorities? If the prospect of distinguishing himself by doing something historic recedes, will he be dogged in fighting for the next best opportunity, or will he move onto another personal priority?"
By this, Snyder means to wonder whether Trump is too worried about building a name for himself as the " greatest president in the history of our country" to spend too much of his first term trying to improve relations with North Korea. If the Trump-Kim conversation goes poorly, the president could throw up his hands and move on to the next big thing.
But for now, Snyder said the problem is that Trump may want to clinch this historic deal too much, and that it could cloud his judgment when he goes to sit down with Kim. Trump—who has been notoriously fiery with his rhetoric on North Korea for most of his presidency—might be too nice to the North Korean leader. Snyder said the president's politeness with Kim's right-hand Kim Yong Chol (Trump walked him out after their visit earlier this month) might suggest Trump "wants it too much."
As experts in the U.S. try to guess what will go on behind closed doors between Trump and Kim, some say it's possible the North Korean leader and his own advisers are just as confused about what to expect.
"Is this the man who called me a 'little rocket man'?" Kurtzer said Kim could be thinking. "Is this the man who's trying to renegotiate every agreement the U.S. has made not on his watch? Is this the man who thinks his relationship with European allies is a '10,' and then gets into a verbal fight right after the meeting?
"If that's Trump objective, it's brilliant," Kurtzer said. "But what's the danger there?"