Trump-Kim Summit's Ideal Location Is a Former Pirate Hangout Turned Golfer's Paradise
Barely a week ahead of the planned summit between President Donald Trump and North Korean leader Kim Jong Un in Singapore, only a handful of hotels are fully booked around the dates of the summit scheduled for June 12, offering clues as to the possible location.
The two leaders are expected to stay in different hotels and then meet in a third location which, according to reports in The Washington Post and Bloomberg, is likely to be the Capella hotel on the island of Sentosa. Not only is the hotel fully booked until June 16, but, as The Straits Times reported, already served as the location of a pre-summit meeting between North Korean official Kim Chang Son and White House deputy chief of staff Joe Hagin last week.
Described as a six-star hotel, the resort complex was opened in 2009 as part of a transformation of the island into a luxurious tourist hotspot, home to Universal Studios Singapore, a casino, and two 18-hole golf courses. Sentosa is connected to the main island of Singapore via a bridge and a roughly half a mile-long walkaway.
Japanese newspaper The Mainichi Shimbum also reported that the island is a preferred choice because it is easy to ensure security there, noting that Pyongyang is yet to formally agree to the U.S. proposal.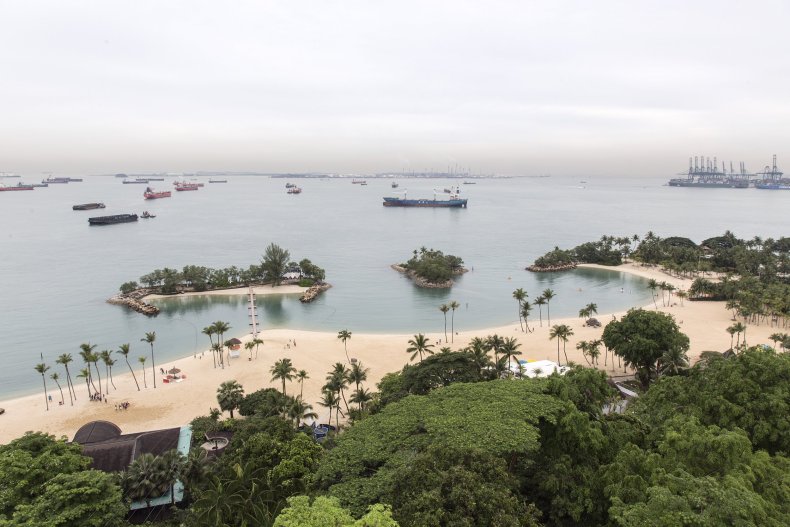 The island of Sentosa adopted its current name in 1972, which means "peace" and "tranquility" in Malay, but its reputation was not always as serene. For centuries it was known as Pulau Blakang Mati, loosely translated as "island of death from behind," a name that could have either served as a warning to travelers—the area was an infamous pirate's lair—or derived from a devastatingly deadly outbreak of malaria in the 1840s.
In the early 20th century the island continued to experience death and violence, as the British colony fell under occupation of the Japanese empire during World War II. Under the Japanese, the island became a camp for Australian and British prisoners of war. It was also one of the locations of the massacre of ethnically Chinese residents suspected of having anti-Japanese sentiments, known as Operation Sook Ching.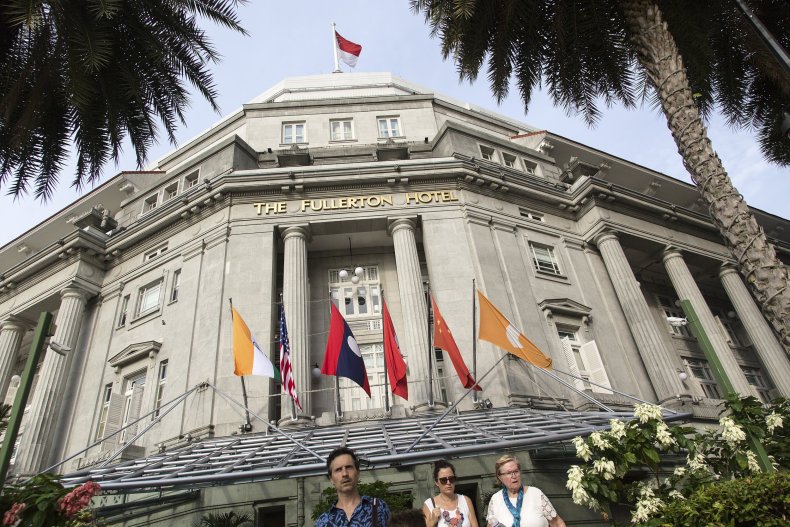 Sentosa's Capella hotel is currently hosting a U.S. delegation, the Post reported, adding that one of its reporters saw construction crews "erecting tents and other facilities required for a large event" before being instructed to leave the premises.
Trump and Kim are however expected to stay on Singapore's main island. There, the neoclassical five-star Fullerton hotel is fully booked between June 9-12, and is reportedly Kim's accommodation of choice, while Trump is set to stay at the Shangri-La hotel, according to rumors. The Shangri-La is accustomed to hosting top officials for high-security events and appears to be completely full between June 10-15.
Once the issue of the location is sorted, it remains to be seen who will foot the North Korean delegation's bill—which will doubtless be a hefty one, if the $2 million fund set up by South Korea to cover the North's participation to the Pyeongchang Olympics is anything to go by. North Korea is unable to access foreign currency itself under the terms of U.N. sanctions.
Singapore offered to shoulder some of the cost of the summit, and last year's Nobel Peace prize winner, the International Campaign to Abolish Nuclear Weapons (ICAN), also offered to use part of its award money to pay for the summit's meeting space, which is aimed at setting the terms for North Korea's nuclear disarmament, according to Reuters.