Hosting North Korea Is Costing South Korea $2 Million, But At Least Kim Jong Un Is Grateful
South Korea will this week debate whether to pay a 2.9 billion won ($2.7 million) bill for North Korea's Olympic participation.
Chaired by unification minister Cho Myoung-gyon, the South and North Exchange and Cooperation Promotion Council will meet Wednesday to vote on whether South Korea should shoulder the financial burden, Yonhap news agency reported.
The money would cover the costs incurred for the accommodating dozens of North Koreans who came to the South to participate in cultural and sporting events at the Winter Olympic Games, including the 200-strong cheer squad, the 137-member orchestra, 22 athletes and various officials and reporters.
The Samjiyon orchestra returned to Pyongyang Monday. The performers had traveled to South Korea via ferry and North Korea demanded fuel payment for the way back—an action prohibited under U.N. sanctions. The two parties debated the issue but the North Korean side eventually withdrew the request, returning home and leaving the orchestra to travel to Pyongyang via land route.
Upon their return, the artists and the officials were welcomed by leader Kim Jong Un. "He warmly congratulated the orchestra upon its successful performances that conveyed the warm mind of the people in the north hoping for the successful Winter Olympics and the national concord and delighted the fellow countrymen in the south," an article in the ruling party-controlled newspaper Rodong Sinmun read.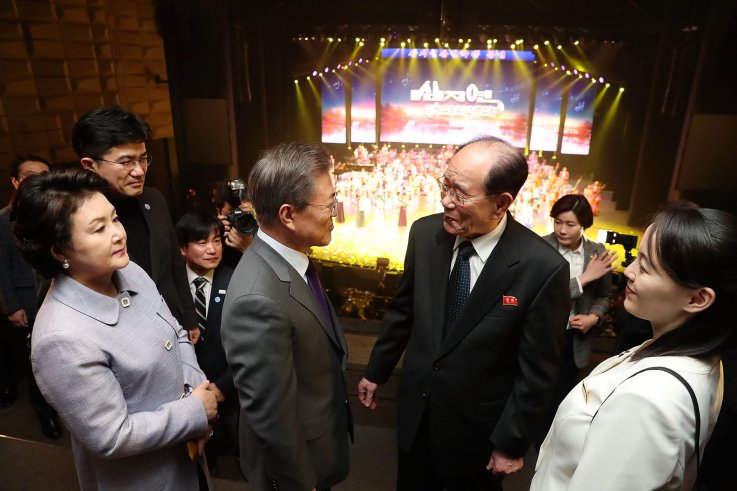 The high-ranking delegation of North Korean officials who had been sent to the South returned to Pyongyang on Sunday, welcomed by a red carpet, military troops and party and army officials. According to a separate article detailing Kim Jong Un's meeting with the delegation, the country's nominal head of state Kim Yong Nam reported back about the opening ceremony and the visit to the South Korean presidential building. The supreme leader's sister, Kim Yo Jong, reportedly told her brother about the meeting with South Korean president Moon Jae-in—who was invited to visit Pyongyang at an unspecified time—and her encounter with the U.S. side, who sat in front of the North Koreans at the opening ceremony.
Kim Jong Un reportedly responded positively to their accounts of events, commenting on how "impressive" the welcoming of the North Korean delegation was and expressing his "gratitude." He expressed the desire to continue efforts toward reconciliation and dialogue, according to Rodong Sinmun, and gave instructions on how to act toward this goal, details of which were not disclosed in the report.
North Korea has yet to respond to South Korea's offer of military talks and the recent U.S. change of stance on starting a dialogue.
Hosting North Korea Is Costing South Korea $2 Million, But At Least Kim Jong Un Is Grateful | World