U.S. Talks With North Korea: Mike Pence Signals Change of White House Strategy
Vice President Mike Pence has signaled a change of direction for U.S. diplomacy with North Korea on his way back from the Winter Olympic Games in Pyeongchang.
Pence said the U.S. would be willing to talk to the North Koreans even without Pyongyang showing signs of disengagement from its nuclear and missile development program, according to The Washington Post columnist Josh Rogin, who reported on his private conversation with the vice president on Sunday.
The new strategy involves continuing diplomatic pressure—last week, Pence anticipated a new round of sanctions against the regime—while opening up to dialogue at the same time. "The point is, no pressure comes off until they are actually doing something that the alliance believes represents a meaningful step toward denuclearization," Pence was quoted as saying. "So the maximum pressure campaign is going to continue and intensify. But if you want to talk, we'll talk."
Pence was the highest-ranking U.S. official present at the Pyeongchang Olympic opening ceremony Friday, sitting next to South Korean President Moon Jae-in and Japanese Prime Minister Shinzo Abe, in front of the North Korean delegation that included Kim Yo Jong, sister to North Korean leader Kim Jong Un.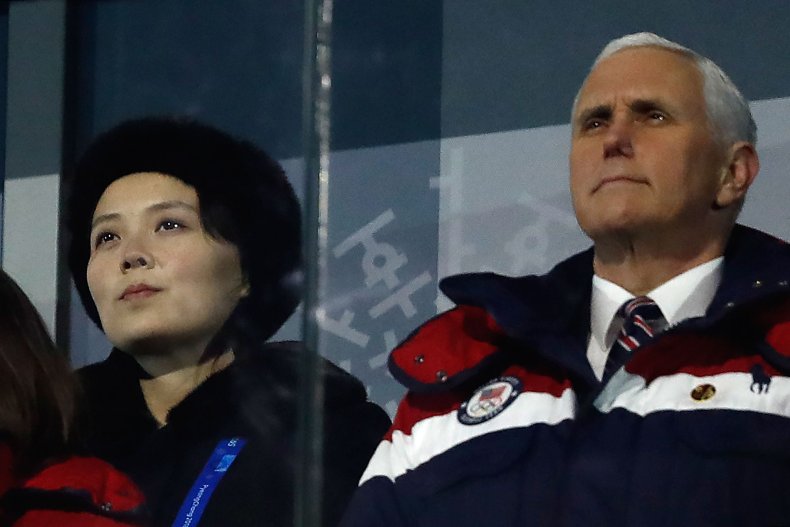 The presence of a Kim family member in South Korea was unprecedented and welcomed by the South Korean government as a sign of willingness to reduce tensions on the peninsula. Pence, however, said the North Korean overture to collaborate in sports and cultural events related to the Olympics was an attempt to "hijack" the games.
The North Koreans also made clear they had no interest in interacting with Pence. "We have never begged for dialogue with the U.S. nor in the future too. Explicitly speaking, we have no intention to meet with the U.S. side during the stay in South Korea," read a statement attributed to Cho Yong Sam, director general of the North American department of North Korea's Foreign Ministry, and published in North Korea's state-controlled news agency KCNA on Thursday.
President Donald Trump's administration has often emphasized a change of direction from his predecessor Barack Obama's "era of strategic patience," promoting more aggressive rhetoric and increased economic and military pressure. In the past year, the U.S. has led the U.N. Security Council through several rounds of sanctions aimed to stem trade with North Korea and its access to foreign currency. U.S. forces stationed in South Korea, Japan and the American territory of Guam held some of their biggest military drills to date and flew bombers over the Korean Peninsula.
The White House position on the conditions North Korea would have to fulfill for talks to take place has shifted over the past few months. In April, Trump told Bloomberg he would be willing to meet North Korean leader Kim Jong Un "under the right circumstances. " He then mocked Secretary of State Rex Tillerson for "wasting his time" on talks with North Korea in October. Tillerson however was the first to anticipate Pence's change of direction in December, telling an audience at the Atlantic Council on December 12 that a first meeting between the U.S. and North Korea could happen "without preconditions."
"Let's just meet and let's—we can talk about the weather if you want," Tillerson said. The secretary of state had to backtrack on that statement a few days later, after White House press secretary Sarah Sanders released a statement saying Trump's position on North Korea had not changed.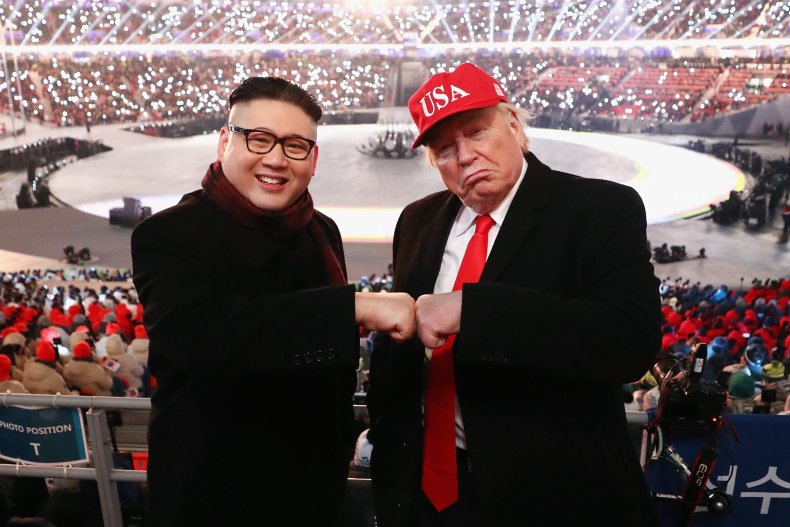 But Pence's words show that the White House has now changed its mind, apparently seeing value in dialogue for dialogue's sake after President Moon, who has been leading efforts to engage with Pyongyang, assured the U.S. he would not concede any economic or diplomatic relief to the regime until it took concrete steps toward denuclearization. What such steps would look like remain unclear. "I don't know," Pence told The Washington Post. "That's why you have to have talks."
Asked about progress in inter-Korean dialogue over the weekend, which included Pyongyang inviting Moon to visit the country, Defense Secretary Jim Mattis remained cautious in expressing optimism, pointing to the military parade North Korea held the day before the start of the Olympic Games, while its cheerleaders and orchestra performed in South Korea.
"It's too early for me to tell what [Kim] will do, because in the midst of all of this, he ran a military parade that—that highlighted his ballistic missiles. That's a very strange time, if in fact he's trying to show a warming to the country that he has attacked repeatedly as an American puppet, a country that impeached their last president. It's clearly a democracy. It runs its own affairs. So, I—it's just too early to tell," Mattis said, speaking to reporters on Sunday.