Donald Trump Holds Law Enforcement Roundtable as Joe Biden Meets George Floyd Family
President Donald Trump is set to hold a roundtable with law enforcement officials on Monday as former Vice President Joe Biden meets with the family of George Floyd two weeks after the unarmed man died in police custody.
The president's roundtable with law enforcement will take place in the State Dining Room at 3 p.m. this afternoon, according to a White House pool report.
It is unclear which law enforcement officials are scheduled to attend the roundtable, and the meeting will be closed press—meaning reporters and other media will not be given access to the discussion.
Newsweek has contacted the White House for further details. This article will be updated with any response.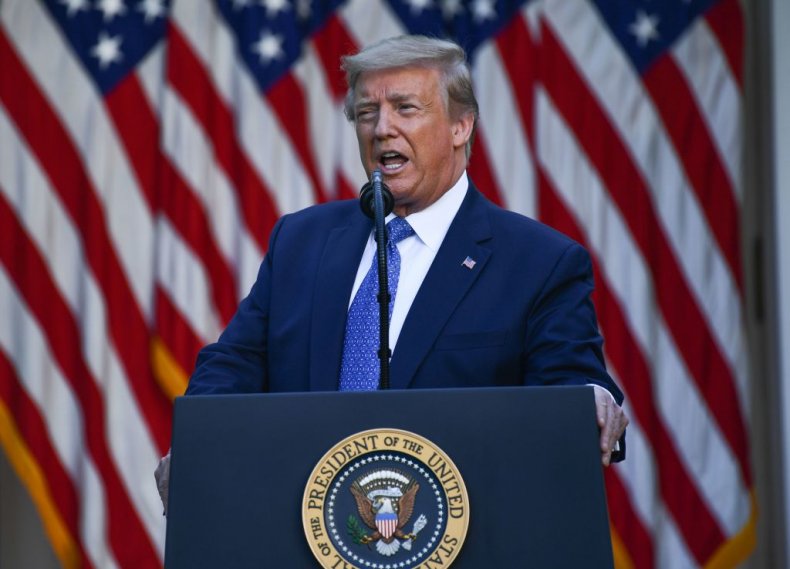 As the president meets with law enforcement in the White House this afternoon, former Vice President Biden will be in Houston, Texas to meet with Floyd's family amid ongoing nationwide protests against his death in Minneapolis Police custody on May 25.
According to a note sent out by the Biden campaign, the presumptive Democratic nominee will be joined by his wife, Jill Biden, at the private meeting closed to the press.
An aide to the former vice president told The New York Times that Biden would be offering condolences to Floyd's family and recording a video message for his funeral service.
The presidential candidate will not be attending the funeral in-person on Tuesday over reported concerns that his Secret Service protection could cause a disruption at the memorial.
Biden's meeting with the Floyd family on Monday comes in the wake of a series of pledges to tackle systemic racism and address the problem of police brutality.
In an op-ed for the Los Angeles Times published Saturday, Biden said: "If elected, I am committed to establishing a national police oversight commission within 100 days of taking office.
"We need to implement real community policing and ensure that every police department in the country undertakes a comprehensive review of their hiring, their training, and their de-escalation practices, with the federal government providing the tools and resources needed to implement reforms."
The Democratic presidential nominee also called on Congress to immediately take action on outlawing chokeholds, and stopping the transfer of war weapons to police officials.
"Most police officers meet the highest standards of their profession, which is all the more reason that bad cops should be dealt with severely and swiftly," Biden said.
The former vice president's recent statements on police brutality and reform have drawn the ire of Trump, who has suggested Biden is controlled by the "radical left" on the issue of law enforcement.
"Not only will Sleepy Joe Biden DEFUND THE POLICE, but he will DEFUND OUR MILITARY!" Trump tweeted yesterday. "He has no choice, the Dems are controlled by the Radical Left."
The president has also repeatedly painted himself as the "law and order" candidate as cities across the U.S. have witnessed some incidents of looting and violence amid protests against police brutality.
"I am your president of law and order, and an ally of all peaceful protesters," Trump said at a White House press conference last week.