Donald Trump's Ex-Lawyer Michael Cohen Knows About Russian Tapes, MSNBC Panelist Suggests
Donald Trump's ex-lawyer Michael Cohen could be more dangerous to the president than convicted former campaign chairman Paul Manafort, partly because he may have details about an alleged Russian tape, an MSNBC panelist and legal expert has said.
Often dubbed the "pee pee" or "golden shower" tape, the recording, if it exists, reportedly would show Russian prostitutes relieving themselves during a sexual encounter with Trump, prior to his presidential campaign, in a hotel suite in Moscow where President Barack Obama had once stayed. The encounter, and the possible existence of such a tape, was first revealed through a controversial dossier written by former British spy Christopher Steele, but the veracity of the claims has never been confirmed.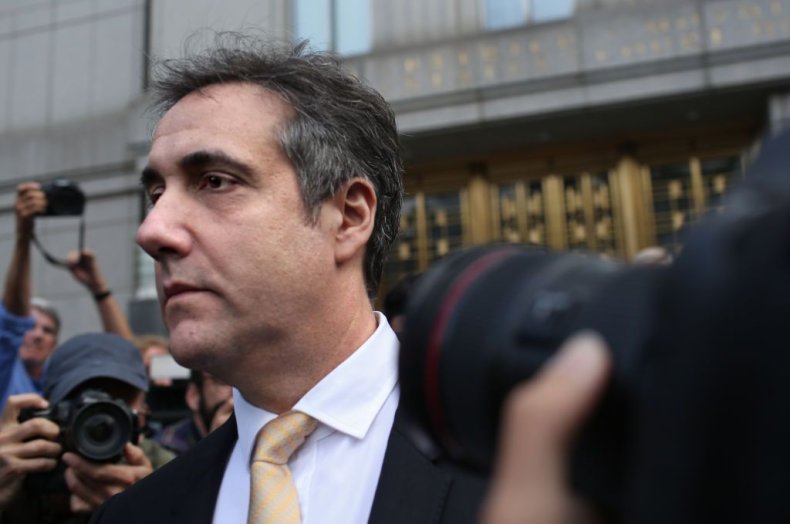 Discussing whether Cohen, who is reportedly talking with the Justice Department's special counsel Robert Mueller in connection with the ongoing investigation into the Trump campaign team's alleged collusion with Russia, or Manafort is a bigger threat to Trump, Elie Mystal, the editor of Above the Law argued Cohen has more dirt on the president.
"Cohen knows about the pee pee tape," Mystal said on MSNBC's AM Joy on Saturday. "If that's real, Cohen knows about it."
"I generally agree that Cohen is more dangerous to Trump personally, but that's how Cohen gets wrapped up into the Russia thing," he continued. "Who talked to who about the pee pee tape? That's kind of where Cohen shows up … If he knows something about that — that's gross — but it's like that's the connection back into Russia."
Prior to Mystal's assessment, legal analyst Danny Cevallos pointed out that as Trump's former personal lawyer, Cohen has a lot of information on the president. However, Cevallos also expressed disbelief at Cohen's ethics.
"He taped him as a lawyer — which is unthinkable of to me — he taped his client," the analyst said. "He knows everything about Trump."
On Friday, Manafort agreed to cooperate with Mueller as part of a deal that involved pleading guilty to two conspiracy charges. The former Trump campaign official was already convicted on eight counts of fraud last month. Vanity Fair also reported on Friday that it is considered "common knowledge" among Cohen's friends that he has been talking with Mueller.
Speaking on the MSNBC panel as well on Saturday, former federal prosecutor Paul Butler suggested that "it could be that Michael Cohen has evidence to send President Trump to jail after he leaves office" due to alleged campaign violations.
Butler also pointed out that Mueller's interest in talking to Cohen shows that he "thinks that Cohen might have something that would help him with his own investigation."