Trump Lawyer David Schoen Says Impeachment Trial Will 'Tear This Country Apart'
David Schoen, one of the leading attorneys for former President Donald Trump in his second impeachment trial, argued Tuesday that the proceedings will further divide the nation.
"This trial will tear this country apart, perhaps like we've only ever seen once in history," Schoen said on the first day of the Senate trial, attacking the claim from Democratic House impeachment managers that impeachment would be a unifying force.
"They say you need this trial before the nation can heal, that the nation cannot heal without it. I say our nation cannot possibly heal with it," Schoen continued.
"With this trial, you will open up new and bigger wounds across the nation, for a great many Americans see this process for exactly what it is: a chance by a group of partisan politicians seeking to eliminate Donald Trump from the American political scene and seeking to disenfranchise 74 million–plus American voters, and those who dare to share their political beliefs and vision of America."
Trump is charged with "incitement of insurrection" after thousands of his supporters stormed the U.S. Capitol on January 6 to disrupt the congressional certification of President Joe Biden's electoral victory.
The House of Representatives moved on January 13 to impeach Trump, exactly one week after the deadly insurrection and one week before he was to leave the White House. The bipartisan vote made Trump the first president in U.S. history to be impeached twice.
The trial began on Tuesday with a four-hour debate on whether the proceeding is constitutional because Trump is no longer in office.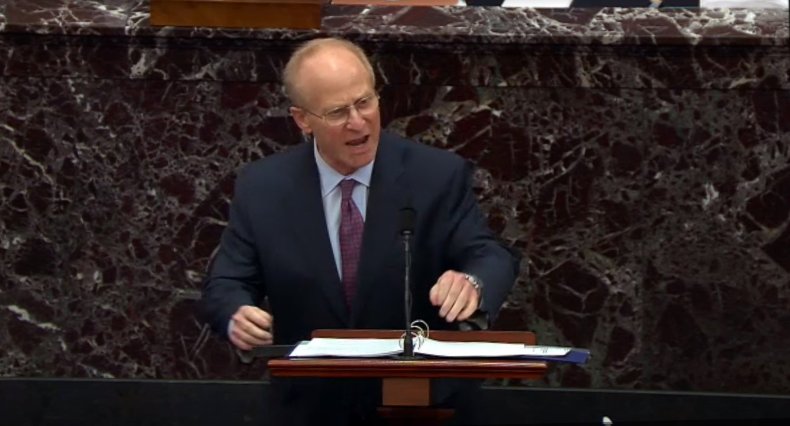 The House impeachment managers opened their arguments with a 13-minute video recapping the events that took place on January 6. The montage began with footage from Trump's 70-minute speech at a "Save America" rally and included clips showing rioters shouting "fight for Trump" and "we are listening to Trump."
Representative Jamie Raskin (D-Md.) said after the video aired, "You ask what a high crime and misdemeanor is under our Constitution. That's a high crime and misdemeanor. If that's not an impeachable offense, then there is no such thing."
Attorney Bruce Castor Jr. opened the defense for the former president. He argued that the Senate must reject the trial in order to prevent partisan impeachments in the future.
"The political pendulum will shift one day," Castor said. "And partisan impeachments will become commonplace."
Schoen also argued that the proceedings are partisan and showed a short video montage that featured Democratic lawmakers calling for the impeachment of Trump over his four years in office.
"They've called their fellow Americans who believe in their country and their Constitution 'deplorables.' And the latest talk is that they need to deprogram those who supported Donald Trump and the Grand Old Party," Schoen said after the montage played. "But at the end of the day, this is not just about Donald Trump or any individual. This is about our Constitution and abusing the impeachment power for political gain."