Trump's Counsel Need 'Own Lawyers' Following FBI Search Claims: Experts
Legal experts have asked if Donald Trump's lawyers should recuse themselves from his counsel as they face potential legal ramifications following revelations unveiled by the Department of Justice (DoJ) regarding the FBI's search of the former president's Mar-a-Lago resort.
Asha Rangappa, a lawyer and former FBI agent, was among those who suggested that Trump lawyer Evan Corcoran, and custodian of records, Christina Bobb, should leave Trump's legal team after the DoJ made public damning allegations of obstruction of justice in relation to the investigation of mishandling of classified White House documents.
Bobb and Corcoran were alleged to be among the former president's counsel who had "explicitly prohibited" FBI agents from looking in a Mar-a-Lago storage room during a June search for classified documents removed from the White House.
The New York Times also reported Corcoran drafted a statement, signed by Bobb, declaring that all classified documents at Mar-a-Lago had been returned following a "diligent search" on June 3, resulting in 37 boxes being handed to federal investigators.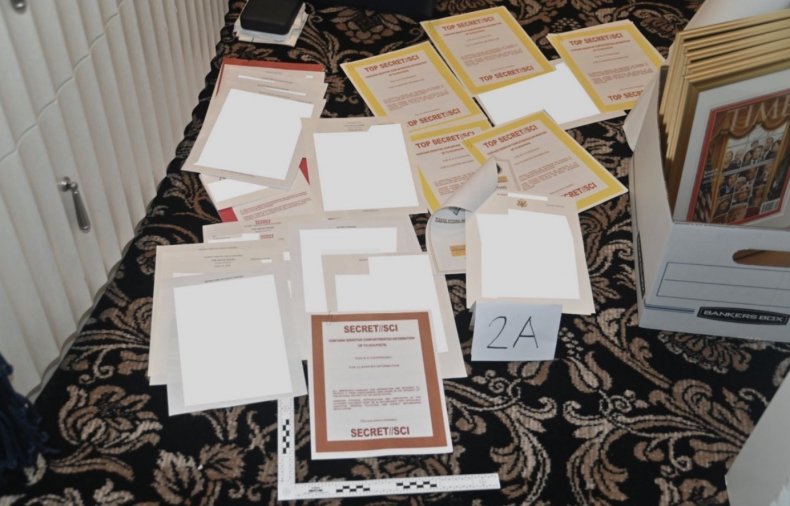 When the FBI carried out the August search of the Florida resort, they recovered a further 76 documents from the storage room, as well others marked "top secret" from a desk drawer in Trump's office.
"Don't Bobb and Corcoran need to recuse from Trump's team at this point? Hard to represent your client when you're also a defendant," Rangappa tweeted.
Allison Gill, host of the Mueller, She Wrote podcast, also highlighted a quote from prosecutors questioning how the FBI "in a matter of hours" managed to recover twice as many documents in August than Trump's legal team previously handed over in June, following what they called a "diligent search" of the resort.
"That means Bobb and Corcoran are now witnesses and should definitely withdraw as counsel and get their own lawyers, because they were either acting on their own, or under the direction of Donald, and obstruction carries a 20 year max sentence," the Twitter account for Mueller, She Wrote posted.
The DoJ said that classified documents were "likely concealed and removed" from Trump's Florida home to "obstruct" the investigation into his alleged mishandling of sensitive material.
Steve Vladeck, a professor at the University of Texas Law School, noted that the revelations from the DoJ, including publicly releasing an image of "top secret" documents found at Trump's Florida home in August, only arrived in response to the former president's legal team calling for a special master to review the documents.
"Between the redacted affidavit and the new DOJ memo, it's pretty remarkable how much damning information is now in the public domain *because* of President Trump's legal efforts to try to advance his claim that the search was unjustified," Vladeck tweeted. "His lawyers have not served him well…"
Laurence Tribe, professor emeritus of constitutional law at Harvard University, also tweeted that Trump and his legal team's attempt to have a special master review the documents seized from his home has backfired.
"Trump asked for it. And did he ever get it! No gut punch was more deserved. And this one drew so much blood that it's hard to imagine DOJ hasn't already decided to prosecute at least Trump's compatriots in obstruction of justice and probably Trump himself," Tribe tweeted.
In a Truth Social post on Wednesday, Trump repeated the claim that he declassified the documents which were recovered at this home while accusing the FBI of throwing "documents haphazardly all over the floor (perhaps pretending it was me that did it!)" before taking pictures of them.
"Thought they wanted them kept Secret? Lucky I Declassified," Trump wrote.
Newsweek has contacted Trump's legal team for comment.