Trump Is Like a Kid 'Who Doctors Their Report Card,' NBC Analyst Says After President Displays Altered Dorian Map
After President Donald Trump displayed a map on Wednesday of Hurricane Dorian's path altered to include Alabama in the storm's trajectory, NBC political analyst Elise Jordan compared the incident to "a 13-year-old that doctors their report card."
While discussing early National Weather Service forecasts of Hurricane Dorian in the Oval Office on Wednesday, Trump displayed a map that appeared to have been altered with a Sharpie marker to include Alabama in the storm's trajectory. "We got lucky in Florida, very, very lucky indeed," he told reporters. "We had actually our original chart was that it was going to be hitting Florida directly... And that would have affected a lot of other states."
Later, during a segment on MSNBC, host Chuck Todd discussed the doctored visual with Jordan and two other guests.
"This is the part where you're just like, 'what did we disrupt?' This is the disruption you want?" Todd said, apparently in reference to the U.S. citizens who voted for Trump to disrupt Washington.
"Exactly. You get the full display of President Trump's ignorance and his obstinance and his complete inability to tell the truth — and also his lack of basic geography," Jordan said. "I think that a 13-year-old who doctors their report card, their parents usually can tell. They don't do that good of a job. Actually, I'm showing my age right now, the day when we had handwritten report cards. But still."
"I remember a dumb third grade version of myself trying to trace my dad's signature," Todd interrupted. "Guess what? I got caught."
"You get caught. He got caught," Jordan said, referring to Trump.
"This is the level that he's operating, he's not smooth and savvy enough to even not tell just absolutely ridiculous dumb lies," she added.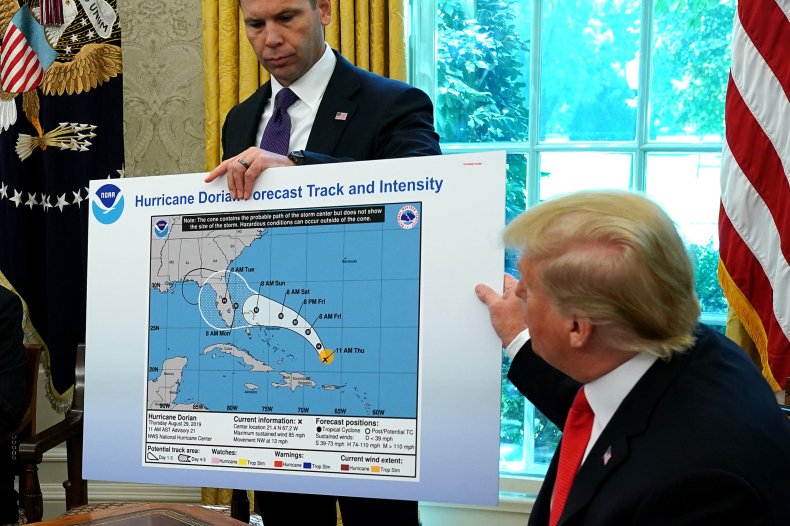 Newsweek reviewed the National Weather Service's archived Dorian forecasts and found that the shoddily-drawn circle extending the path to Alabama does not appear in any of the agency's projections.
When asked by a reporter whether he used a Sharpie to doctor the map, Trump responded: "I don't know, I don't know."
The incident comes after Trump tweeted a Hurricane Dorian warning on Sunday that included Florida, South Carolina, North Carolina, Georgia and Alabama in the list of states in the path of the looming storm. Moments later, the National Weather Service tweeted assurance to the residents of Alabama that no storm events are expected in the state from Dorian. "Alabama will NOT see any impact from #Dorian," the agency wrote. "We repeat, no impacts from Hurricane #Dorian will be felt across Alabama. The system will remain too far east. #alwx."
As various news organizations began calling Trump out for the doctored map on Wednesday, the president doubled down on his claim, tweeting that the early stages of the originally projected path of Dorian "predicted it to go through Florida also hitting Georgia and Alabama."