Here's What Trump's Defense Team Is Likely to Argue, and What Problems Could Arise During His Impeachment Trial
After three days of arguments from House Democrats as to why Donald Trump should be removed from office, the president's legal team will take over the Senate floor on Saturday to advocate his innocence.
The public already got a sneak peek of the president's defense in a 110-page brief submitted by his legal team earlier this week. In the document, Trump's lawyers charged that his impeachment is "an affront to the Constitution and to our democratic institutions."
"The Articles themselves—and the rigged process that brought them here—are a brazenly political act by House Democrats that must be rejected," the brief stated.
Democrats have alleged there's ample evidence that Trump abused his power by pressuring the Ukrainian government to investigate a potential political opponent, former Vice President Joe Biden, in exchange for the release of nearly $400 million in military aid. They also argue that Trump obstructed Congress when he refused to hand over documents and witnesses during the House's impeachment inquiry. The president has denied the charges.
When asked about the trial during his appearance at the World Economic Forum in Switzerland earlier this week, the president said his team was "doing very well."
"I got to watch enough. I thought our team did a very good job. But honestly, we have all the material. They don't have the material," he told reporters.
Like the House impeachment managers, Trump's legal team will be allotted 24 hours to present their opening statements to the Senate. The president is being represented by White House counsel Pat Cipollone and his personal attorney Jay Sekulow. Other lawyers on his team include Ken Starr, the former independent counsel involved in President Bill Clinton's impeachment, and Alan Dershowitz, the famed Harvard law professor.
Here's what Trump's defense team is likely to argue in their opening statements and what legal experts have to say about it:
The Articles of Impeachment Are Invalid Because They're Not Criminal Offenses
The House impeached Trump on two counts: abuse of power and obstruction of Congress. But Trump's team has argued that these articles of impeachment are "structurally deficient" and essentially "made-up."
"Every prior presidential impeachment in our history has been based on alleged violations of existing law — indeed, criminal law," the president's defense wrote in the legal brief. "House Democrats' newly invented 'abuse of power' theory collapses at the threshold because it fails to allege any violation of law whatsoever."
But many legal scholars say that a president doesn't have to break the law in order to commit an impeachable offense. According to the Constitution, a commander-in-chief can be ousted over "high crimes and misdemeanors."
Nick Akerman, a former Watergate prosecutor, told Newsweek that the president's argument against the articles of impeachment is "absolutely absurd."
Former federal prosecutor Michael J. Stern agreed, telling Newsweek: "Nothing in the Constitution says articles of impeachment must charge a crime. That's something the Trump team made up."
"Even Trump defender, attorney Alan Dershowitz, concedes 'criminal-like' conduct is impeachable. With Trump, you've got 'criminal-like' conduct in spades. The federal bribery statute makes it a crime for a public official (the president) to corruptly seek anything of value (dirt on Joe Biden) in exchange for an official act ($400 million in financial aid to Ukraine)," Stern added.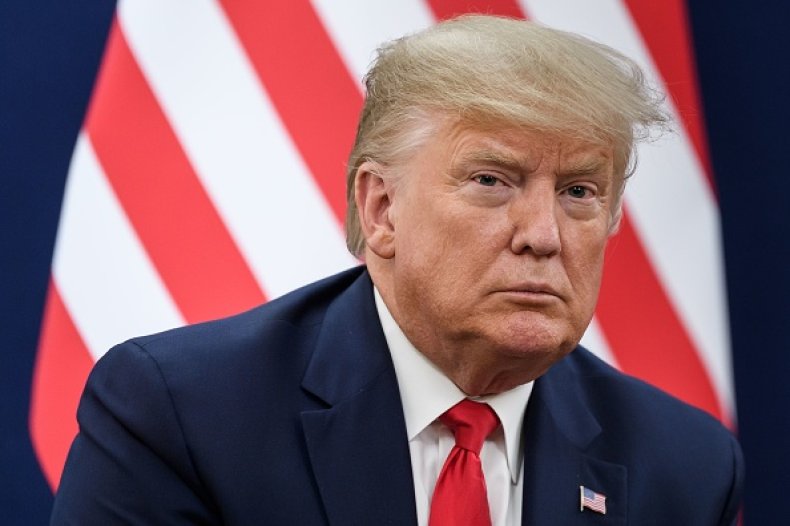 Lack of 'Due Process' in the House of Representatives Investigation
The president's lawyers have also accused Congress of denying Trump due process during the impeachment proceedings, including "the right to have counsel present, the right to cross-examine witnesses and the right to present evidence."
While the president's lawyers were not allowed to attend closed-door depositions of some witnesses during the House inquiry, his Republicans allies in Congress attended every interview and asked questions. Plus, Trump rejected Democratic offers to present evidence or question witnesses.
"Senate Republicans and Trump impeachment defenders are crying about a circumstance of their own making," Stern said.
The White House has blocked testimony from several officials with direct knowledge of Trump's dealings with Ukraine, such as acting White House Chief of Staff Mick Mulvaney and former National Security Adviser John Bolton. Trump's attorneys also openly refused to participate in the House Judiciary Committee's invitation to participate in congressional impeachment hearings.
Akerman noted that the president's team could make a big mistake in going after the House's impeachment process.
"They don't have a theory of the case other than to go after the process. When you start going after process, you're putting yourself in a bad position because the process in the House was undermined by Trump, who wouldn't provide the witnesses and the documents," he said. "I just don't see where they are going with that."