President Donald Trump called the Biden family a "criminal enterprise" and "corrupt" as supporters chanted "lock him up" at two rallies over the weekend, echoing his attacks on former Secretary of State Hillary Clinton during the 2016 presidential election campaign.
At a "Make America Great Again" rally in Carson City on Sunday, the president said the Democratic nominee Joe Biden was from a "corrupt political class" that enriched itself while draining other areas of the U.S. economy.
After his supporters chanted "lock him up" at the former vice president, Trump fell silent, chuckled and pointed his finger at the large crowd gathered at Carson City Airport.
"Joe Biden is and has been a corrupt politician, he always has been," the president later added. "And as far as I'm concerned, the Biden family is a criminal enterprise. It really is, look at what's going on."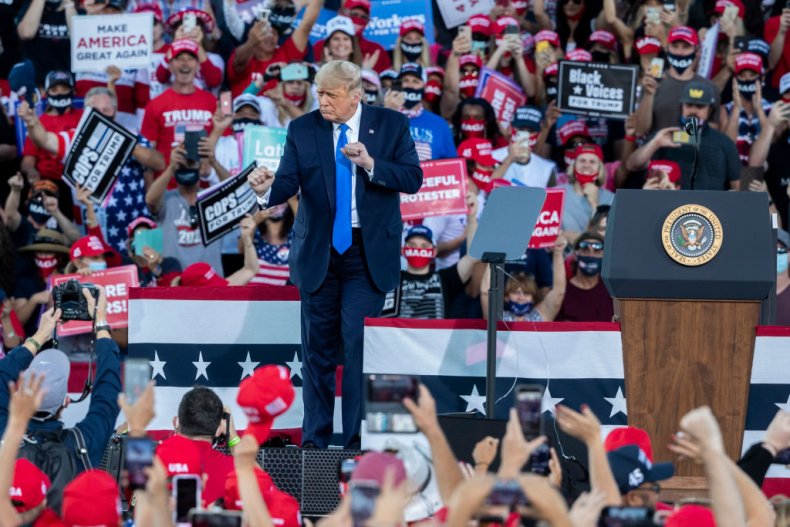 Appearing at another MAGA rally in Ocala, Florida, on Friday night, Trump actively encouraged "lock him up" chants aimed at Joe Biden and his son, Hunter.
Hunter was at the center of a series of New York Post articles last week that suggested his father had intervened in Ukrainian affairs to the benefit of Burisma Holdings, an energy firm whose board Hunter sat on. Joe Biden's campaign has denied the former vice president was involved in any wrongdoing in Ukraine.
The stories were taken from emails provided to the Post by Trump's personal lawyer Rudy Giuliani, who said he obtained the documents from a laptop left at a computer shop in Delaware. NBC News reported last week that federal investigators were probing whether the email dump was linked to a foreign intelligence operation.
"It's the biggest story worldwide, it's a corrupt family, and these people didn't ask them one single question about it," Trump told his supporters in Florida as he pointed at the media. "It's incredible."
A small number of his backers then started to chant "lock him up," and were met with laughter from the president. "Lock him up, it's true," Trump said. Most of the crowd then joined in with the chant.
Trump's rally attacks on the Biden family mirrored his 2016 presidential campaign talking points against then-Democratic nominee Hillary Clinton. Chants of "lock her up" were a staple of his rallies at the time as he railed against her use of a private email server while secretary of state.
The then-Republican presidential candidate also nicknamed his opponent "crooked Hillary" as his campaign team flogged "Hillary for Prison" buttons and other such merchandise.
Speaking to supporters in Carson City at the weekend, the commander-in-chief drew a comparison between Clinton and the Biden family. "The Biden's make crooked Hillary Clinton look like an absolute amateur, and she's pretty bad," Trump said.