Trump Loses Significant Voter Support After Allegedly Disparaging U.S. Soldiers, Woodward COVID Tapes
A new poll shows that President Donald Trump has dropped further behind Democratic presidential nominee Joe Biden in the wake of The Atlantic article and journalist Bob Woodward's coronavirus tapes.
The Yahoo News/YouGov poll—conducted between September 9-11 and released Saturday—shows Biden widening his lead over Trump by 10 percentage points among registered voters. About 49 percent of registered voters say they will vote for Biden, compared to Trump's 39 percent.
The results represent a four-point rise from the same poll conducted at the end of August when Biden was only ahead by six points.
Two major controversies have plagued Trump and his campaign between the end of the Republican National Convention and now that has likely prompted the president's latest drop in polling. On September 3, The Atlantic published a report claiming that Trump privately called U.S. service members—including those who died fighting wars—"losers" and "suckers."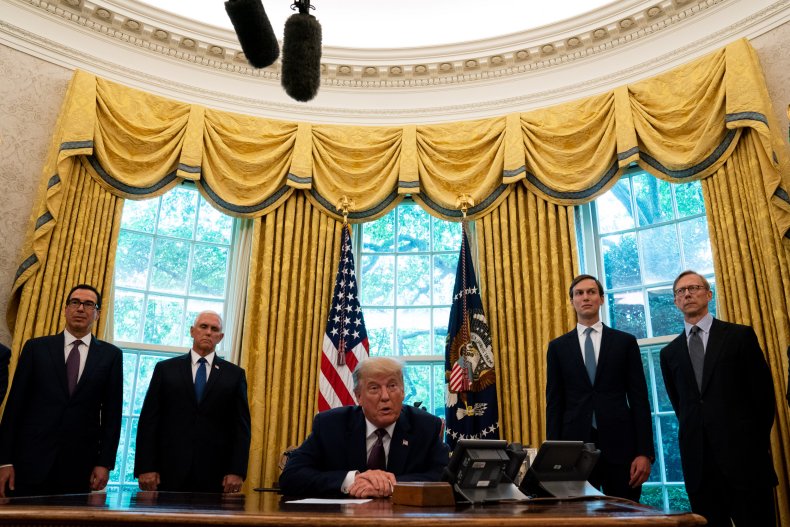 While the report cited four anonymous sources and Trump quickly moved to strongly deny the claims, major elements of the story were later confirmed by the Associated Press and Fox News. Newsweek has not independently verified the allegations.
Respondents largely voted along partisan lines on the impact of Trump's alleged military comments. But, nearly one quarter—23 percent—of independents say their support for Biden increased following the article. Six percent of voters who backed Trump in 2016 said the same.
On September 9, an even bigger controversy emerged with the release of excerpts and tapes from Woodward's 18 interviews with Trump. "I wanted to always play [coronavirus] down. I still like playing it down, because I don't want to create a panic," the president admitted to the journalist in a taped March 19 interview, acknowledging at the time that the virus was "deadly stuff."
When asked whether the revelations from the tapes had changed their view of Trump, 23 percent of Americans surveyed said they did. Of those who had supported the president's 2016 campaign, 15 percent said the admission has swayed their opinion of his handling of COVID.
Additionally, 15 percent of Americans said they were less likely to re-elect the president after learning about his remarks to Woodward. Of those, one-third voted for Trump in 2016.
The poll surveyed 1,577 U.S. adult registered voters online and has a margin of error of roughly 3.3 percent.
Newsweek reached out to the Trump campaign for comment.
While the latest polling data paints a grim picture for Trump, the president has repeatedly reminded the public that polls can be wrong. In 2016, an overwhelming number of polls had Hillary Clinton strongly ahead of Trump, and she lost. Still, the president often promotes polls that are favorable to him.
Democratic House Speaker Nancy Pelosi on Wednesday predicted that Woodward's revelations would cost both Trump the November election and the Republican Party control of the Senate.