Trump is Losing to Every Democratic Frontrunner in the Key State of Ohio: Poll
A new poll shows President Donald Trump losing his 2020 re-election bid to every leading Democratic candidate in the key state of Ohio.
The survey, conducted by Emerson Polling from September 29 to October 2, found that former Vice President Joe Biden and Senator Bernie Sanders had the biggest leads (6 points) over Trump in the swing state. Fifty-three percent of voters said they would support Biden or Sanders over the president in a head-to-head matchup.
Senator Elizabeth Warren also beat Trump in a hypothetical matchup by 4 percentage points — above the survey's margin of error of 3.2 percent. Fifty-two percent of Ohio voters backed the Massachusetts lawmaker compared to the 48 percent who supported Trump.
Plus, when it came to impeachment, a plurality of Ohio voters said they supported removing the president. Forty-seven percent backed impeaching Trump while 43 percent opposed the idea and 10 percent were unsure.
But impeaching Trump wouldn't necessarily be the best-case scenario for Republicans in the state. The Emerson poll also showed Vice President Mike Pence losing to each of the Democratic candidates if he were to launch a presidential campaign. Biden leads Pence by 8 percent, Sanders leads him by 2 percent and Warren leads him by 2 percent.
Trump's overall approval rating in Ohio is at 43 percent, with 51 percent of those polled disapproving of how he's handled his job as president.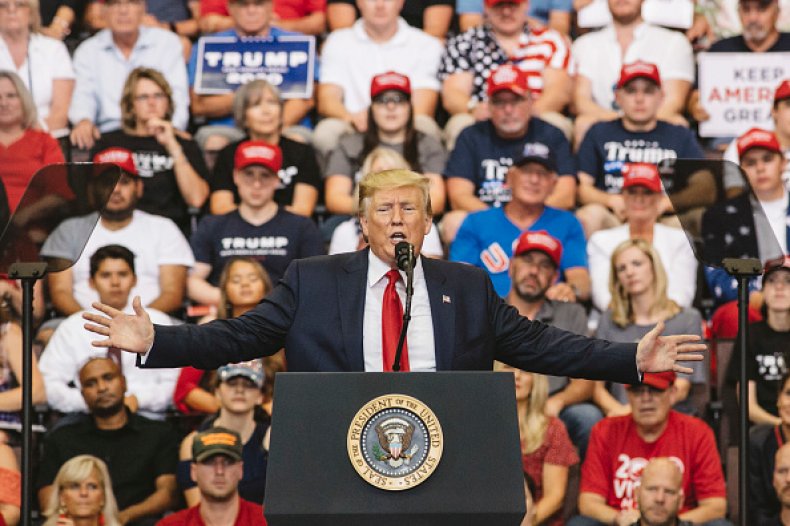 Trump's hold on the presidency has become even more uncertain after the House of Representatives launched an official impeachment inquiry against him last week. The inquiry came as a result of reports that Trump pressured a foreign country to investigate Biden and his son Hunter.
The communication was first detailed in a complaint filed with the inspector general for the intelligence community by a whistleblower who expressed concern that Trump was "using the power of his office to solicit interference from a foreign country in the 2020 U.S. election."
Since then, Trump has denied any wrongdoing while continuing to urge Ukraine to look into the matter. On Thursday, Trump also publicly encouraged China to begin investigating the Bidens as well — a move legal experts told Newsweek was "still illegal" and "still a crime."
Trump has dismissed impeachment calls as a "Democratic witch hunt" and has claimed that no other president in U.S. history has been treated so badly. But polling shows that a growing number of Americans support removing him from office. According to a new survey from USA Today/Ipsos, a plurality of U.S. adults think the House should impeach Trump and that the Senate should remove him from office.
Trump is Losing to Every Democratic Frontrunner in the Key State of Ohio: Poll | U.S.