Former Georgia GOP Senator Kelly Loeffler on Saturday pleaded with Fulton County Republicans to pursue party "unity" and not to censure state officials for "not helping" former President Donald Trump to overturn his November 2020 election loss.
Despite Loeffler's defense of several state officials, including Governor Brian Kemp, Republicans in her home county joined numerous others across Georgia in voting to punish party members accused of betraying Trump.
Loeffler urged the Fulton County GOP to focus on Democratic Party leader Stacey Abrams' ability to register voters and win. But local party members across Georgia voted in favor of censuring those who didn't show "loyalty" to Trump.
The GOP held votes to censure Lieutenant Governor Geoff Duncan, Secretary of State Brad Raffensperger and Kemp during Saturday's annual county conferences.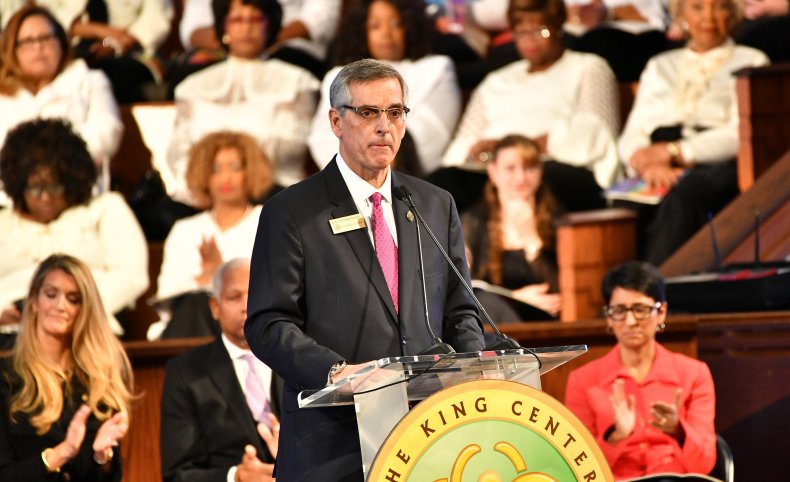 The Georgia counties of Whitfield, Appling, Baldwin, Fulton and Dekalb passed resolutions to censure Raffensperger and Kemp, two Republicans who Trump called "traitors" on Twitter for not being able to "find" votes in his favor.
In Fannin County, Kemp narrowly avoided being censured. In Gwinnett County, all three resolutions to censure the state Republicans were rejected outright.
"Governor Kemp's inaction angered Republican voters, many of whom refused to vote in the January 5th runoff and Kemp helped cost the Republicans two Senate seats," read the Whitfield County resolution for censure.
Atlanta Journal-Constitution political journalist Greg Bluestein reported that a GOP operative in Fulton County described Saturday's meeting as a "total s***show."
Last week, the North Georgia Republicans declared that Kemp "stood by and did nothing" to save Trump's legal effort to overturn now-President Joe Biden's victory.
In addition to state leaders, the Dekalb County Republican Party will also decide whether to censure Baoky Vu, a local Republican and Vice Chairman of the DeKalb County Board of Registration and Elections. She's been criticized after making public remarks against new GOP-backed state election restrictions.
Newsweek reached out to the Georgia Republican Party for comment.