Trump Is Lying About Aid to Pakistan, Foreign Minister Says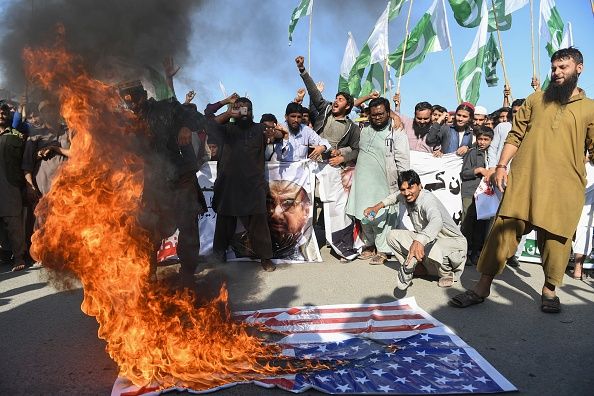 President Donald Trump is lying when he says that the U.S. gives tens of billions of dollars to Pakistan yet gets little in return, the country's foreign minister said on Tuesday.
Trump had tweeted on Monday that Pakistan gives safe haven to terrorists while taking $33 billion in U.S. aid—the latest salvo in the administration's threat to cut funding to Pakistan by $255 million as it reviews Islamabad's cooperation in the fight on terror.
But Foreign Affairs Minister Khawaja Asif was having none of it, responding to Trump via his favorite medium.
"Pres Trump quoted figure of $33billion given to PAK over last 15yrs, he can hire a US based Audit firm on our expense to verify this figure & let the world know who is lying & deceiving..," Asif tweeted.
Asif's comment is the latest effort by Pakistan to counter Trump's criticism. On Tuesday, Pakistan officials summoned U.S. ambassador David Hale to explain the U.S. position on Trump's tweet, a rare diplomatic move.
And Pakistan's Ministry of Defense also slammed Trump's Twitter broadside, highlighting the key role Pakistan has played in the U.S.-led war on terror.
"Pak as anti-terror ally has given free to US: land & air communication, military bases & intel cooperation that decimated Al-Qaeda over last 16yrs, but they have given us nothing but invective & mistrust. They overlook cross-border safe havens of terrorists who murder Pakistanis," Pakistan's Ministry of Defense tweeted.
Trump's aid figure apparently comes from the Congressional Research Office, which says that Pakistan received almost $34 billion from the U.S. in the form of military aid and equipment between 2002 and 2018.
Meanwhile, data from another agency, USAID, shows that U.S. agencies gave around $16 billion to Pakistan between 2001 and 2017. Overall, the U.S. gave Pakistan around $67 billion in aid between 1951 and 2011, according to the Center for Global Development, a think tank based in Washington, D.C.
Pakistan has cooperated with the U.S. for decades on regional security issues, but Trump is correct that the country does not always follow instructions from the U.S. when it comes to foreign policy, especially if its own national security is at stake, an expert said.
"The U.S. needs to understand Pakistan foreign policy through the frame of its historical rivalry with India. Despite U.S. expectations that Pakistan will simply follow America's lead, especially as it relates to counterterrorism, Pakistan has consistently pursued its own national interests in relation to India," Harrison Akins, a security expert at the Howard Baker Center, told Newsweek.
For example, Pakistan never completely disengaged from Taliban forces in Afghanistan, because it hopes to block India's influence along the border between the long-term rivals, Akins said.
Relations between the U.S. and Pakistan have deteriorated rapidly since Trump took over, and the president appears not to be too concerned. During a visit to a U.S. military base in Afghanistan last month, for example, Vice President Mike Pence said that Trump "put Pakistan on notice."
But such rhetoric has a cost. Last week, Pakistan's military warned the U.S. against taking unilateral action against armed groups within its borders, fueling more concerns that Trump's approach is only stoking tensions with a country that is generally a useful ally.
"Trump is not the first president to be frustrated by Pakistan. After all, they have a long history of helping us combat terrorism with one hand, while supporting and fostering extremists with the other. But President Trump is the first to so willfully and publicly antagonize the Pakistanis," Chris Meserole, an expert on extremism at the Brookings Institution, told Newsweek.
"He would do well to bear in mind that they are a nuclear power, and that for all their faults, they have provided essential counterterrorism assistance in the past."