Trump Could Be Allowed to Stay at Mar-a-Lago If He's Considered an Employee—Attorney
Donald Trump may be permitted to call his Mar-a-Lago mansion home if he is considered to be an employee of the club, a lawyer representing the Town of Palm Beach has concluded, amid an ongoing legal battle over the former president's right to reside on the sprawling Florida estate.
Trump's neighbors have petitioned local officials in the town to block his residency at the resort, which they say is a social club and therefore unsuitable for use as a permanent residence.
The former president's plans to reside in Mar-a-Lago may also be in contravention of a 1993 agreement with the Town of Palm Beach, which limits his stay to seven consecutive days and 21 days per year.
According to a memorandum, first reported by the Washington Post and seen by local news outlets including the Palm Beach Daily News, Palm Beach Town Attorney John C. Randolph said the case now hinged on whether the former president could now be considered an employee at the social club, which includes a pool and spa and also hosts wedding and private functions.
In the note dated January 29, Randolph reportedly wrote that the 1993 agreement "did not incorporate a direct prohibition on former President Trump residing at the club, the language in the agreement pertaining only to the members' use of guest suites."
He noted that, "absent a specific restriction prohibiting former president Trump from residing at the Club, it appears the Zoning Code permits him to reside at the Club"— referring to Palm Beach's zoning codes which allow staff to reside at a private club.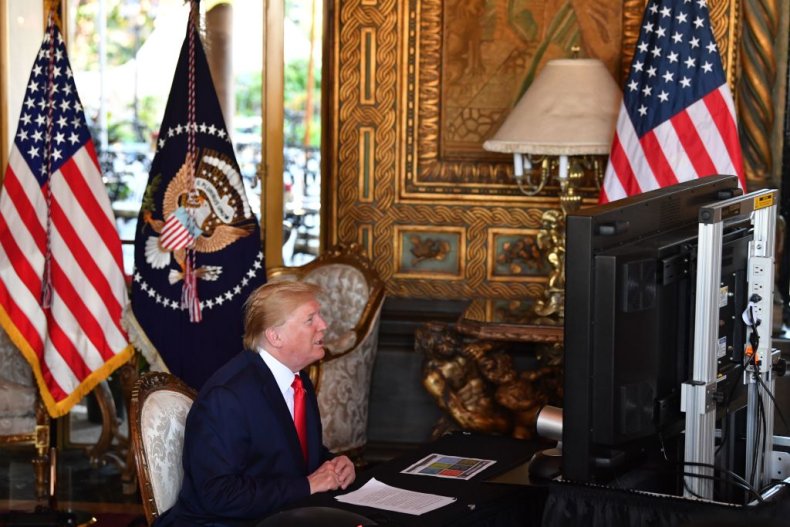 In the final days of Trump's presidency, moving trucks were seen at the Mar-a-Lago club. Weeks earlier, some of Trump's soon-to-be neighbors were petitioning local officials to block his move, saying that as Mar-a-Lago was a social club, the Republican businessman should not be able to call it home.
In a letter to the Town of Palm Beach and the U.S. Secret Service, they argued that the 1993 agreement removed his legal right to live there.
"To avoid an embarrassing situation for everyone and to give the president time to make other living arrangements in the area, we trust you will work with his team to remind them of the use agreement parameters," wrote Reginald Stambaugh, a lawyer representing the residents of a property neighboring Mar-a-Lago.
"Palm Beach has many lovely estates for sale, and surely he can find one which meets his needs."
Trump's daughter, Ivanka, and son-in-law, Jared Kushner, are also expected to settle in South Florida.
The couple are reported to have signed a deal to lease a condominium in Miami for at least a year while they build a house on a plot of land they recently bought on nearby Indian Creek Island for $32 million.
Newsweek contacted the Town of Palm Beach for comment.