Trump Administration Ordered Mass Deportations Despite Warnings From Senior U.S. Diplomats: Report
Former Secretary of State Rex Tillerson reportedly ignored warnings from multiple senior United States diplomats when, over the last six months, the Trump administration ended protections for roughly 300,000 Central American and Haitian immigrants, many of whom will face deportation come 2019.
Related: Jeff Sessions Says Migrant Caravan Is 'Not My Problem' as He Sends Dozens of Prosecutors, Judges, to Border
These senior diplomats told Tillerson that terminating the immigrants' temporary protected status could prompt more immigrants to attempt to enter the United States illegally, and worsen conditions in regions already roiled by volatile governments, violent crime and poverty—the very circumstances many from the region had fled in the first place.
Tillerson reportedly shrugged off their advice, a revelation that came to light this week when The Washington Post obtained a copy of a report Senate Democrats drew up as part of an investigation that has since reached the Government Accountability Office.
The White House did not immediately respond to Newsweek's request for comment.
The investigation is part of Democrats' efforts to overturn the decision from President Donald Trump's administration's to subject Hondurans, Salvadorans and Haitians—who had otherwise been living in the country legally with TPS—to removal.
New Jersey Senator Robert Menendez, who is spearheading the initiative as the ranking member of the Senate Foreign Relations Committee, told the Post that it's incumbent on the Government Accountability Office to re-examine the decision in light of new findings about U.S. diplomats' words of warning. He argued in a letter to the office that Tillerson moving ahead with plans to cancel TPS programs constituted a "deliberate disregard" for the diplomats' concerns.
"I am concerned that the Department of State, under then-Secretary of State Tillerson's leadership, acted in a way that jeopardized U.S. national security and put at risk the physical safety of current beneficiaries of the Temporary Protected Status program," Menendez wrote in the letter.
Later, to the Post, he added: "It would be woefully irresponsible for Congress to turn a blind eye to these discoveries."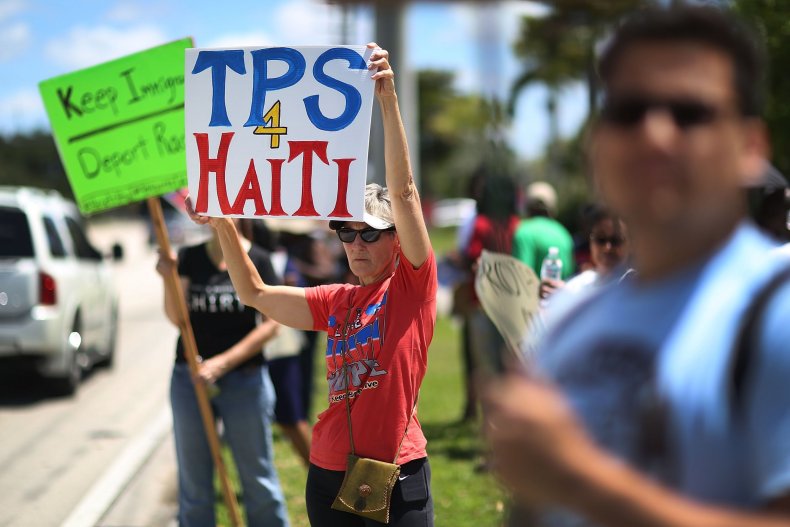 Immigration experts say the Tillerson's alleged "disregard" for the broader implications of his policy-making reflects an administration intent on making its decisions based on ideology, rather than reason.
"There is little doubt that the White House has been driving these TPS decisions based on ideology, not based upon what is best for our foreign policy interests and for the region," Kevin Appleby, a senior director at the nonpartisan think tank Center for Migration Studies, told The Post last week. "It makes the situation in Honduras and Central America worse and will assuredly come back to haunt us in time."
The Trump administration may already be seeing the consequences of its decisions.
Trump has used several tweets to bemoan the migrant caravan that recently made its way to the U.S.-Mexico border. A large number of those traveling on the caravan originate from the very countries the Trump administration has targeted with its TPS decisions, and are looking to flee the same conditions the Central Americans currently residing in the U.S. sought to escape.
"The biggest flaw in Trump's thinking is that there is nothing illegal or improper about people in fear for their lives asking for protection," Adam Isacson, the director for defense oversight at the Washington Office on Latin America, told Newsweek last month. "But Trump sees gang members, criminals, people trying to take jobs illegally—to be frank, he sees nonwhite people," Isacson continued. "He's not seeing people fleeing violence."
Trump Administration Ordered Mass Deportations Despite Warnings From Senior U.S. Diplomats: Report | U.S.