Trump Middle East Peace Plan Won't Please Israel or Palestinians, U.S. Officials Warn
The team working on President Donald Trump's Middle East peace plan has said neither Israelis nor Palestinians would be happy with the proposal.
As the international community waits to hear details of the plan, Jason Greenblatt, Trump's special representative for international negotiations, tweeted a statement warning that compromise would be the only path to lasting peace.
"No one will be fully pleased with our proposal, but that's the way it must be if real peace is to be achieved," the statement said. "Peace can only succeed if it is based on realities." The message was attributed to Nikki Haley, U.S. ambassador to the United Nations; David Friedman, ambassador to Israel; Jared Kushner, White House senior adviser; and Greenblatt.
The Trump team has said it was putting the finishing touches on the plan, but so far no release date has been set. Its details have been kept secret, and the only information gleaned by the media about the plan has come from anonymous sources. Given Trump's unabashed pro-Israel stance and poor relations with the Palestinian Authority (PA), few observers expect a peace plan that puts much pressure on Israel.
The PA has already boycotted the Trump administration, refusing to speak to its officials after Trump recognized Jerusalem as the Israeli capital and moved the U.S. Embassy there. Trump administration officials have made overtures toward assisting humanitarian efforts in the blockaded Gaza Strip, but on Wednesday, PA President Mahmoud Abbas said of them: "I swear to God, they are liars."
White House officials have reportedly said the plan would be "the most detailed" ever and would include a number of economic projects to help raise the living standard of Palestinians in the West Bank and Gaza. There has been speculation that Trump's team, spearheaded by son-in-law Kushner, would lean heavily on financial incentives to try to win the Palestinians over.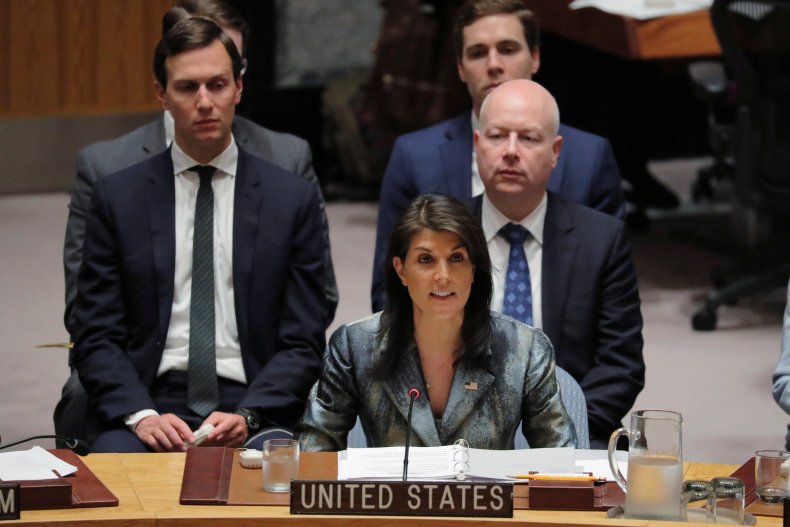 Reports indicate that Kushner might offer the Palestinians a "take it or leave it" proposal. With a new U.S.-Saudi-Emirati-Egyptian alliance emerging to take on growing Iranian influence, the White House believes, according to reports, that the PA no longer has the international or domestic support to demand significant concessions.
Indeed, it was reported that while visiting the U.S. in April, Saudi Crown Prince Mohammed bin Salman told Jewish leaders the Palestinians should either accept peace proposals or "shut up." Saudi Arabia has traditionally been one of the staunchest allies of the Palestinian cause, and such blunt criticism from the influential crown prince and future king was said to have shocked those in attendance.
The prince said Palestinian leaders had failed to engage in diplomatic efforts for decades, and added: "It's about time that the Palestinians accept the offers, and agree to come to the negotiating table—or they should shut up and stop complaining."
In June, Kushner gave an interview with the Palestinian Al Quds newspaper in which he told Palestinian readers: "The world has moved forward while you have been left behind. Don't allow your grandfather's conflict to determine your children's future."
Just last week, Greenblatt told Israeli newspaper Hamodia that the idea of a two-state solution—the nominally accepted goal for Israeli-Palestinian peace for decades—is "just a slogan." He explained: "No one understands what a two-state solution really means, particularly when it comes to issues related to Israel's security or recognizing Israel as a Jewish state."
The Trump administration's approach to Israel has been one of total support. Having opened the U.S. Embassy in Jerusalem, White House officials have refused to condemn the killing of 168 Gazans in protests over recent months. Some have even explicitly blamed Palestinians for the bloodshed, claiming that the protests were organized intentionally by Hamas as a deadly PR exercise.