Trump's Gold Star Widow Call Is Just His Latest Insult to Military Veterans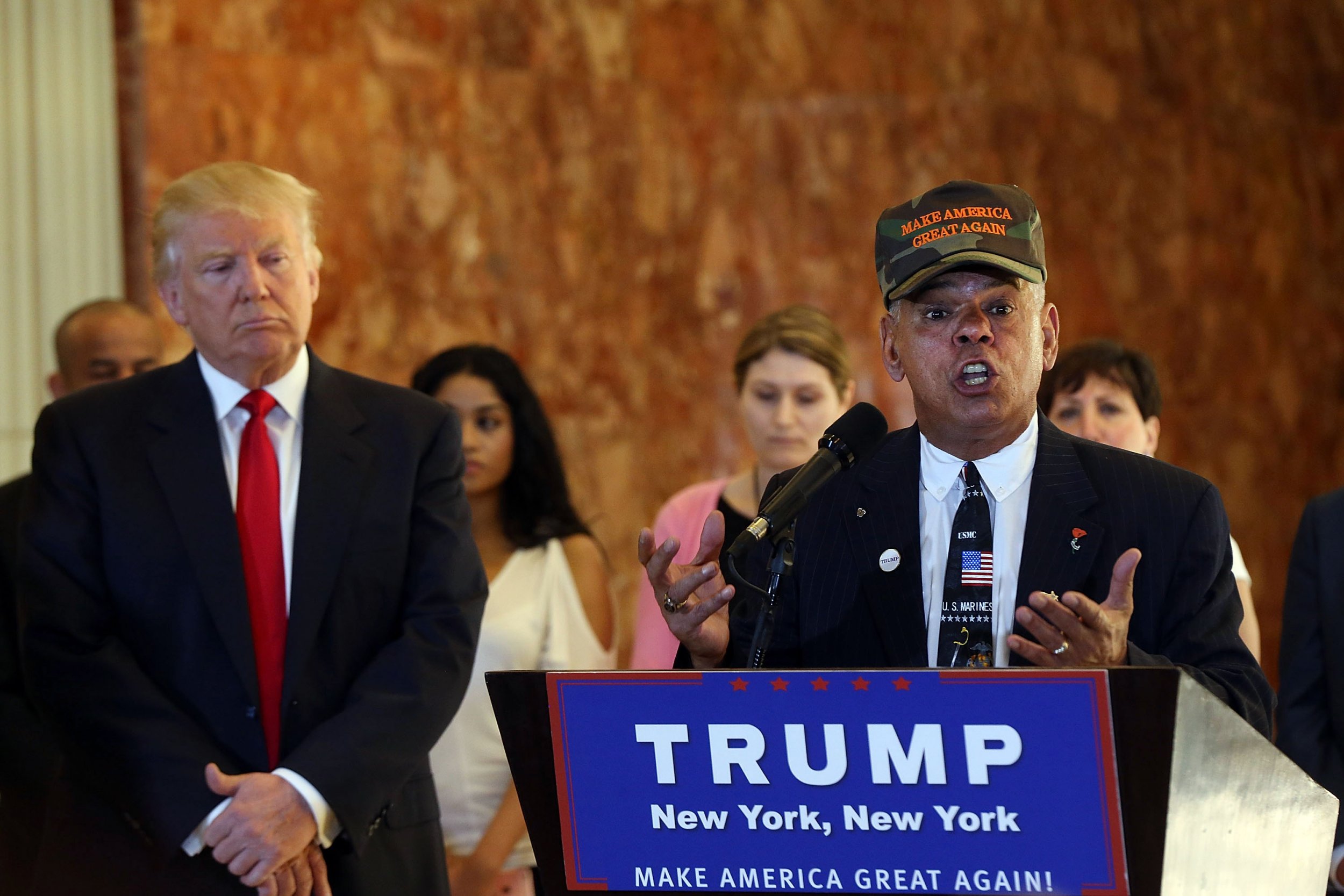 President Donald Trump got into a dispute with a military family this week over his handling of the aftermath of an October 4 ambush in Niger that killed four U.S. service members, and it's not the first time he's offended veterans and their relatives.
Trump is under close scrutiny for his stances on military issues, even though 60 percent of U.S. veterans voted for him in the 2016 election. This week's uproar started Monday, when Trump criticized his predecessor after being asked why he'd waited so long to comment on the Green Berets's deaths, and continued through Wednesday, when he reportedly told one of the soldiers's widows that her late husband "knew what he signed up for." It's just the latest example.
Remember last summer, for instance, when he feuded with Gold Star parents Khizr and Ghazala Khan after they criticized him at the Democratic National Convention? Or when Trump said he'd "always wanted" to get a Purple Heart, a medal given to wounded soldiers? Or earlier this year, when he alienated the heads of the five branches by refusing to condemn violent white nationalists in Charlottesville, Virginia?
Here are six times Trump's interactions with the military turned into objectionable affairs:
• During his presidential campaign, Trump was vague about his reasoning for not joining the troops during the Vietnam War. He was healthy, according to The New York Times, but received five deferments from the draft. Four were education-related and one had to do with bone spurs, which he told the Times were "temporary." In other interviews, though, Trump said he didn't get picked for the draft because of his high lottery number.
The confusion led at least one person, lawyer Ronald Kuby, to call Trump a "draft dodger," according to Politifact.
• All the way back in 1997, Trump mentioned war while speaking with radio host Howard Stern about the danger of encountering sexually transmitted diseases while sleeping around.
"It is my personal Vietnam. I feel like a great and very brave soldier," Trump said in the recording, which resurfaced via BuzzFeed last year.
• In 2015, Trump clashed with Senator John McCain, the previous Republican presidential nominee—who spent more than five years in captivity in Vietnam. At an event in Iowa, Trump flatly said that McCain was "not a war hero," according to Politico.
"I like people who weren't captured," he added. As of September 2017, McCain said Trump still had not apologized.
• VoteVets, a progressive veteran advocacy group, issued a statement just after the inauguration blasting Trump for signing an executive order that enacted a federal hiring freeze. Military positions were theoretically exempted, but the decision stung because former President Barack Obama had specifically tried to get more veterans government jobs.
"Veterans who have families to feed, who may be saving up for a home, all of them have been let down by Donald Trump," a VoteVets senior adviser, Peter Kauffman, said in a news release. The freeze was lifted in April.
• In February, while ostensibly announcing more funding for the military, Trump appeared to criticize the Armed Forces's work ethic.
"We have to start winning wars again. I have to say, when I was young, in high school and college, everybody used to say we never lost a war," he said. "We never win and we don't fight to win...we've either got to win or don't fight it at all."
• Chris Baldridge told The Washington Post that Trump offered to give him a $25,000 check after his son was killed in Afghanistan in June but never sent it. Baldridge, a construction worker who claimed his ex-wife would receive their son's survivor benefits, said he received only "a letter saying 'I'm sorry.'"
The White House disputed the report Wednesday afternoon, telling the Post that "the check has been sent" and criticizing the media as using the gesture to advance a "biased agenda."