Donald Trump's Military Parade Could Feed Every Homeless Veteran for Almost 9 Months, Based on Reported New Cost
Based on a new estimate reported Thursday projecting President Donald Trump's military parade will cost $92 million–$80 million more than originally projected–every homeless veteran in the country could be fed three meals per day for almost nine months.
The military showcase is set to take place through the streets of Washington, D.C., on November 10 and will include about eight tanks, helicopters, fighter jets, other armored vehicles and troops. The Department of Defense will provide $50 million and other agencies like the Department of Homeland Security will cover the remaining $42 million, a U.S. defense official with knowledge of the assessment told CNBC. The total price tag is $80 more than the original $12 million the Pentagon estimated it would cost last month.
Trump claimed in February during a Fox News interview that the parade would only take place if it could be done so at a "reasonable cost."
"We'll see if we can do it at a reasonable cost. And if we can't, we won't do it," Trump said. "I think it's great for spirit [and] the military loves the idea."
Using this new price estimate, the president could feed every homeless veteran in the United States three meals a day for nearly nine months, based on figures from a previous Newsweek analysis.
A Department of Housing and Urban Development report published last year estimated there were 40,056 homeless veterans. The latest data available from a 2015 report by Feeding America, a nonprofit hunger-relief organization, estimated the average cost-per-meal in the U.S. was $2.94.
A $92 million military parade could provide the 40,056 homeless veterans about $264 per month. Each meal priced at $2.94 would pay for three free meals each day for about 8.68 months.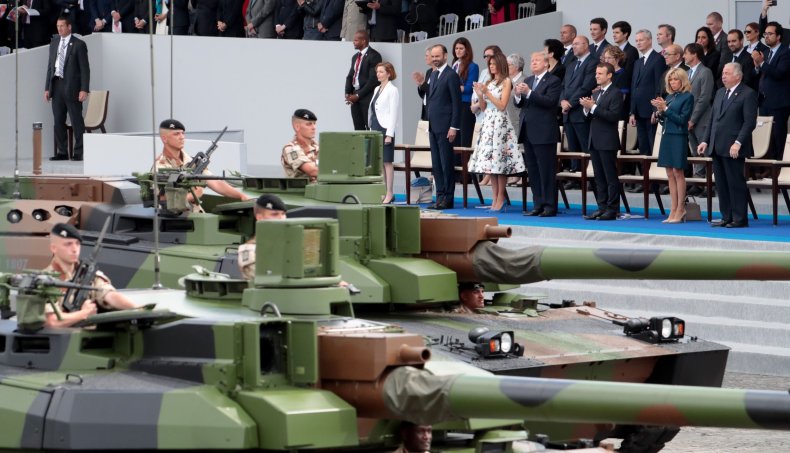 The Department of Defense did not immediately return Newsweek's request for comment Thursday, but a spokesperson did tell CNBC that it expects to make an announcement about the parade soon. The department would not comment about the price estimates.
On Thursday evening, a Pentagon spokesman released a statement announcing that the parade may be delayed until 2019.
"The Department of Defense and White House have been planning a parade to honor America's military veterans and commemorate the centennial of World War I," Colonel Rob Manning said. "We originally targeted November 10, 2018, for this event but have now agreed to explore opportunities in 2019."
In the past, Trump expressed his fondness for France's Bastille Day military parade, calling it "one of the greatest parades I've ever seen. We're going to have to try to top it," he joked to French President Emmanuel Macron months later. The Bastille Day parade held on July 14 each year is not to showcase its military strength but rather to celebrate a national holiday commemorating the storming of a fortress in 1789 toward the start of the French Revolution.
But with the president's orders for the Pentagon to make the neccessary arrangements for a parade down Pennsylvania Avenue, it turns out Trump was actually very serious.
Other countries like China, North Korea and Russia are also known for rolling tanks, large missiles and other military weapons down its streets in an attempt to showcase their military strength to foreign adversaries.
This story has been updated to include a statement from the Pentagon.