Democratic Congressman Adam Schiff has warned that President Donald Trump's national emergency declaration would be a test for Republicans.
Schiff, who represents California and chairs the House Intelligence Committee, appeared on CNN's State of the Union on Sunday to discuss Trump's controversial decision to declare a national emergency on the southern border of the United States with Mexico. The representative explained why the president's move is different than past national emergency declarations, pointing out that it is a threat to the checks and balances government system laid out in the U.S. Constitution.
"This is the first time a president has tried to declare an emergency when Congress explicitly rejected funding for the particular project [a border wall] that the president is advocating," Schiff said. Continuing he pointed out that Trump said "just the other day that he didn't really need to do this. He just wanted to do it because it would help things go faster."
"He's pretty much daring the court to strike this down," the congressman pointed out. "So it's hard to imagine a poorer case."
Turning the lens on his Republican colleagues in Congress, Schiff suggested the declaration would be "a moment of truth" for their commitment to the values enshrined in the constitution.
"It is going to be a real test for my GOP colleagues in Congress and their devotion to the institution," the congressman said. "If we give away, if we surrender the power of the purse, which is our most important power, there will be little check and no balance left," he explained. "It will not be a separation of powers anymore, just a separation of parties.
Conservative groups and commentators, as well as some Republican lawmakers, have voiced their concern about Trump's declaration as well. FreedomWorks, the Heritage Foundation and the U.S. Chamber of Commerce have all voiced their misgivings over the precedent being set by Trump, warning that a future Democratic president could make a similar move to circumvent Congress on issues such as healthcare reform, climate change and other progressive policies.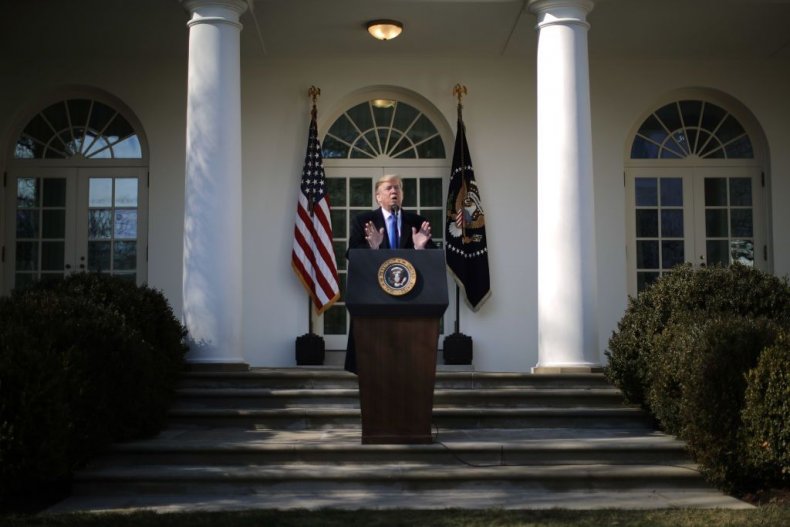 "The declaration of national emergency in this instance will create a dangerous precedent that erodes the very system of government that has served us so well for over 200 years," Thomas J. Donohue, president of the U.S. Chamber of Congress, said.
Adam Brandon, the president of FreedomWorks, shared similar concerns. "No matter whether a Republican or a Democrat sits in the Oval Office, the concentration of power in the executive branch is alarming," he said. "We're concerned that this executive action only make matters worse."
GOP Senator Marco Rubio from Florida argued against the president's decision as well, saying: "no crisis justifies violating the constitution," according to the Associated Press.
Sharing the same perspective, Republican Senator Lamar Alexander from Tennessee said: "Declaring a national emergency is unnecessary, unwise and inconsistent with the U.S. Constitution."