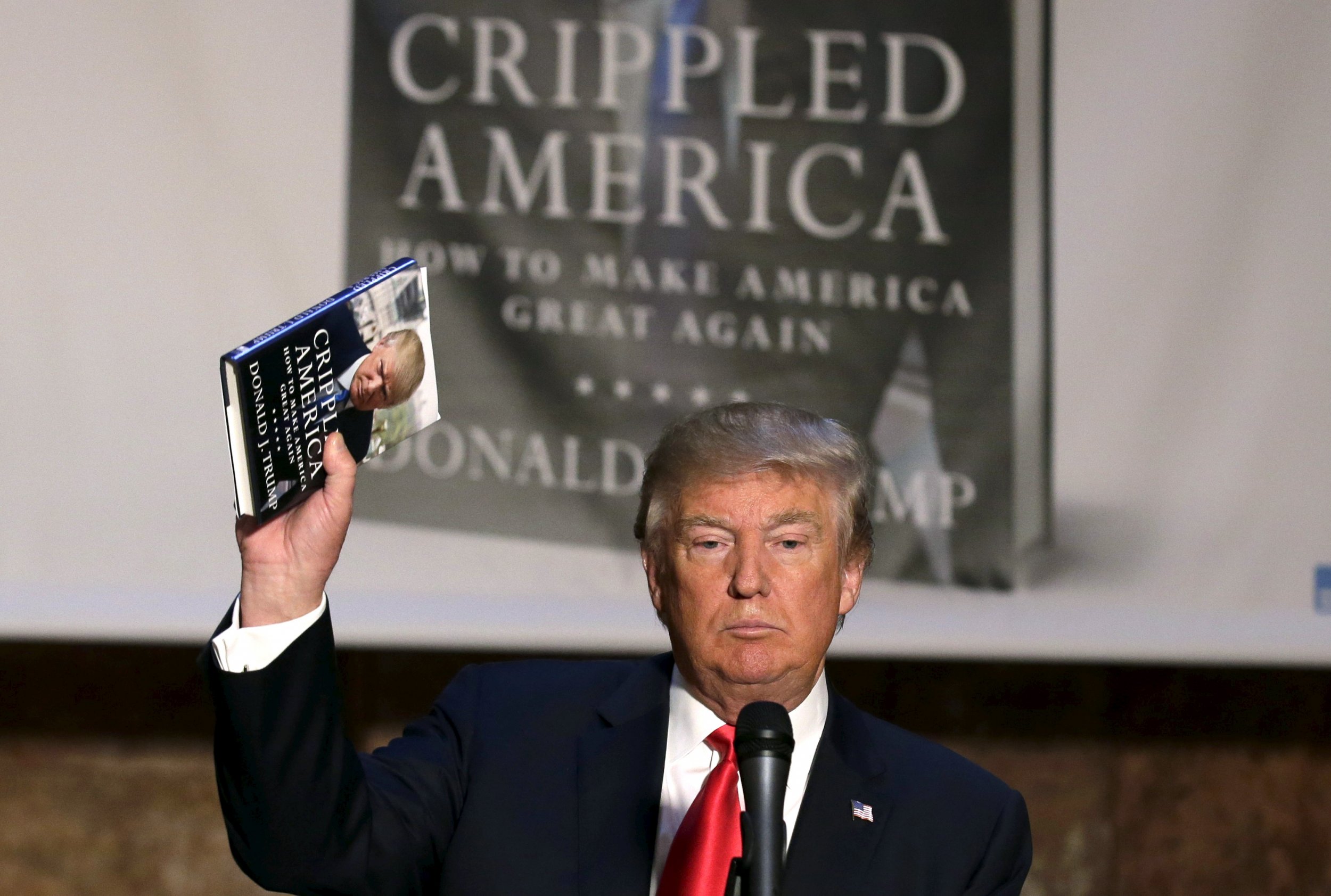 Ben Carson has vaulted ahead of Donald Trump in new national polls, a feat performed while he took a hiatus from the campaign trail to promote his latest book. Carson surged by about 10 points while trekking from one Barnes & Noble to another.
Read those two sentences again, because they could only have been written during this bizarre year of the outsiders.
As Carson's A More Perfect Union flies from the shelves (and directly from Carson's gifted hands into the shopping bags of fans), Trump has released a new title to try to push his way back to the top. At a press conference from his New York City headquarters on Tuesday, Trump promoted his new volume, Crippled America, and took shots at Carson and other Republican candidates.
"When a man is weak on immigration and wants to get rid of Medicare, I don't know how he stays there [on top of the polls]," Trump said during the release event. Carson has suggested abolishing Medicare. As for immigration, it would be difficult to take a harder stance than Trump, who used the book event to reiterate his opposition to birthright citizenship and his plan to make Mexico pay for a border wall.
The real estate mogul trashed Marco Rubio and Jeb Bush from his gilded podium, but was more subtle in his attacks on Carson. His criticisms focused on Carson's supposed lack of energy, the same insult Trump used against Bush when the former Florida governor was running stronger in the polls.
"Ben Carson does not have that energy," Trump said. "We need somebody with tremendous energy to straighten out our military, to straighten out ISIS, to straighten out our trade deals, to terminate Obamacare."
"I'll take the job, thank you very much," he added.
Though he claims he doesn't pay attention to book sales, Trump also had some words comparing his book to Carson's. He called the writing in Crippled America "very hard-hitting" and said the book was stronger in tone than A More Perfect Union, an apparent allusion to the difference in the two candidates' temperament.
Trump and Carson have had a quasi alliance as the party's anti-establishment candidates. The two campaigns worked together to negotiate changes to the CNBC debate before it happened, and Trump gave Carson credit for playing a part, but he took all the credit for the success of the debates.
"The networks have made a fortune because of me, not because of anybody else."