Trump Claims He Won New Hampshire (Which he Lost to Hillary Clinton) Because it's a 'Drug-Infested Den'
In a phone call with Mexican President Enrique Peña Nieto, Donald Trump claimed he won New Hampshire last November because it's a "drug-infested den."
In the call on January 27, a week after his inauguration, Trump was embroiled in a tense exchange with his Mexican counterpart over drugs coming over the southern border and why he believed a wall was necessary, according to a transcript published Thursday by The Washington Post.
Related: Trump just asked his supporters to sign a petition demanding 'a big beautiful wall' despite being president
"We have the drug lords in Mexico that are knocking the hell out of our country," Trump said. "They are sending drugs to Chicago, Los Angeles and to New York. Up in New Hampshire—I won New Hampshire because New Hampshire is a drug-infested den—is coming from the southern border."
Trump didn't, in fact, triumph in New Hampshire in the election, losing to Democratic opponent Hillary Clinton by a 0.3 percent margin. However, he did score a resounding win in the Republican primary in the Northeastern state.
New Hampshire has the highest synthetic opioid death rate in the country. However, by far the biggest cause of overdose deaths in the state has been the powerful painkiller fentanyl. And it is China, not Mexico, that is the primary source of fentanyl in the United States, according to law enforcement officials and drug investigators.
Trump, though, insisted that Mexico was to blame for the United States's drug problem.
"We are becoming a drug-addicted nation, and most the drugs are coming from Mexico or certainly from the southern border," he went on to say to Nieto.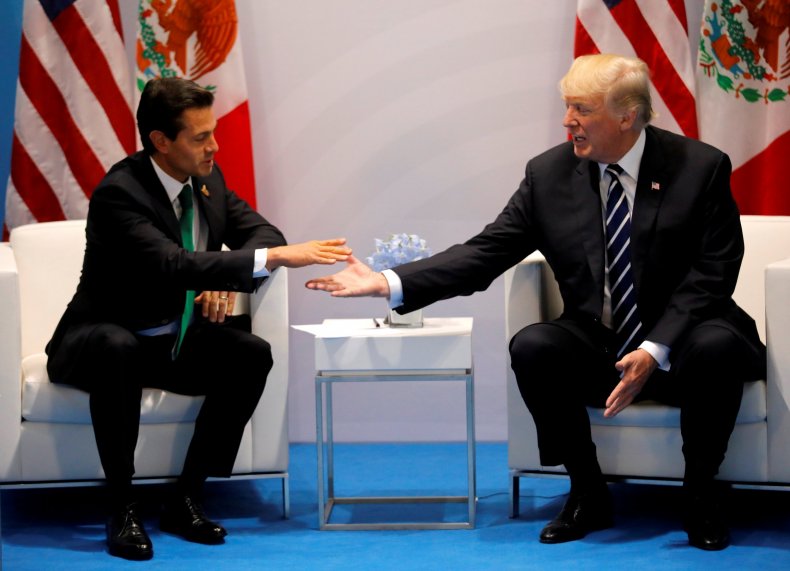 The reports of Trump's comments were met by swift condemnation from New Hampshire Senator Maggie Hassan, who tweeted, "@realDonaldTrump's comments about New Hampshire are disgusting."
The Democrat added, "As he knows, NH and states across America have a substance misuse crisis. To date, @POTUS has proposed policies that would severely set back our efforts to combat this devastating epidemic across party lines to actually stem the tide of this crisis."
And the senior senator from the state, Democrat Jeanne Shaheen, soon followed suit. Stating that Trump owed New Hampshire an "apology," she tweeted that "it's absolutely unacceptable for the President to be talking about NH in this way—a gross misrepresentation of NH & the epidemic."
Trump, who also alleged that drugs were "being sold for less money than candy," was adamant during the call that Peña Nieto should not say publicly that his country would not pay for the wall along the southern border. Trump insisted during his campaign, and afterward, that Mexico would foot the bill.
"You cannot say that to the press," he said. "The press is going to go with that, and I cannot live with that. You cannot say that to the press because I cannot negotiate under those circumstances."