President Donald Trump was born in New York and despite a wealth of famous exports he is undoubtedly one of its best known.
But while this may bring pride, and a sense of loyalty, to some the incumbent looks set to lose in the state again this November with fellow New Yorkers "ashamed" he is from there, according to a recent poll.
Trump lost the state by more than 20 points in 2016 and surveys put him on course to trail by a similar, or perhaps even greater, margin in 2020.
Of 1,029 New York voters asked by Public Policy Polling, 60 percent said they were ashamed Trump was from the state compared to 30 percent who were proud.
A similar percent, 63 percent, said they would vote for Democratic presidential candidate Joe Biden if the election were held today as opposed to 32 percent for Trump.
The respondents were asked August 21 to 22 and mainly Democrats, at 56 percent.
The remaining were 26 percent Republican and 18 percent independent.
In 2016, Hillary Clinton won 59 percent of the votes in the state compared to 36.5 for Trump.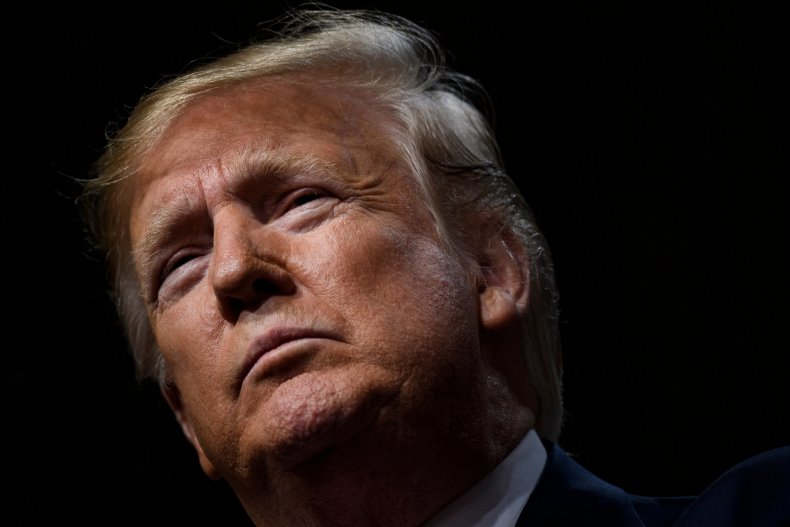 New York has not been won by a Republican presidential candidate since Ronald Reagan in 1984.
Polling from Siena College Research Institute put Trump behind by 25 points among 806 registered voters asked June 23 to 25. In similar polling conducted throughout this year, Siena polling showed Biden's gaps highest lead at 36 points and lowest at 19.
Quinnipiac University polling carried out April 30 to May 4 among 915 self-identified registered voters in New York gave Biden a 23-point lead. Real Clear Politics puts the Democratic candidate's average lead at 26.3 points.
While Trump is from New York, he last year changed his family's permanent residence to Palm Beach, Florida.
At the time, he said he would always "cherish New York" and its people but claimed he had been treated improperly by political leaders in the state and New York City.
Though he fares better there in polling than in New York, more respondents said they felt ashamed when asked how they felt about him living there than felt proud, at 47 percent to 42 percent.
The polling, again by Public Policy Polling, put the question to 671 Florida voters from August 21 to 22, who were 39 percent Democrat, 37 percent Republican and 24 percent independent. The results have a margin of error of plus or minus 3.8 percent.
Newsweek has contacted the Trump campaign for comment.
The latest polling numbers for New York come after Trump clashed once again with fellow high-profile New Yorker, Governor Andrew Cuomo.
Cuomo gave a scathing take on Trump's leadership at the Democratic National Convention, which brought upon a flurry of tweets from the president in rebuke of his political adversary.