Trump Whips up Tweet Storm After NY Governor Cuomo's DNC Speech
New York Gov. Andrew Cuomo's Democratic National Convention (DNC) speech in which he lampooned Donald Trump's COVID-19 response sparked a flurry of Twitter rebukes from the president.
Cuomo, a Democrat, used his time to highlight his issues with the federal action taken and the divide between himself and the Republican president.
Describing the federal government as "dysfunctional and incompetent," he said the nation "is still unprepared" to fight the virus this far into the outbreak.
Trump retweeted 11 posts criticizing Cuomo, shared one to which he added his own comment and posted one tweet of his own, all targeted at the Democratic governor.
The main theme of these being critiques of Cuomo's own actions to deal with the virus in New York, pointing to COVID-19 deaths in the state and particularly those in care homes.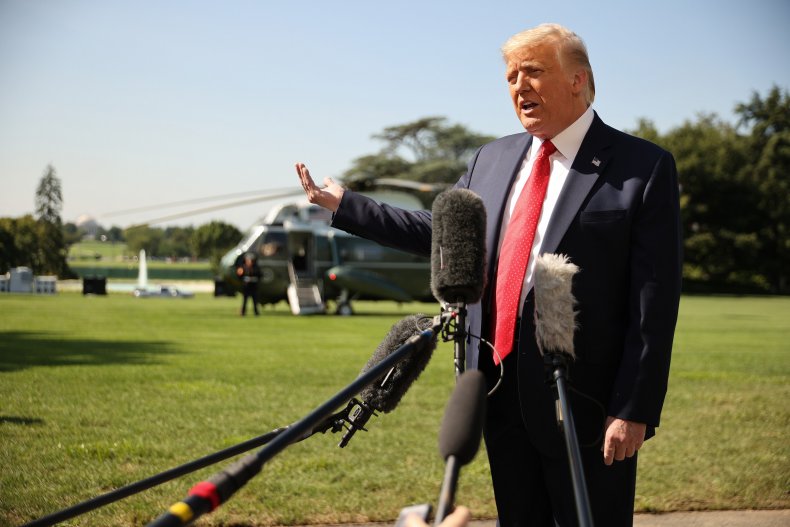 One of Trump's tweets read: "Now AP estimates that the real Cuomo number of people killed because of his total incompetence is 11,000, not the 6000 that was originally thought!"
This would appear to relate to Associated Press analysis which suggested the true number of care home deaths in New York could be around 11,000 if the proportion of fatalities in such settings linked to COVID-19 matched up to a similar average percentage for other states.
The state's official death toll for coronavirus-linked care home deaths at the time of the analysis was around 6,600. Cuomo has faced criticism for the action taken in regards to care homes, after an order which led to recovering coronavirus patients being sent to the facilities.
Some of Trump's posts also flagged positive comments towards the president that Cuomo had made in the past, in which he had said to "keep politics out of it."
Trump wrote that Cuomo "has not got a very good memory," when flagging such comments.
Another branded Cuomo's speech as part of an "ego trip."
The pair have frequently clashed in the past, with disagreements over the handling of the virus and over comments surrounding protests which broke out earlier this year.
Newsweek has contacted the White House and Cuomo for further comment.
New York has more than 400,000 confirmed COVID-19 cases, of the more than 5.4 million across the United States. According to Johns Hopkins University figures there have been more than 32,000 deaths linked to COVID-19 in New York state.
The graphic below, from Statista, shows the states with the highest numbers of cases across the nation as of August 17.