Former U.S. Ambassador Reminds Fox News 'Kim Jong Un Has Done Nothing' to Denuclearize Despite Trump Meetings
Former U.S. ambassador to the United Nations Bill Richardson said he gives President Donald Trump credit for trying to dialogue with Kim Jong Un, but pointed out that the North Korean dictator "has done nothing" in terms of denuclearization in response.
"I do give the president credit," Richardson, a Democrat who previously served as the governor of New Mexico and also the secretary of energy under former President Bill Clinton, said during an interview with Fox News America's Newsroom on Monday morning. "There is less tension in the [Korean] peninsula. But on the area of accomplishments, on nuclear– denuclearization, Kim Jong Un has done nothing," he asserted.
Richardson pointed out that Kim had promised to take steps toward denuclearization during his first historic summit with Trump last year in Singapore. "Tension is less but he's still threatening Japan. He's still threatening America, with Guam and Alaska. He has not curbed his use of nuclear weapons and missiles as he said he would," the former politician and ambassador explained.
"What do I want? I want this summit to lead to the negotiators, not the president. The president should step away and let his negotiators cut a deal," Richardson said. He optimistically suggested that they could achieve an agreement that would see North Korea curb its nuclear capabilities somewhat in exchange for some sanctions relief.
"Keep negotiating in the next few years," he said. "This is not going to be a one time result."
On Sunday, Trump met Kim for the third time face-to-face. This meeting was historic in that it marked the first time that a sitting U.S. president met with a top North Korean leader at the infamous Demilitarized Zone (DMZ) between South and North Korea. Trump also briefly stepped into North Korea, sharing warm remarks about Kim as photos and videos were captured by journalists. Trump's first meeting with Kim last year was also historic in that it was the first time that a sitting U.S. president ever met face-to-face with a top North Korean leader.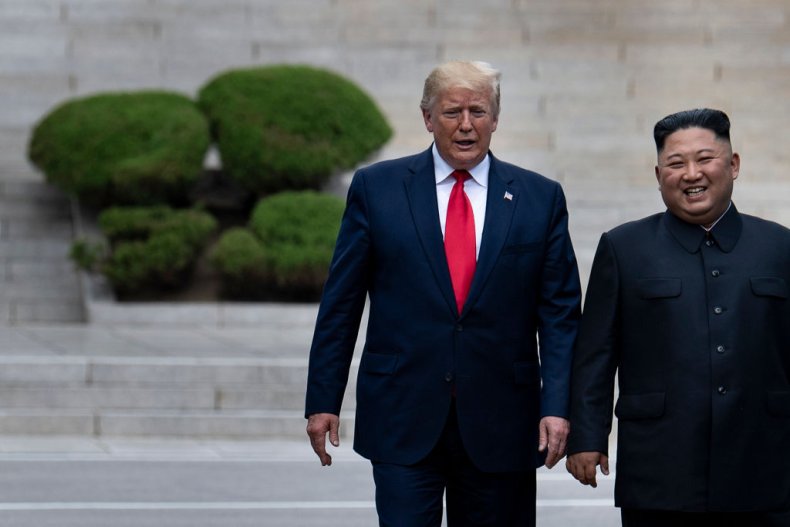 But despite the historic meetings, as Richardson said, Kim has done little more than make vague promises that he will denuclearize. Some reports have even suggested that North Korea has actually expanded its nuclear capabilities since Trump began direct talks with Kim last year. Meanwhile, the U.S. has maintained harsh financial sanctions targeting the east Asian nation. Trump, at the same time, has repeatedly spoken positively about his relationship with Kim, claiming that he and the dictator "fell in love."
Speaking after he crossed the DMZ on Sunday, Trump called the symbolic step "a great honor." He also insisted: "a lot of progress has been made, a lot of friendships have been made, and this has been in particular a great friendship."