Donald Trump's North Korea Strategy Is Not Working With Iran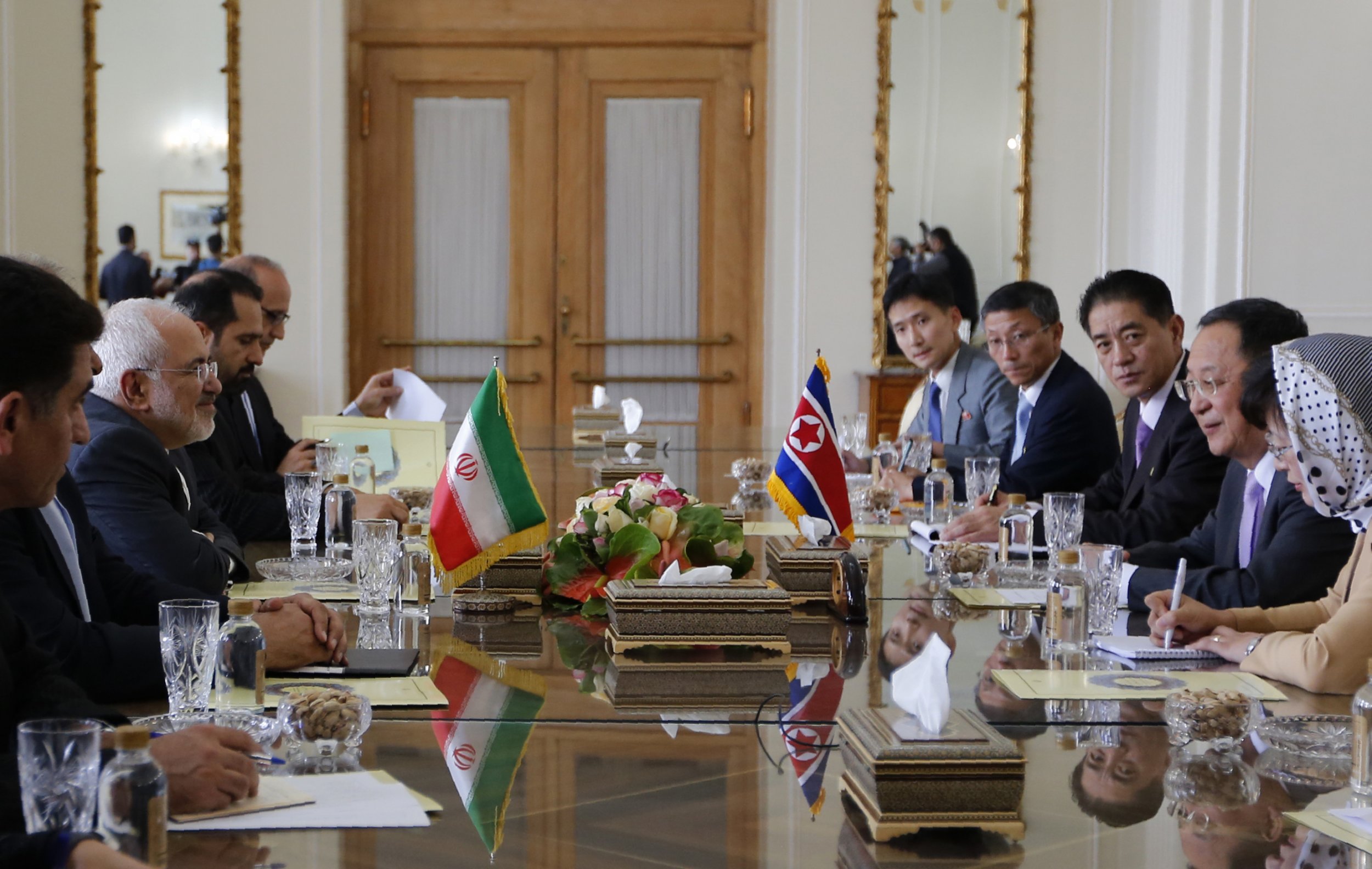 President Donald Trump's attempts to obtain diplomacy through "maximum pressure" may have witnessed some initial success with North Korea, but the White House has thus far struggled to do the same with Iran—and this strategy could backfire in both cases.
The United States and Iran, longtime foes with a history of heated tensions, appear to have reached a new impasse as the Trump administration continued to disregard a 2015 nuclear deal and accused Tehran of plotting to target Washington's interests in the Middle East. With the Islamic Republic under mounting sanctions and a U.S. aircraft carrier "armada" deployed to an already-tense region, the situation has drawn parallels to Trump's hard-line approach toward North Korea in 2017.
At the time, the U.S. appeared perched on the precipice of potential conflict as Trump infamously threatened to rain "fire and fury" on North Korea. As the president made a historic decision to court North Korean supreme leader Kim Jong Un less than a year later, he also abandoned a landmark, multilateral agreement with another longtime U.S. foe, Iran. Now diplomatic efforts on both fronts appear to have stalled following the administration's all-or-nothing approach.
"In both the Iranian and North Korean cases, Trump appears to believe that maximum pressure will deliver a deal that meets all U.S. demands," Kelsey Davenport, director of nonproliferation policy at the Arms Control Association, told Newsweek. "But sanctions are a tool, not a strategy, and they work best when paired with a sustained diplomatic approach that acknowledges that negotiating is not a zero-sum game."
Davenport said that even though North Korea and the U.S. have attempted to negotiate, "Pyongyang and Tehran now appear to be in the same place—unwilling to engage with Washington until Trump moves away from maximalist demands and demonstrates that he can be a credible partner in diplomacy."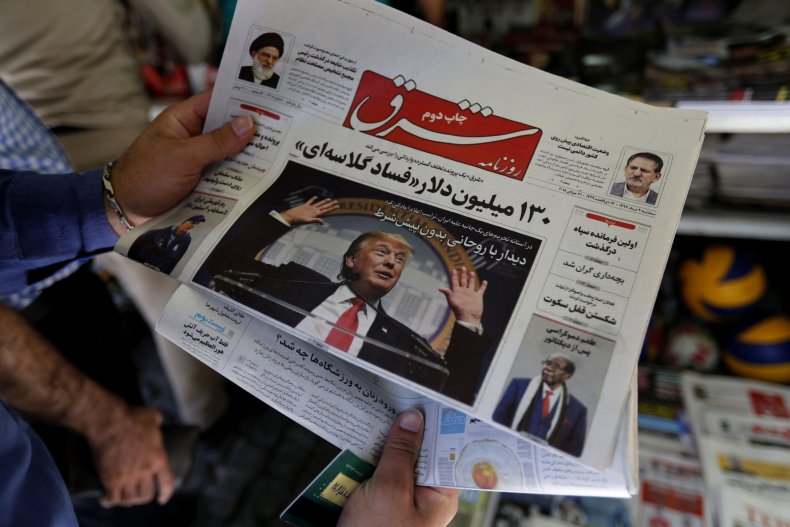 The fragile detente that emerged last year between the U.S. and North Korea did not immediately follow the "fire and fury" threat. It was not until Pyongyang defied Washington's warnings by conducting another nuclear test and launching another intercontinental ballistic missile that North Korean supreme leader Kim Jong Un decided to give peace a chance early the following year.
While Kim has yet to repeat any of these actions in nearly a year and a half, he did test two rounds of shorter-range weapons earlier this month in a move that may signal a growing impatience with Trump's unwillingness to budge on sanctions relief. The administration has argued for nothing short of a "complete, verifiable and irreversible denuclearization" before any concessions could be offered.
Trump has hoped to use a similar angle of attack toward Iran, which has no nuclear weapons and has denied ever seeking them. Tehran still entered into a 2015 deal with the U.S., alongside China, the EU, France, Germany, Russia and the United Kingdom in order to lift international sanctions, but the Trump administration felt that agreement did not go far enough to address Iran's alleged support for militant groups and its ballistic missile development—so the White House simply exited the agreement, despite it still being backed by its other signatories.
"It was Washington that left the negotiating table, not Tehran," Davenport told Newsweek. "Over the past year, the Trump administration has systematically attempted to deny Iran any of the benefits envisioned by the nuclear deal. Trump claimed this strategy would pressure Iran to engage in talks, but his approach has failed spectacularly."
"All it has done is alienated the United States, damaged relationships with key allies and pushed Iran to announce that it will no longer be bound by certain limits put in place by the nuclear deal," she added, also noting that the strategy has "raised legitimate questions about whether the United States is really interested in a new deal or if regime change is actually the end goal."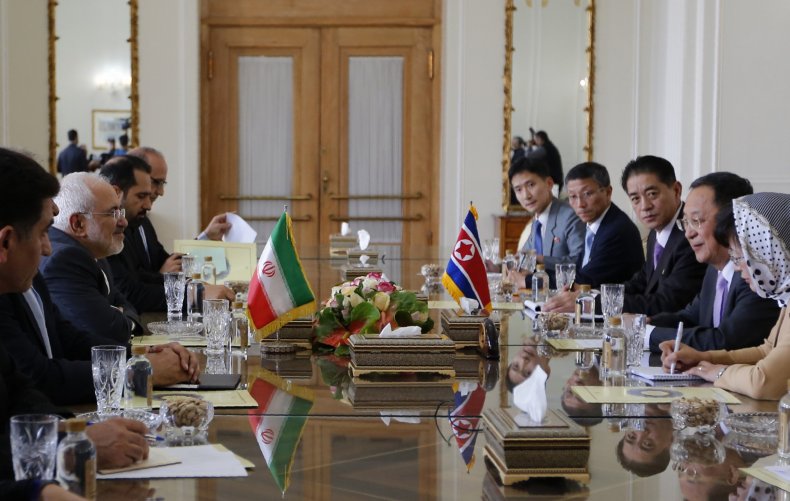 For both North Korea and Iran, survivability was a major concern when dealing with the U.S., which had a long history of intervening against unfavorable governments around the world. Less than a month after the U.S., South Korea and allies struck a ceasefire with North Korea and its communist Sino-Soviet partners in July 1953, halting a war that killed millions of Koreans on both sides, the CIA orchestrated a coup against Iran's democratically elected prime minister, who challenged an absolute monarchy backed by the West.
Rather than bringing Pyongyang and Tehran to the bargaining table, the Trump administration's tendency to play on the existential fears of these governments appears to have only hardened their positions.
Philip Yun, executive director of the Ploughshares Fund think tank, recently told Newsweek that Trump was less interested in how other countries received him, however, and instead largely viewed his foreign policy "through a domestic lens," constantly wondering: "How does it affect my brand?"
"He's of the mindset than any publicity is good publicity," Yun told Newsweek, suggesting Trump's real estate background gave him a flair for the suspense, asking "Will I? Won't I?" as he joined countries like North Korea and Iran in a game of "brinksmanship" that may only intensify as the 2020 elections near.
"'What's going to happen with North Korea? What's going to happen with Iran? That's how he's approaching foreign policy, in a way we've never seen before," Yun added. "And we're kind of falling for it."