Trump Not 'Behaving as a Normal Grown-Up,' Says President Ronald Reagan's Son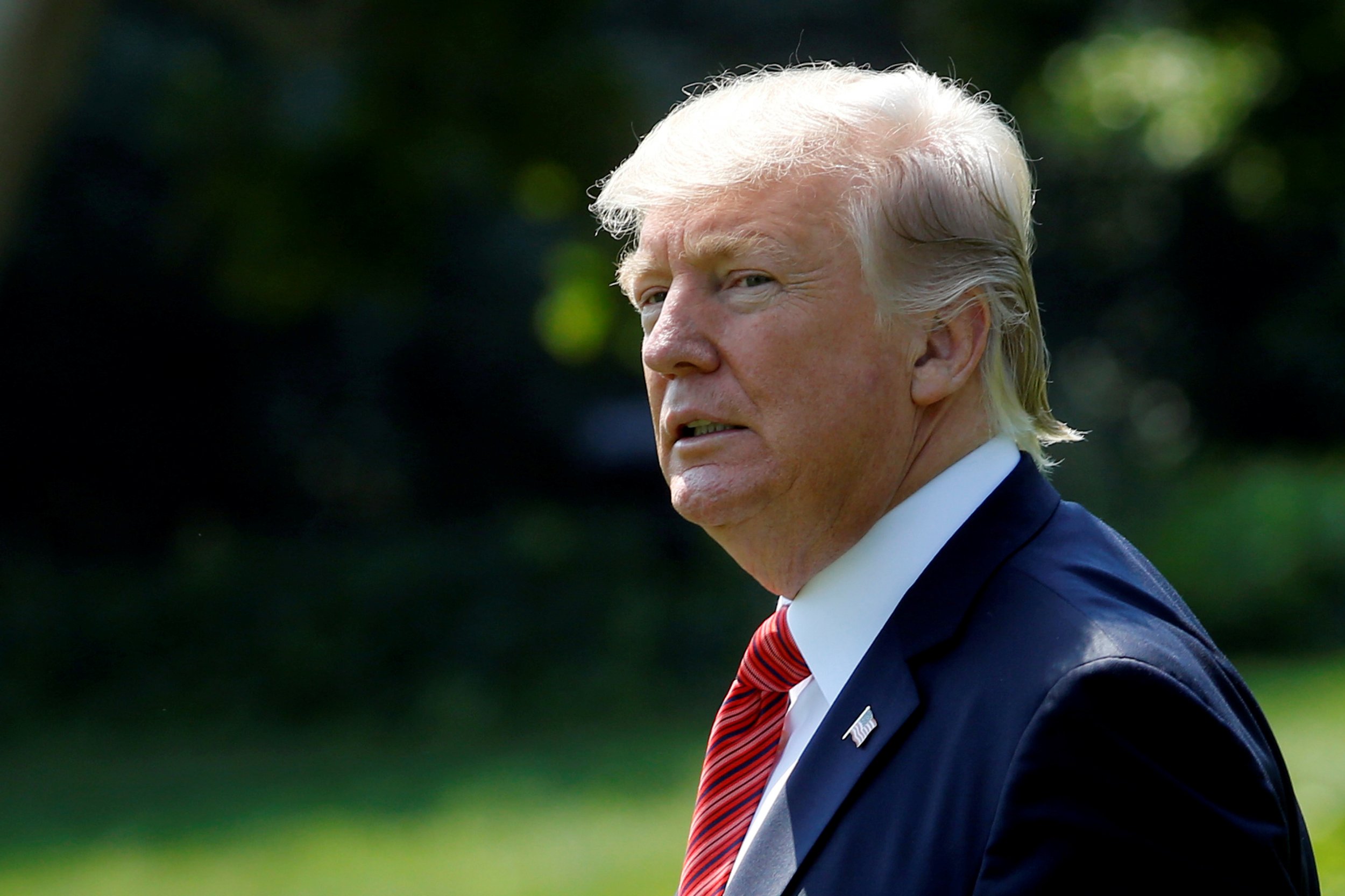 Former President Ronald Reagan's son says President Donald Trump doesn't seem to have the mental "stability" to be president.
"It's not that he's just not behaving like a normal president does. He's not behaving as a normal grown-up does," Ron Reagan told anchor Chris Matthews during an interview on MSNBC Thursday night.
"Very sober people are worried that this man is simply unfit for office, characterologically, emotionally, mentally. He does not have the stability, it seems," Reagan said. "You can't control a president who is pathological in his behavior."
Reagan's comments followed Trump's attacks earlier in the day on House Speaker Paul Ryan and Senate Majority Leader Mitch McConnell. Thursday morning, Trump blamed both men for a potential government shutdown over raising America's debt ceiling threshold in September. Trump wanted to attach a government budget spending bill to another about Veterans Affairs.
During a rally in Phoenix on Tuesday, Trump threatened a government shutdown if Congress doesn't give him funding for his costly U.S.-Mexico border wall proposal.
At the rally, Trump attacked Republican Arizona Senators Jeff Flake and John McCain, who have both questioned his policies and fitness to serve as president. Trump has endorsed Republican Kelli Ward, who is challenging Flake in the primaries ahead of the 2018 midterm election. Trump also attacked McCain for voting against the Republican bill in late July to repeal and replace Obamacare. McCain said Republicans needed a better bill.
Related: Trump's Phoenix rally approved by alt-right leader
Trump also doubled down in Phoenix on his response to a violent white supremacist march this month in Charlottesville, Virginia, where one counterprotester was killed and dozens injured. Trump accused the media of "trying to take away our history and our heritage" by aligning with a growing movement to remove statues and monuments commemorating the Confederate Army. White supremacists held the Charlottesville march to protest the removal of a statue of the army's leader, General Robert E. Lee.
White supremacists have roundly praised the rally and Trump's other comments about the violence in Charlottesville.
The president also said off the cuff that he would rip up the NAFTA trade agreement with Mexico and Canada that is just a week into renegotiations.
The president has recently given controversial speeches in which he told police they could be rough with suspects, politicized an address to the Boy Scouts of America and raised nuclear tenions with North Korean dictator Kim Jong Un by threatening him with "fire and fury like the world has never seen."
"We're acting like this is a new thing. That we're realizing suddenly that Donald Trump is not well," said Reagan. "But this has been apparent for a long time. All that business with Barack Obama and the birther stuff. That should have disqualified him a long time ago."
Criticism from Reagan will come as a blow to Trump, since he has repeatedly praised and likened himself to President Reagan, even co-opting his 1980 campaign slogan "Make America great again" as the driving force behind his presidency. In January, Trump tweeted a photo of himself meeting the president in the 1980s.
Other Republicans and former officials have repeatedly questioned Trump's behavior. The president lashed out Thursday at former Director of National Intelligence James Clapper after Clapper told CNN the Phoenix rally made him worry that Trump has "access to the nuclear codes."
Clapper said he is concerned that "if in a fit of pique he plans to do something about Kim Jong Un, there's actually very little to stop him."
Behind closed doors, Republicans have questioned Trump's stability. Earlier this week, The New York Times reported a heated phone call between the president and McConnell on August 9 that descended into a shouting match.
McConnell, sources told the Times, is upset the president has been unwilling to learn the basics of governing.
"Think about how extraordinary it is that we're even having this conversation," Reagan told Matthews Thursday. "You and I have differences with various presidents. I've been very tough on George W. Bush on torture and things like that, but we're actually talking about the president's very sanity here, and doing it in a serious way."