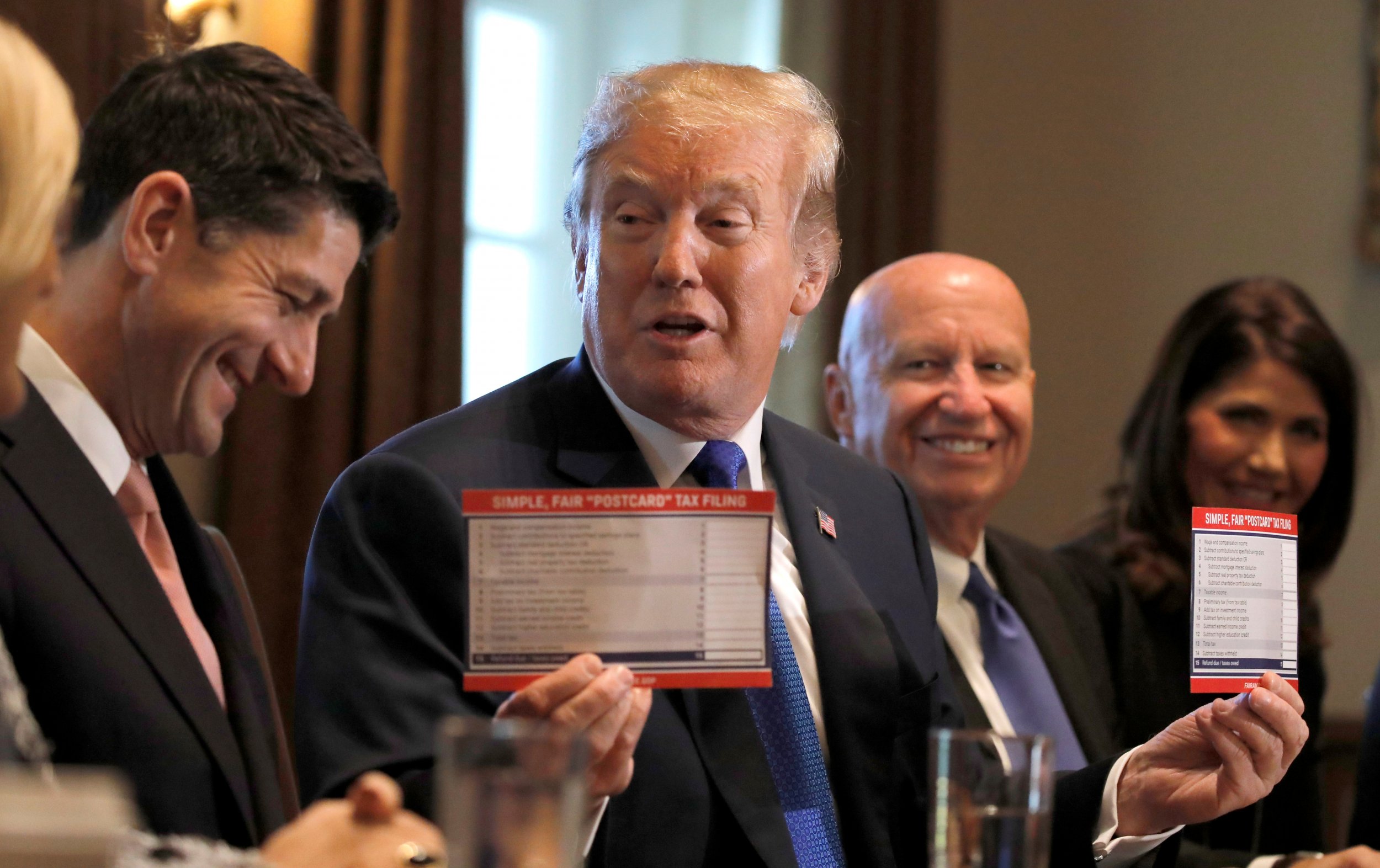 As President Donald Trump promises that the GOP tax plan will benefit the middle class, a majority of Americans say his policies have not helped the group that is neither rich nor poor.
Among respondents in a Monmouth University poll conducted over a few days before Republicans released the final version of their tax plan Friday, 53 percent said that middle-class families have "not at all" benefited from Trump's policies, while 25 percent said "a little," 11 percent said "a lot," and 11 percent said they did not know.
The numbers in the poll released on Monday represent a dip in confidence in Trump since he was inaugurated in January, when 29 percent of respondents said they thought the middle class would not benefit at all, 40 percent said they expected a little benefit, and 26 percent anticipated a lot of benefit.
"Right now, the American middle class is not particularly impressed with the current administration's performance on bread and butter issues. A major task for congressional Republicans and President Trump will be convincing these voters that they will benefit from the plan," Patrick Murray, director of the independent Monmouth University Polling Institute, stated about the GOP tax bill.
Trump has presented the tax plan as a "gift" to the middle class, but critics say it will favor America's richest, including Trump's family.
Almost half, 47 percent, of respondents in the poll conducted from December 10 to 12 said they disapproved of the tax reform bills passed by the House and Senate, while 26 percent approved, 8 percent withheld judgment and 19 percent had no opinion.
"Many Americans see this bill more as an attempt by Republicans to gain a political victory and would rather see Congress scrap this plan and start over," Murray said in a statement.
Unsurprisingly, the majority of Republicans, 55 percent, approved and only 16 percent disapproved, while 72 percent of Democrats disapproved and 7 percent of them approved.
The tax plan proposes permanent tax cuts for corporations and business owners, as well as benefits for individuals that would expire by the end of 2025. Trillions in tax cuts would be offset mostly by revenue-raising measures. The bill would increase deficits by about $1.46 trillion over 10 years, according to the nonpartisan Joint Committee on Taxation.
Congress is expected to vote on the final tax plan this week and send it to Trump by Christmas to sign off on.
The poll involving 806 American adults has a margin of error of plus or minus 3.5 percent.