Trump Is Now the Leader of the Unfree World | Opinion
For most of this year, Brazilian President Jair Bolsonaro has been publicly plotting to contest the results of the country's upcoming October presidential election. Polls have consistently shown Bolsonaro badly trailing his main opponent, leftist former President Luiz Inácio Lula da Silva. "I have three alternatives for my future: being arrested, killed or victory," Bolsonaro said menacingly last week. He has cast doubton the integrity of voting machines, tried to enlist army leadership as allies and repeatedly impugned the country's supreme court. He clearly does not plan to leave office peacefully.
If this scenario sounds familiar, it should—it is a repurposed version of former President Donald Trump's 2020 post-election coup playbook, and further proof that Trump and his minions are threats not just to U.S. institutions but to democracies all over the world. The powerful demonstrated effects of Trump's ongoing contempt for democracy and the efforts of his political allies in the Republican Party to reroute American political institutions so that the GOP can never lose power, already serve as a template for other aspiring tyrants.
That Trump would eventually lead a global anti-democracy movement was a plausible fear during his 2016 campaign, during which he invited Russian hackers to compromise his opponent's information and praised Russian President Vladimir Putin. On the trail, he spoke with reverence of North Korean dictator Kim Jong-un's violent consolidation of power, which included the brazen, broad-daylight murder of his half-brother. "You have to give him credit," Trump said.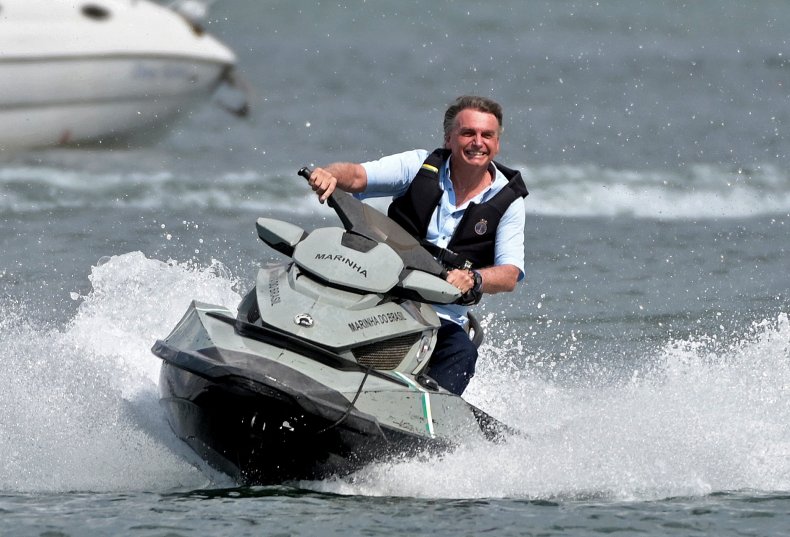 That fondness for the brute force of authoritarianism quickly became an official pattern once he was in office. His meetings with dictators were like reunions of old friends, while gatherings with other democratic leaders were fraught and frequently disastrous. Trump got himself impeached in 2019 by extorting the president of a vulnerable democracy. He praised the xenophobic French far-right presidential candidate Marine Le Pen in 2017 and heaped kudos on President Rodrigo Duterte's use of death squads to crush the drug trade in the Philippines. He then very publicly tried to orchestrate the breakdown of American democracy.
That Trump more or less got away with all of it and then very nearly won the 2020 election fair and square was an inspiration to not just to other Republicans in the United States, who have adopted wholesale the idea that they cannot be legitimately rejected by voters, but also by aspiring autocrats all over the world. The withdrawal of what political scientists refer to as "loser's consent" by forces of the far right could have a destabilizing impact not just on newer, struggling democracies but also on so-called 'consolidated' democracies, those that have successfully staged multiple peaceful transfers of power between opposing political forces, like Brazil.
It is no coincidence that a burgeoning crisis of global liberal democracy has accelerated during the Trump era. According to the non-partisan Freedom House, the percentage of the world's population living in free countries has dropped in half since Trump took office.
Who do you think former Pakistani Prime Minister Imran Khan was thinking of when he called his supporters to menace parliament ahead of a vote of no confidence earlier this year? Who do you think the far-right German party Alternative for Germany (AfD) was imitating when it embarked on a campaign of delegitimizing mail balloting in advance of the country's 2021 federal election? Where could dethroned Israeli Prime Minister Benjamin Netanyahu have gotten the idea to blame his March 2021 loss on election fraud rather than his own unpopularity?
Trump was hardly the first election loser in world history to blame defeat on fraud, but his concerted efforts to prevent President Biden from taking power were unprecedented in American history, an affront not just to U.S. democracy but an indirect assault on democratic rule everywhere. That's why holding Trump accountable for his crimes, and Biden's new strategy of casting the MAGA movement as a threat to democracy are both so important, not just to shore up America's vulnerable institutions, but to prove to would-be autocrats that coups don't pay.
After all, the fate of Trumpist forces works both ways. Following Trump's defeat by Joe Biden in the 2020 presidential election, right-wing populists racked up a string of defeats in the Netherlands, Germany, France and the Czech Republic. Liberal democracies also stuck together in the face of Russia's unprovoked invasion of Ukraine, which may yet result in Moscow's defeat and Putin's ouster. The ugly, divisive MAGA brand of politics, which looked like it was on the march in 2016-2017, is actually on its heels across the democratic world.
It is on the run in Brazil too, and while Bolsonaro's efforts to remain in power illegally may or may not succeed, we can at least be thankful that the president of the United States isn't cheering him on. Imagine if Trump, the de facto leader of the unfree world, was in office today, giving succor to those conspiring to overthrow Brazilian democracy, attending rallies with Bolsonaro and granting tacit permission to military elites to install him in power indefinitely.
Instead, the Biden administration has made it clear that a rupture in Brazilian democracy would be most unwelcome. And the sooner Americans can usher Trump and Trumpism off the stage with an unambiguous electoral rout, the better for democracy around the globe.
David Faris is an Associate Professor of Political Science at Roosevelt University and the author of It's Time to Fight Dirty: How Democrats Can Build a Lasting Majority in American Politics. His writing has appeared in The Week, The Washington Post, The New Republic, Washington Monthly and more. You can find him on Twitter @davidmfaris.
The views expressed in this article are the writer's own.