148 African American Former Obama Staffers Denounce Trump Administration's 'Racism, Sexism, Homophobia and Xenophobia'
148 African Americans who served in the Obama administration co-signed an op-ed in The Washington Post this weekend assailing President Donald Trump's racist attacks on minority congresswomen in recent weeks.
"We stand with congresswomen Ilhan Omar, Alexandria Ocasio-Cortez, Ayanna Pressley and Rashida Tlaib, as well as all those currently under attack by President Trump, along with his supporters and his enablers, who feel deputized to decide who belongs here — and who does not," states the column, which listed each of the 148 co-signers. "There is truly nothing more un-American than calling on fellow citizens to leave our country — by citing their immigrant roots, or ancestry, or their unwillingness to sit in quiet obedience while democracy is being undermined."
The same weekend the op-ed was posted, Trump used his Twitter feed to target Congressman Elijah Cummings and his home district of Baltimore, calling it a "rat and rodent infested mess." 63 percent of voters in a new Fox News survey thought that the president crossed the line when he launched an earlier tirade against the four Democratic congresswomen who are people of color. Nevertheless, he appears to believe pursuing a similar strategy against Cummings is worthwhile, despite the results of the poll.
The Washington Post op-ed sought to contextualize the kind of rhetoric emanating from the White House within a historical framework that has traditionally been used to denigrate minorities and immigrants.
"We've heard this before. Go back where you came from. Go back to Africa. And now, 'send her back,'" the former administration officials noted. "Black and brown people in America don't hear these chants in a vacuum; for many of us, we've felt their full force being shouted in our faces, whispered behind our backs, scrawled across lockers, or hurled at us online. They are part of a pattern in our country designed to denigrate us as well as keep us separate and afraid."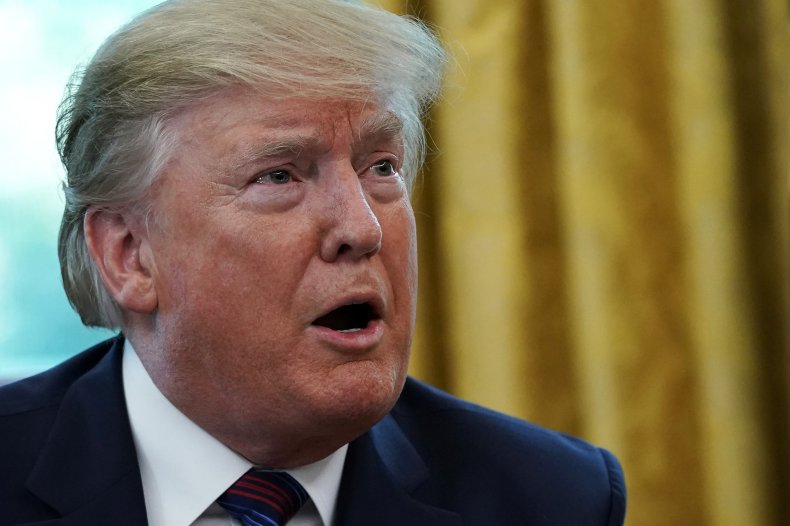 CNN anchor Victor Blackwell used the platform of his weekend morning broadcast to draw a line between President Trump's invocation of the word 'infestation,' which he revived Saturday morning, and the kinds of communities and people he targets.
"Donald Trump has tweeted more than 43,000 times, he's insulted thousands of people, many different types of people," Blackwell noted. "But when he tweets about infestation, it's about black and brown people."
As the president has ramped up his virulent comments directed towards black and brown legislators, renewed attention has been drawn to Trump's history of racist engagements.
The New York Times reported that as Donald Trump attained an increasingly prominent role within his father's real estate management portfolio in the 1960s, "the company's practice of turning away potential black tenants [became] painstakingly documented by activists and organizations."
The Obama administration alumni note this attitude in their article as well, decrying the "racism, sexism, homophobia and xenophobia... wielded by the president and any elected official complicit in the poisoning of our democracy."
As recently as June of this year, Trump defended his calls 30 years ago for the death penalty in the case of the Central Park Five, who were black and brown youth wrongfully convicted of raping a jogger in New York's Central Park.
"You have people on both sides of that," he said in response to a question from White House reporter April Ryan, who asked about Trump's infamous full-page ad in the New York Daily News calling for the boys' execution. "They admitted their guilt."
The men were completely exonerated in 2002 after a serial rapist confessed to committing the crime, but only after having spent significant time in prison for an offense they did not commit.