Donald Trump's 2024 Chances Slashed by Bookmaker After South Carolina Rally
Donald Trump's chances of winning the 2024 election have improved since he kicked off his campaign with a rally in South Carolina over the weekend, bookmakers have said.
The former president boosted what critics, and even Republicans, have already been saying is a lackluster presidential campaign with low-key events in Columbia, South Carolina, a key early primary state, as well as the New Hampshire Republican Party's annual meeting in Salem on Saturday, January 28.
Trump, who is still the only serious candidate to confirm their 2024 run, has long been considered the favorite to clinch the next GOP presidential nomination.
According to Betfair, the odds of Trump winning the Republican nomination have fallen slightly to 6/4 since his headlining event in South Carolina, with Florida Governor Ron DeSantis given odds of 9/5 and former South Carolina Governor Nikki Haley the third favorite at 14/1.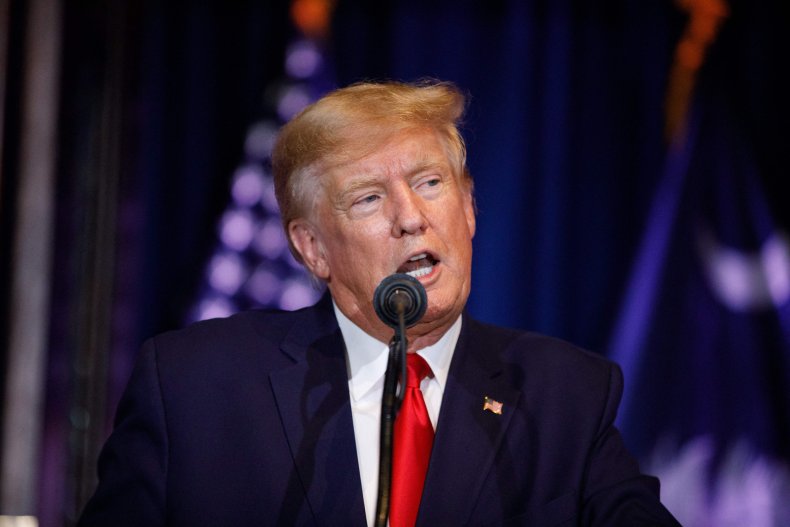 However, it is DeSantis who Betfair has given the best odds to win the 2024 election overall, with President Joe Biden the second favorite and Trump in third place.
"Before he took to the stage at his low-key campaign launch in South Carolina, Donald Trump returned to be the clear favorite at 8/5 to be the 2024 Republican nominee, and since then his odds have continued to shorten and he's now 6/4 to run as president for the Grand Old Party," Betfair spokesperson Sam Rosbottom told Newsweek.
"While he's the favorite to be the Republican nominee, it's actually his party opponent, Ron DeSantis who is the 16/5 favorite to win the 2024 presidential election.
"Donald Trump's chances have shortened, but he's still a way off DeSantis at 5/1. While Joe Biden's chances of winning another term are better than Trump's at 7/2."
Elsewhere, a spokesperson for Irish bookmakers PaddyPower told Newsweek that while they did not shorten Trump's odds in the wake of the South Carolina rally, they did improve the previous week from 11/2 into 4/1 amid reports the former president would be allowed back on Facebook.
On January 25, Meta, the company which owns Facebook and Instagram, confirmed that it will allow Trump on the platforms after serving his two-year suspension in the wake of the January 6 attack.
In a statement confirming he decision, Nick Clegg, Meta's president of global affairs, said Trump will be allowed to return to Facebook "in the coming weeks," but "with new guardrails in place to deter repeat offenses."
The decision arrived after Elon Musk reinstated Trump's beloved Twitter account in November 2022 after the former president was also suspended from the platform in the wake of the Capitol riot over fears he would incite further violence.
However, Trump has still not tweeted since he got his account back and instead continues to frequently post on Truth Social, the platform set up by the Trump Media & Technology Group (TMTG) as a direct replacement for Twitter.