Trump Official Gives Marjorie Taylor Greene Exactly What She Wants
Former President Donald Trump's Centers for Disease Control and Prevention (CDC) director gave Republican Representative Marjorie Taylor Greene exactly what she wanted in regard to the origins of the COVID-19 virus.
"BREAKING: Former CDC Director Robert Redfield reveals the COVID-19 virus was likely created by a gain of function research funded by Dr. Fauci and the NIAID," Greene wrote in a tweet which included a video of her recent exchange with Redfield who is testifying before the House panel investigating the origins of the novel coronavirus.
During the exchange, Greene asked Redfield if the COVID-19 virus looked "engineered," prompting him to explain different aspects of the virus itself and how different receptors appear to have "high affinity for a human receptor."
"So, why did this virus have the arginine sequences for human there, not bad?" Redfield asked. "It was very disconcerting to me, it looked like this virus was engineered."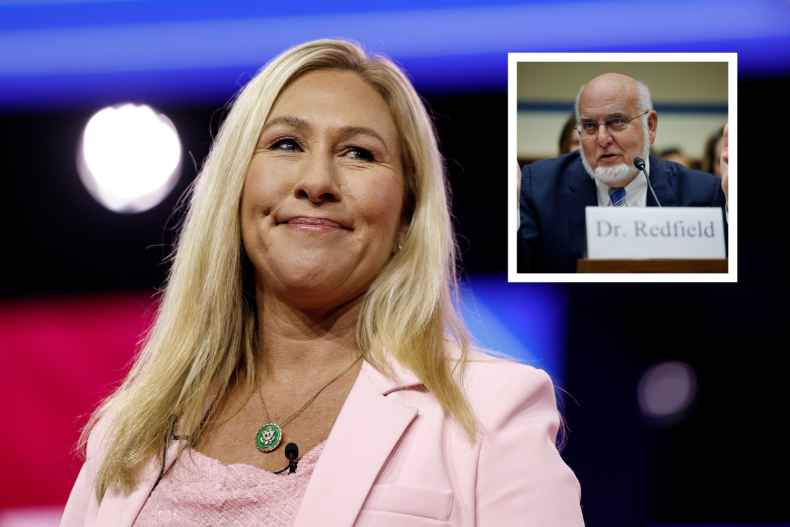 The comment by Redfield comes amid a changing opinion among many on the origins of COVID-19. Last month, the Wall Street Journal published a report U.S. Department of Energy (DOE) detailing that the COVID-19 virus may have originated from a lab leak in Wuhan, China. The FBI also previously made a similar determination with a "moderate confidence" in the lab leak theory.
While speaking, FBI Director Christopher Wray said that the bureau "has for quite some time now assessed that the origins of the pandemic are most likely a potential lab incident in Wuhan," during an interview with Fox News.
While many originally dismissed claims that COVID-19 may have originated from a lab in Wuhan or was "engineered," Representative Greene was one of the early voices to say so.
In June 2021, Greene appeared on Steve Bannon's Real America's Voice podcast and called COVID-19 a "bioweapon," and said, "we need to very clear about what was the intent of COVID-19 and these viruses that they experiment with like some sort of Dr. Frankenstein experiments."
In a tweet shortly after the report from the Wall Street Journal, Greene wrote, "The same people who shamed us, canceled us, & wanted to put us in jail for saying covid came from the Wuhan Lab, not wearing masks and saying masks don't work, and taking and recommending ivermectin to treat covid are starting to say what we said all along. Now do covid vaccines."
However, China has continued to deny these reports, and earlier this month, Mao Ning, spokesperson for the Chinese Ministry of Foreign Affairs, said, "By rehashing the lab leak theory, the U.S. will not succeed in discrediting China, and instead, it will only hurt its own credibility."
Newsweek reached out to Greene's office and the NIAID for comment via email.