President Donald Trump went on a Twitter rant against Elizabeth Warren Sunday night, mocking the Massachusetts senator for a video made two weeks ago in which she made clear her presidential intentions.
On New Year's Eve, Warren released a video on Instagram in which she drank a beer and introduced her husband in her kitchen.
Read more: Trump says he has "more" Native blood than Elizabeth Warren
Trump mocked it, describing the interaction as a "catastrophe," especially when Warren thanked her husband, Bruce, whom she introduced as her "sweetie."
Warren then said: "He [Bruce] is the best, and I'm crazy about him. Trump responded to the video on Sunday, criticizing how she thanked her husband when she said: "I'm glad you're here."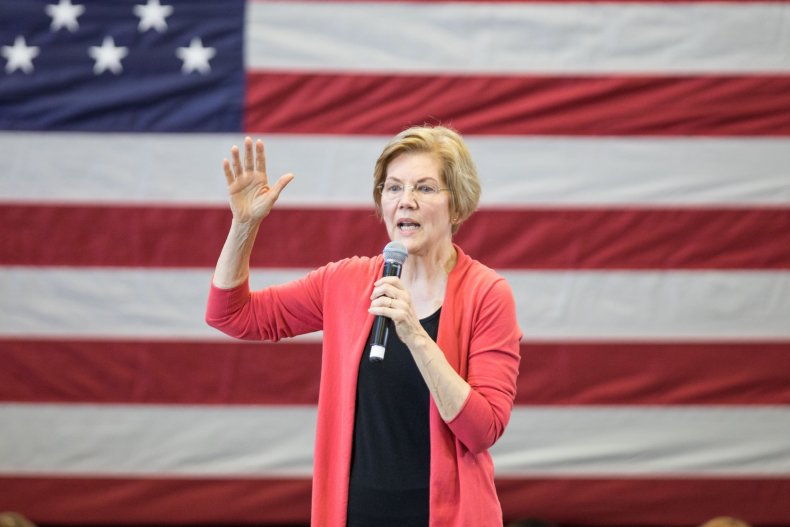 Trump tweeted: "It's their house, he's supposed to be there!
"If Elizabeth Warren, often referred to by me as Pocahontas, did this commercial from Bighorn or Wounded Knee instead of her kitchen, with her husband dressed in full Indian garb, it would have been a smash!" he wrote.
Trump's tweet refers to the 17th-century Powhatan princess, as well as to the U.S. Cavalry troop massacre of more than 100 Native American men, women and children in the late 19th century.
It is unclear why Trump waited two weeks to respond to the video, but it reprises his mocking of her claims of Native American ancestry.
He shared a mock campaign logo that read Warren 1/2020th, a play on 2020 and a DNA test that revealed she had a distant Native American ancestor.
The Boston Globe has reported documented evidence that Warren is between 1/64th to 1/1,024th Native American.
Her heritage came up during her run for Senate in 2012, when Senate incumbent, Republican Scott Brown, used her heritage claims to question her integrity, The Washington Post reported.
Warren has also faced criticism from the White House and other Republicans, who accuse her of using her native American heritage to advance her career.
Debbie White Dove Porreco, who is a descendant of Pocahontas, said on Fox News that Warren should apologize for her claims of having Cherokee ancestry.
Warren, a former Harvard Law School professor, campaigned in 2016 with Democratic presidential candidate Hillary Clinton. She will establish an exploratory committee to test the waters for a presidential run.
On Sunday, Trump also took aim at Amazon founder Jeff Bezos, whom he called "Jeff Bozo" after the National Enquirer reported details about his love life. Bezos announced he and his wife, MacKenzie Bezos, were divorcing.
Trump also called the Washington Post, owned by Bezos, "the Amazon Washington Post."