Trump One Step Closer to Being Deposed with Court Decision on Summer Zervos Suit
President Donald Trump got closer to being deposed on Thursday, when a New York state appeals court ruled that accuser Summer Zervos's case would move forward.
Zervos, an ex-Apprentice contestant, filed a defamation suit against the president just three days before his inauguration in 2017, claiming Trump "debased and denigrated" her with "false statements."
After Zervos went public with allegations that, in 2007, Trump pressed his genitals against her and kissed and groped her without her consent, Trump said it "never happened." He claimed the accusations were "totally false" and said Zervos and his other accusers had fabricated their stories.
Thursday's decision is the result of the Trump legal team's attempts to appeal an earlier March ruling from New York Supreme Court Justice Jennifer Schecter, who said Zervos's case could proceed. The president's lawyer, Marc Kasowitz, had hoped that the Constitution's Supremacy Clause, which establishes that state powers are subordinate to federal law, and therefore to the president, could get the case thrown out.
Not so.
With just four sentences, the appellate court rejected Kasowitz's appeal in its decision, concluding, "Now, upon reading and filing the papers with respect to the motion, and due deliberation having been had thereon, it is ordered that the motion is denied."
The ruling is an encouraging sign to Mariann Wang, who replaced Gloria Allred as Zervos's representation after the famous feminist attorney withdrew from the case in March. "We look forward to proving Ms. Zervos's claim that Defendant lied when he maliciously attacked her for reporting his sexually abusive behavior," Wang said in a statement reported by Daily News.
Wang declined to comment further when reached by Newsweek.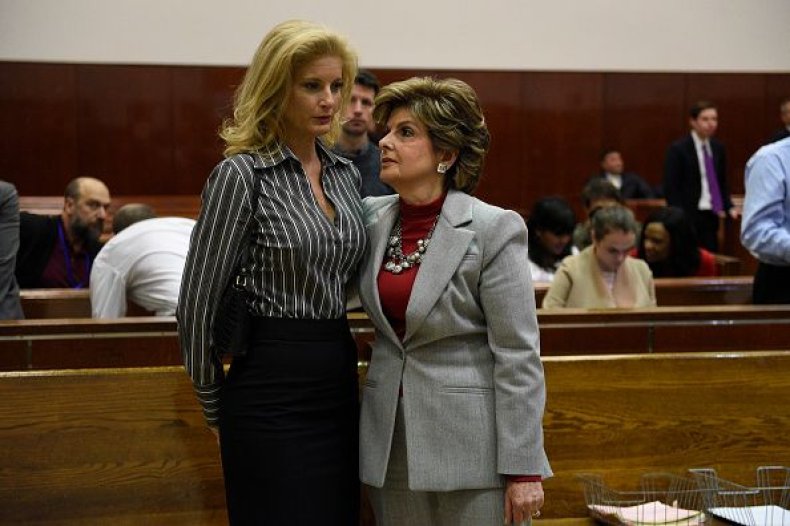 Zervos is one of more than a dozen women who have accused the president of sexual misconduct. For many of them, the statute of limitations for bringing charges of sexual harassment or assault against the president has expired, and a defamation suit is one of the only means to move forward within the legal system.
Stormy Daniels, whose legal name is Stephanie Clifford, has also used a defamation suit in attempts to hold the president accountable for his words. Daniels's lawyer Michael Avenatti filed the suit in April, arguing that Trump sought to sully his client's reputation by calling a sketch of the man Daniels said once threatened her in a parking lot "a total con job." The suit says Trump's remark, which he transmitted via tweet, suggests Daniels "fabricated the crime and the existence of the assailant, both of which are prohibited under New York law."
Zervos had been willing to dismiss her suit against Trump on one condition—that he retract his statements calling her a liar. Since Trump has yet to do that, and since courts continue to rule in Zervos's favor, the suit continues to be one of many hanging over the president's head.
"I wanted to give Mr. Trump the opportunity to retract his false statements about me and the other women who came forward," Zervos said in January 2017, when she and Allred first filed the suit.
"We've given [Trump] two months," Allred added at the time. "Time is up."