Trump's Election Promises, Both Broken And Kept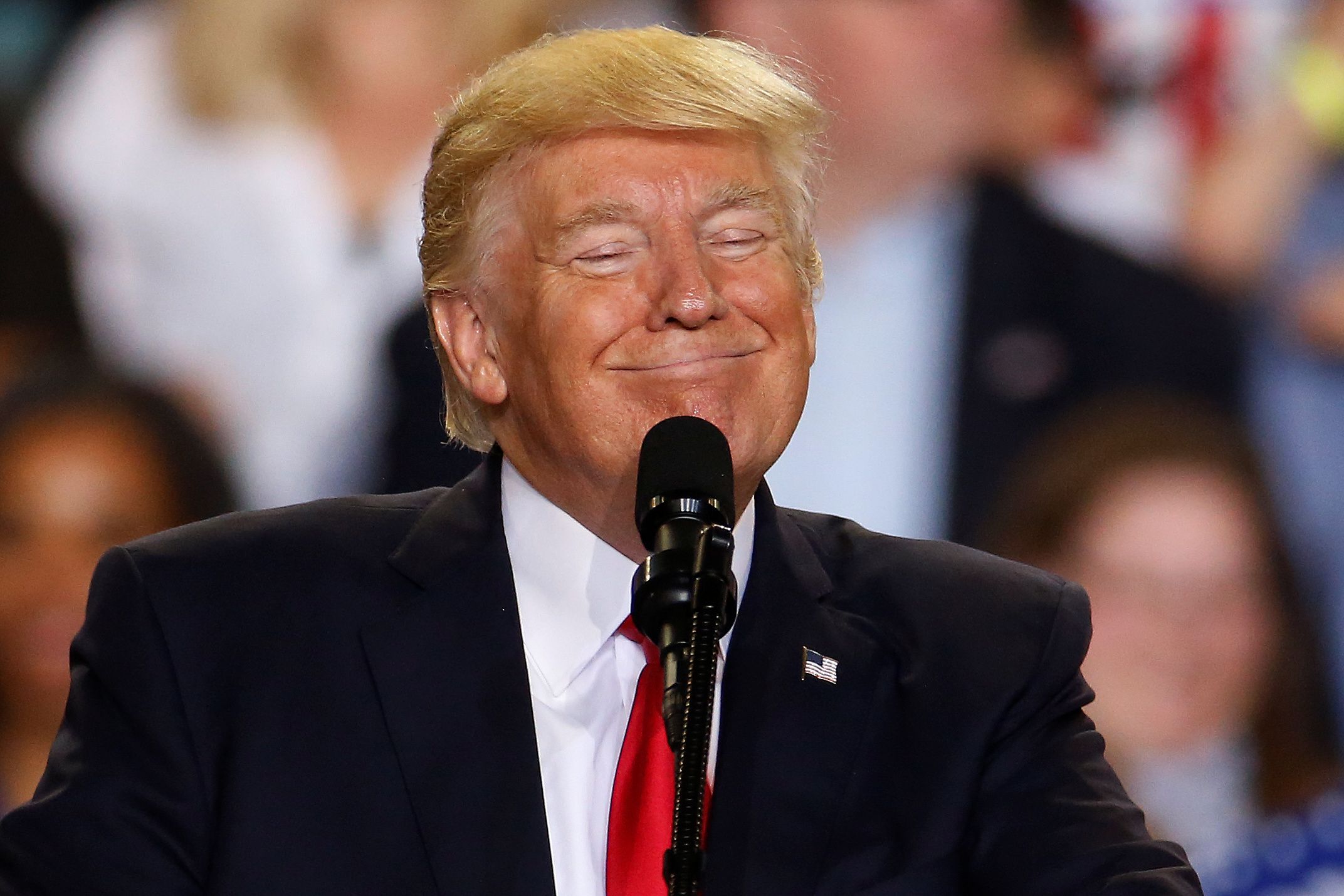 President Donald Trump's promises on the campaign trail and during his first year in office were as unusual as his presidency—the pledges he made were numerous, sweeping and certainly exciting to his supporters, though sometimes they turned out to be too ambitious or unrealistic to be true.
One year since his win, Trump has made good on some of his promises and abandoned others. Some have been blocked in Congress, while others have been accomplished through executive order. Below, some of Trump's most famous promises, both broken and kept.
PROMISES BROKEN:
Repeal and replace Obamacare
Trump has called Obamacare a "disaster," repeatedly promising to fix his predecessor's signature healthcare bill, and even pledging to repeal it on his first day in office. But by February, Trump was forced to admit it would be more difficult than he'd thought. "Nobody knew healthcare could be so complicated," he said when GOP lawmakers struggled to write a sufficient replacement. Senate Republicans still have not found a way to move forward on this promise.
Build the wall
One of Trump's most famous early promises became a rallying cry for supporters on the campaign trail, but Trump hasn't advanced plans for a US-Mexico border wall since signing an executive order directing money for construction. Budget negotiations with Democrats have stalled his efforts, and DHS Secretary John Kelly admitted that it was "unlikely that we will build a wall, a physical barrier, from sea to shining sea."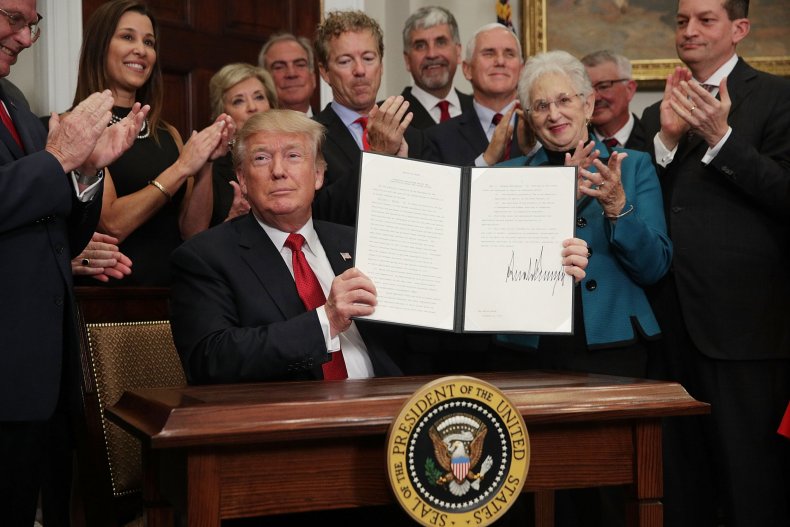 Prosecute Hillary Clinton
Another favorite chant at Trump rallies was "lock her up," referring to then-opponent Hillary Clinton. During the debates, Trump told Clinton: "If I win, I am going to instruct my attorney general to get a special prosecutor to look into your situation." But as soon as Trump claimed victory, he changed his tune, and said the country owed her "a debt of gratitude." No prosecution has been unveiled.
Muslim ban/registry
Trump's executive order suspending the entry of immigrants from seven Muslim-majority countries was blocked by multiple federal courts. After days of protests across the country, the order was mostly gutted—but parts have still been allowed to go into effect. No Muslim registry has appeared domestically, but people from six nations must prove a "bona fide" relationship with somebody in the U.S. in order to enter.
Tax cuts for all
Trump promised a tax plan that would prioritize both individuals and companies, saying "everybody is getting a tax cut, especially the middle class." But his attempt at a new plan appears to favor only the wealthiest Americans—and does not guarantee cuts for all.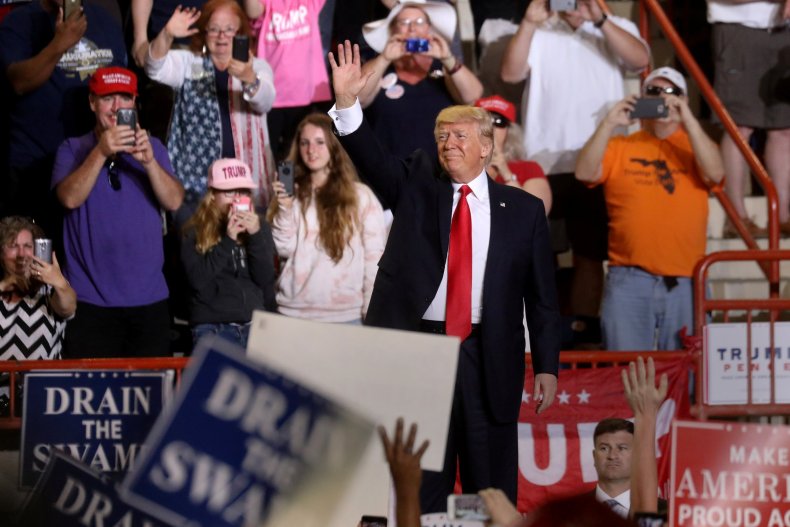 Minimize government waste, take no vacation days
On the campaign trail, Trump said he would not take time off if he was elected president, claiming he would "rarely leave the White House" because of all the work to be done. He criticized Obama for spending too much time on the golf course, calling his work ethic into question, but Trump himself has spent 73 days at golf clubs, costing an estimated $77 million in taxpayer funds. His family has also racked up quite a tab—every business trip and move between New York and Washington charge taxpayers for Secret Service protection and Air Force costs.
PROMISES KEPT:
Nominate a Supreme Court justice
One of Trump's earliest and clearest victories was in nominating Neil Gorsuch as a Supreme Court justice. He vowed to appoint a conservative justice, one who would "respect the Second Amendment," and made good on that promise by April. The Republican-controlled Senate declined to consider Obama's pick for the open slot, Merrick Garland, for a record-breaking 293 days, and the seat remained open for Trump's nominee.
Withdraw from Paris climate agreement
Trump withdrew from the international agreement on June 1, after claiming that climate change was a hoax during his candidacy. He promised to remove the U.S. from what he saw as a stifling agreement that restricted American economic growth. Today, the U.S. is the only nation in the world that is not a part of the climate deal.
Reduce environmental regulations (DAPL and Keystone)
In the initial days of his presidency, Trump made good on his promise to revive the Keystone and Dakota Access pipelines. He had promised to roll back regulations on environmental policies, with the goal of improving economic opportunities. Trump said the pipelines had no impact on the environment and could create jobs for Americans, though the Environmental Protection Agency has disputed that.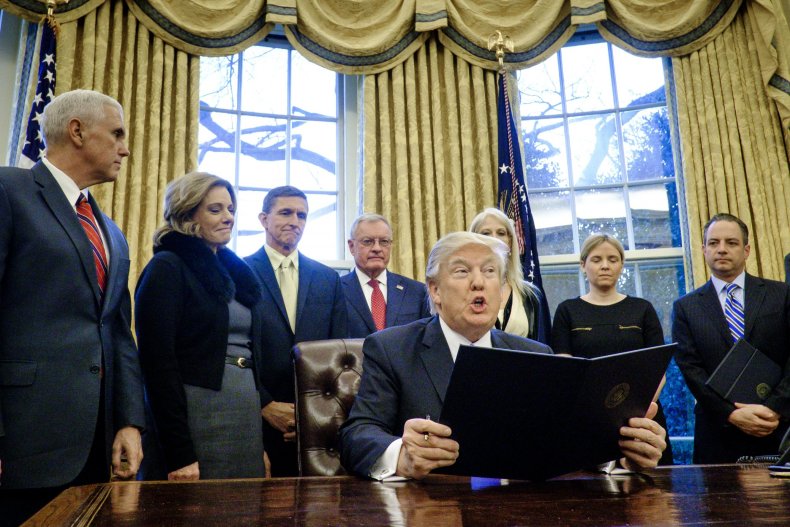 Crackdown on immigration
Another famous promise from Trump's days as a candidate; he repeatedly said that all undocumented immigrants "have to go." He reduced his promise from deporting all 11.3 million undocumented immigrants to deporting only those with criminal records, which is closer to 800,000 people. ICE raids have ramped up, but the most notable effort to reduce the number of immigrants was by ending the Deferred Action for Childhood Arrivals program. The program protects young immigrants—called DREAMers—from deportations, and is currently being negotiated in Congress.
Renegotiate trade deals (NAFTA, TPP)
Trump called both NAFTA and the Trans-Pacific Partnership a "disaster," and he signed an executive order in his first few days that withdrew the U.S. from the TPP, an international agreement designed to foster business ties across 12 nations. He still pledges a renegotiation of NAFTA, and the next round of negotiations is scheduled for later this month.