Trump: Only 15 Percent of Afghan Evacuees Are American, Calls Effort 'a Complete Failure'
Former President Donald Trump criticized President Joe Biden in a statement today for having "surrendered Afghanistan to terrorists and left thousands of Americans for dead" by pulling the U.S. military out of the region prior to evacuating U.S. citizens.
Trump went on to bash the president for evacuating 4,000 Americans (15 percent) out of the 26,000 total people evacuated, citing a statement leaked from the Pentagon reported by Politico's Alex Ward.
He also questioned the Biden administration's evacuation process, speculating that the Taliban would not allow their "best and brightest" to board flights out of the country.
"We can only imagine how many thousands of terrorists have been airlifted out of Afghanistan and into neighborhoods around the world," Trump wrote. "What a terrible failure. NO VETTING. How many terrorists will Joe Biden bring to America? We don't know!"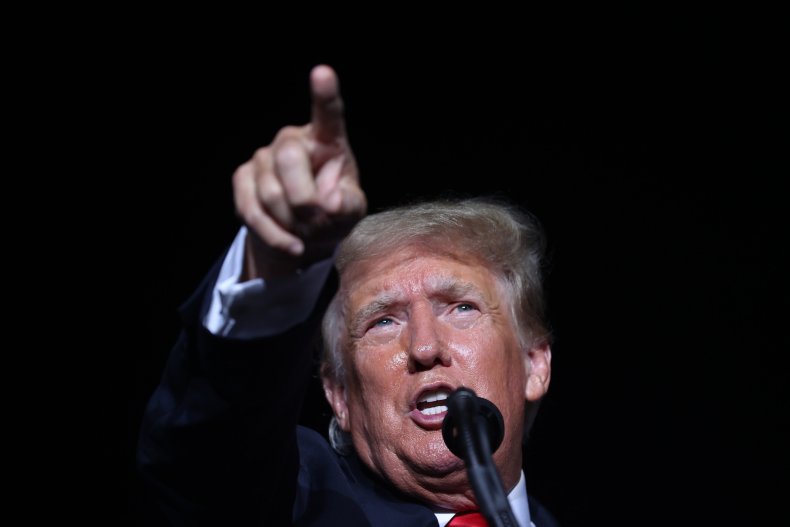 The Pentagon has stated that "several thousand" Americans remain in the country and that those who want to leave will be evacuated. The effort to evacuate Afghans from the country remains centered around those deemed vulnerable who have applied for Special Immigrant Visas (SIV).
These visas have been handed out to Afghans who served the U.S. military by providing on-the-ground services. Newsweek previously reported the testimony of a former Army captain who said, "we can't do our jobs without these interpreters," adding that they would be "hunted down and killed" if the U.S. chose not to evacuate them.
This most recent statement appears to depart from Trump's previous messaging where his critiques focused on the Biden administration's perceived failure to evacuate Afghan allies. In earlier statements Trump wrote:
"Can anyone even imagine taking out our Military before evacuating civilians and others who have been good to our Country and who should be allowed to seek refuge? The Americans come out first. But we're also going to help people that helped us. And we have to be very careful with the vetting, because you have some rough people in there, but we're going to help those people."
In his Sunday address, Biden affirmed that individuals entering through the visa process would receive "background checks." Afghans evacuated through the country are moved to military bases and transit centers around the world where they are vetted prior to entering the United States. Some have criticized the perceived slow pace of this process, adding that time may run out for some of those awaiting approval as the Taliban tightens its grip on the country.
As the U.S. aims for its August 31 withdrawal date, facing increased Taliban pressure to be gone by that date, the Pentagon emphasized its intent to get as many people out of the country as soon as possible:
"The president's direction has been to complete this evacuation and withdraw by the 31st of August," Pentagon Press Secretary John F. Kirby said. "We're doing the best we can to move as many people as we can, as fast as we can.