Is Trump Only in Scotland for the Golf? Here's the President's Agenda
President Donald Trump and first lady Melania Trump will travel to Scotland for the weekend, following talks with British Prime Minister Theresa May and Queen Elizabeth in London and Windsor.
The president's itinerary has not been revealed in detail, but he is expected to arrive in Scotland on Friday evening and will be welcomed by Scottish Secretary of State David Mundell, British media reported. Mundell told media that welcoming the U.S. president was "an opportunity to strengthen vital links" with a key ally, adding that he hoped Trump enjoyed his stay.
The president, whose mother was born in Scotland before immigrating to the U.S., will also be greeted by protesters, as several large demonstrations are planned in various Scottish cities. Some politicians even called on the Scottish government to bar Trump from landing at Glasgow Prestwick Airport, saying the move would be a fitting protest of the president's travel ban, which targets several Muslim-majority countries, The Telegraph reported.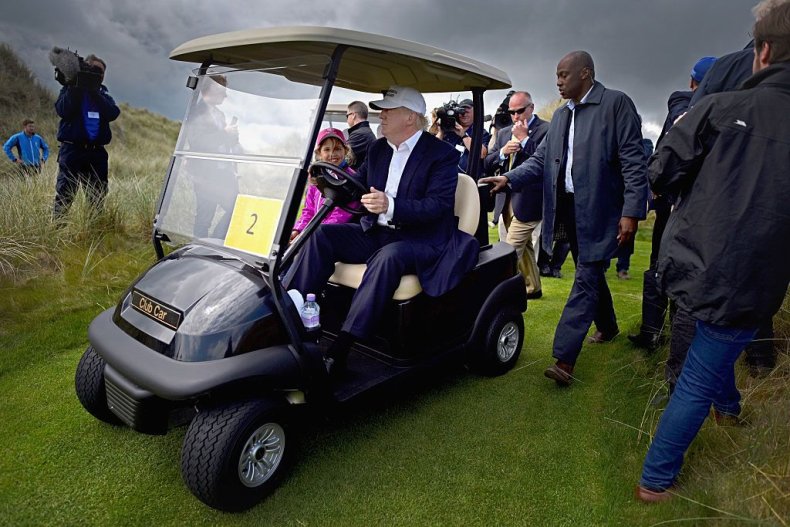 It is widely believed that that the president will visit his Turnberry resort in South Ayrshire to relax, and likely play golf, on Saturday. The president and the first lady will depart on Sunday. As no meetings or specific plans have been announced, it appears the president's main priority will be visiting his property to enjoy his favorite pastime.
Trump, a golf enthusiast who owns numerous courses around the world, has reportedly played more than 100 rounds since he took office in January 2017, costing taxpayers an estimated $69 million. Critics often cite Trump's routine criticism of former President Barack Obama for playing golf when he served in the White House.
The president's company, which is currently managed by his sons, owns two lavish golf courses in the U.K. In 2014, Trump purchased the Turnberry golf resort from a Dubai-based company for an undisclosed sum, announcing that he would invest some $260 million to transform the property, according to the BBC. Prior to that, in 2008, the Scottish government granted the Trump Organization outline planning permission for an Aberdeenshire resort.
Rumors circulated about the source of funding behind Trump's golf empire. Prominent golf writer James Dodson claimed that Trump's son, Eric Trump, bragged to him in 2013 that the family's golf investments were bankrolled by wealthy Russians.
"We have pretty much all the money we need from investors in Russia…We've got some guys that really, really love golf, and they're really invested in our programs," Dodson quoted Eric Trump as saying, according to Fortune.
Eric Trump called the report "fake news," but Dodson said he presented the president's son's remarks accurately.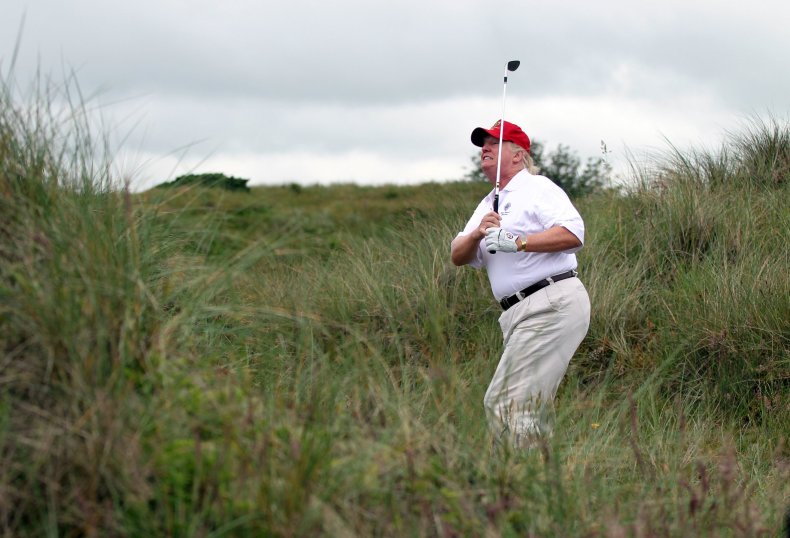 With protests against Trump planned throughout the country, Scottish police announced that a 20-foot balloon depicting the president as a baby would not be allowed to fly near Turnberry resort, citing an air exclusion zone during the president's visit. English protesters were granted permission to fly the balloon in London to greet the president upon his arrival there.
Even before becoming president, Trump was an unpopular figure in Scotland. Locals living adjacent to his properties complained of harassment and bullying tactics after they refused to sell their properties for amounts far below market value.
A resident whose property borders the president's Aberdeenshire golf course told USA Today last August, "We've had a taste of Trump for 11 years. I wouldn't trust him with anything."